Symbiopsychotaxiplasm: Take One
(1968)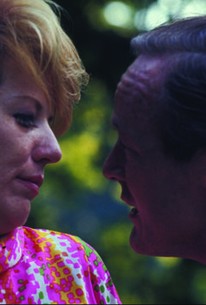 Symbiopsychotaxiplasm: Take One Photos
Movie Info
This odd film was shot in 1967 but wasn't released until 1991. The reality of the production is quite amazing. The director, who up until then had only filmed documentaries, decided that he wanted to provoke his actors and crew beyond their level of tolerance so that they would in some fashion hijack his production. Ostensibly, they are filming an arty story called "Over the Cliff," which shows the same scene of a split between husband and wife as played by five different couples from a variety of different angles. Eventually the (secretly anticipated) revolt does happen, and the cast and crew film their late-night sessions in which they discuss what can be done to save the movie. Their uncensored and quite intelligent comments were then included in the completed film along with the footage of the continuing saga of the endlessly filmed marital break-up. While the set-up is nothing like that of the contemporaneous television show Candid Camera, reviewers professed discomfort in viewing the cold manipulations which led to the desired result.
Rating:
NR
Genre:
, ,
Directed By:
In Theaters:
On DVD:
Runtime:
Studio:
Criterion Collection
Critic Reviews for Symbiopsychotaxiplasm: Take One
Audience Reviews for Symbiopsychotaxiplasm: Take One
Very sixties, very odd hybrid of documentary/film production/whatever. Pretty much defies description but hypnotic to watch.
Michael Troudt
½
this odd film shoot in the sixties but never released until 1991 well we didn't miss much as a man the director provokes his cast and crew and then films the results.
Gregory Wood
Perhaps the most striking thing about this 1968 avant-garde documentary is how modern it seems. Reality television and the internet age have desensitized us into this kind of postmodern entertainment, but the way Greaves deconstructs and pulls the curtain on the very process of film-making is still surprisingly startling and fresh. The film crew, who are part of this experiment, goes into great detail picking this entire experience apart, and it's all fascinating, groundbreaking, intelligent stuff. Still, Symbio goes into lengthy boring dry spells even for a 75 minute feature. It centers around a screen test (a breakup scene in Central Park) you will have to repeatedly watch with different actors. The writing is intentionally shitty to get some sort of response out of the test subjects. A pretty nice docu, if you can take it.
Lester Yabut
Symbiopsychotaxiplasm: Take One Quotes
There are no approved quotes yet for this movie.