T2 Trainspotting
(2017)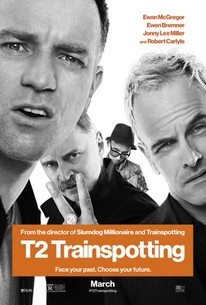 TOMATOMETER
AUDIENCE SCORE
Critic Consensus: T2 Trainspotting adds an intoxicating, emotionally resonant postscript to its classic predecessor, even without fully recapturing the original's fresh, subversive thrill.
Movie Info
First there was an opportunity......then there was a betrayal. Twenty years have gone by. Much has changed but just as much remains the same. Mark Renton returns to the only place he can ever call home.They are waiting for him: Spud, Sick Boy, and Begbie. Other old friends are waiting too: sorrow, loss, joy, vengeance, hatred, friendship, love, longing, fear, regret, diamorphine, self-destruction and mortal danger, they are all lined up to welcome him, ready to join the dance.
News & Interviews for T2 Trainspotting
Critic Reviews for T2 Trainspotting
Audience Reviews for T2 Trainspotting
Peter Bond
Super Reviewer
½
T2 is an enjoyable production but principally aimed at idolizing the original for fans. The soundtrack includes remixed pieces of Underworld's "Born Slippy (Nuxx)" and Iggy Pop's "Lust for Life" as callbacks to the first feature. A few well-placed vignettes of old footage are strategically woven into the narrative. Additionally, much of the dialogue recalls the former film. Renton has a conversation with Veronika that references the famous "Choose Life" speech: "Choose Facebook, Twitter, Instagram and hope that someone, somewhere cares..." The pacing is equally brisk and there are plenty of random vignettes that will make you laugh. One entertaining bit has Renton and Simon distracting the clientele of a Protestant pub with an anti-Catholic chant after robbing them blind. In another scene, Renton and Begbie discover the presence of the other in a most amusing way. The scene is perfectly shot. The irreverent humor is still is there, although it's neither revolutionary nor necessary. T2 works but it needs the other to exist. It has been fashioned as an exceptionally well-made companion piece. fastfilmreviews.com
Mark Hobin
Super Reviewer
CHOOSE THIS! - My Review of T2 TRAINSPOTTING (4 Stars) I saw TRAINSPOTTING in London when it opened in 1996, and was so energized by this hyper-swift, visually stunning masterwork by director Danny Boyle and writer John Hodges, based on the novel by Irvine Welsh, that I immediately turned around and bought another ticket to watch it again right away. I'd only done that once before with ALIENS, which I saw in Toronto. What is it about being out of town when I watch seminal films? Am I overly romanticizing them or can we just chalk it up to coincidence? Seeing how both films have aged so well, I'm going with the latter. At this point in time, Boyle had some success with his debut, SHALLOW GRAVE, which showed promise, but nothing prepared me for TRAINSPOTTING. From its now iconic use of Iggy Pop's LUST FOR LIFE in the opening sequence, which deftly introduces its main characters in a series of well-observed freeze frames intercut with them racing HARD DAY'S NIGHT-style down an Edinburgh street. That these hooligans were intensely verbal heroin addicts, depicted as simultaneously vile and wondrous, gave this film an edge, along with pathos and a vivid sense of mortality. If you haven't seen it, stop reading and just go! Danny Boyle, for the most part, loves his films lean and mean, and chock full of wonderful edits and tonal shifts. In TRAINSPOTTING, I loved the juxtaposition of Renton (Ewan McGregor) looking over the filthiest toilet in Scotland, yet when he dove into it, he swam through a glorious, peaceful underwater world. I loved how he sank into the floor as if a casket was being lowered as Lou Reed's "Perfect Day" played on what I think is one of the best pop soundtracks of all time. Renton's propulsive "Choose Life" monologue at the end played to Underworld's "Born Slippy", a perfect marriage of sound and image. TRAINSPOTTING, more than its dark subject matter and gross-out set pieces, made me fall in love with the "move" in movies. Now, more than 20 years later, comes its sequel, catching us up with its now middle-aged quartet. Along with Renton, we reconnect with the eloquent yet still addicted Sick Boy ((Jonny Lee Miller), the lost yet sympathetic soul, Spud (Ewen Bremner), and the scary sociopath, Begbie (Robert Carlyle). When last seen, Renton ran off with all of the money they made from a drug deal. Returning to his old stomping grounds, Renton conspires with the friends he screwed over, Sick Boy and Spud, to make even more money in a shady deal involving the building of a spa/brothel to impress Sick Boy's Bulgarian girlfriend Veronica (a fantastic, direct, assured performance Anjela Nedyalkova). Sure they're mad at Renton, but in a film about aging, forgiveness comes quickly...unless you're Begbie, of course. He's the psychopathic wrench in this plan who will stop at nothing to bash Renton's head in, most likely by using his own head. This story may not sound like much, but the beauty is in the telling. Just like its predecessor, this film thrives on kinetic energy and stunning visuals, courtesy of cinematographer and frequent Boyle collaborator Anthony Dod Mantle, who did not shoot the original but honors its endlessly inventive style. My jaw dropped pretty early in the film when Renton first encounters Spud, who has been reduced to suicidal despair. Editor Jon Harris intercuts images of Spud falling back in his chair and over the side of a building wth Renton sliding under him as he falls to the floor to give us a profoundly beautiful moment of a man at the end of his rope being saved by a dear old friend. Boyle teases us with snippets of songs from the original, but also supplies new tracks which perfectly fit into the universe of this story and a lovely reimagining of "Perfect Day". Yes, Boyle may overdo it a bit on the nostalgia by way of many flashbacks to the original. The characters, however, spend a great deal of time looking back, as one does when the end of your life is closer to you than your beginning, so for me, it's perfectly justified. I had a major issue with one plot point where I felt the police would have been all over Begbie's family after he escapes from prison, but it's a minor complaint in a film with such great energy, passion and style. In this mad jumble, Boyle produces one memorable sequence after another. There's a great father-son burglary, a surprisingly hilarious evening of karaoke/thievery, and showdowns by a pool table and in a parking lot which reach Peckinpah levels of violence. He uses subtitles when the brogue gets too thick and gives Veronika some of the best lines in her native tongue. Boyle puts the camera on top of trams as they rush through downtown and then pulls away on the final wonder of a last shot as if we were looking through the caboose of an increasingly hurtling train. That last moment very wisely repurposes the rush of a heroin hit with the bliss of a hard-hitting drum beat, and with that comes a commentary on the way one experiences joy at different points in their lives. All of the actors slip back into their roles with great ease and all have succeeded in deepening them. Carlyle finds the desperation to be wanted underneath all that anger and resentment. Bremner surprises us with a soulfulness underneath his simpleton exterior. Miller, still handsome as ever, finds the sorrow in a man who can no longer coast on his looks. Kelly MacDonald makes a welcome return as Diane, a mere schoolgirl in the original and now a bonafide grownup who plays a much different role in Renton's life. Yes, T2 feels like "one for the fans". You will be totally lost without having seen the original, but what a rich pair of films they make! Whereas one brilliantly navigated the rush of youth, the new one explores the memory of it, and dares to ask of its characters, what's next? For men who one wouldn't expect to have been around 20 years later, that's something of a revolution. Same goes for Boyle's film, which sticks it to the endless CGI blockbuster nonsense that has eaten the film industry by showing us once again the power of film and how great filmmaking can seep into your brain and excite you. Welcome back Danny Boyle! We needed you!
Glenn Gaylord
Super Reviewer
T2 Trainspotting Quotes
There are no approved quotes yet for this movie.
Discussion Forum
Discuss T2 Trainspotting on our Movie forum!