Taboo
(2000)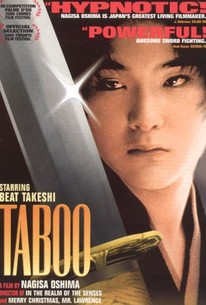 Movie Info
After a 13-year absence, partially due to a life-threatening stroke, master filmmaker Nagisa Oshima returns to the silver screen with this revisionist samurai epic. From his first major film, Cruel Story of Youth to his most notorious work Ai no Korrida, Oshima has coupled the political and the sexual in a manner that transgresses all social norms. In this film, Oshima explores homosexuality among the ranks of the much hallowed samurai. The film is set in Kyoto in 1865 during a critical moment of Japanese history--the country's 300-year-long self-imposed isolation was coming to an abrupt halt leading to the end of the Shogunate. In its place came a more internationally-minded government with the Emperor as its nominal head. Feeling both their traditions and their grip on power threatened, samurai militia sprang up throughout the country to fight this foreign encroachment. One such group, the Shinsengumi, is auditioning new recruits at the film's opening. Commander Kondo (Yoichi Sai) and Captain Hijikata (Takeshi Kitano, a renowned filmmaker in his own right) select the ruggedly handsome Tashiro (cult actor Tadanobu Asano) and Kano (Ryuhei Matsuda), an effeminate lad with long locks and a thirst for blood. Worried about the perceived slightness of the latter, Kondo and Hijikata order Kano to perform an execution, which he does with grim aplomb. The lad's androgynous beauty soon raises the general blood pressure of the militia. While Tashiro snuggles up with him nightly, Hijikata, who suspects that something other than manly appreciation is going on between the two neophytes, also seems unduly interested in the youth. This film was screened in competition at the 2000 Cannes Film Festival.
People Who Like this movie also like
Audience Reviews for Taboo
½
Presumably the final film from acclaimed director Nagisa Oshima, "Taboo" is an underwhelming farewell. Set in 1865 Kyoto at the close of Japan's shogun era, the story focuses on a vulnerable samurai militia that has recruited two new members. Tashiro (initially) seems like the typical breed, but androgynous Kano is unusual. He is only 18, and has soft features and long hair. He prefers white robes instead of black. And he stirs repressed homosexual desire in virtually every man he meets. A secret love develops between Tashiro and Kano, though the foundation of this bond is weakly portrayed. Kano also accepts the homely advances of Yuzawa, a second soldier, while others view these couplings with a uneasy mix of jealousy and disapproval. This is supposed to be a fearsome group of warriors, after all. Some unintended chuckles result as these mighty swordsmen pull awkward confessions from each other (lots of poorly translated talk about men who "lean that way"), and the story -- scripted by Oshima himself, based on two Ryotaro Shiba novellas -- just isn't too compelling. There's a thin subplot about Kano accidentally insulting an older samurai by mistaking him for a monk, and the pair taking a subsequent face-saving mission against a rival troop. But the tale inevitably returns to the deviant longings that possess Kano and his dojo peers. There is one brief, non-explicit sex scene, but the film is otherwise chaste. Not even a kiss or a nipple. The swordplay is satisfying though unspectacular, and one bloody beheading adds a splash of gore. "Taboo" lacks the radical editing and narrative jumps of Oshima's early films, and it has little visual style beyond a bluish color scheme and a climactic dose of atmospheric fog. Some scenes clumsily transition with wipes, and the peculiar use of title cards is outdated. Often, the unsubtle captions add more explanation than is needed. Ryuichi Sakamoto (who also worked on "Merry Christmas, Mr. Lawrence") contributes a fine score, however.
Eric Broome
Super Reviewer
½
The title of the film may be misleading since it's more about samurai allowing petty sexual desire to interfere with discipline and order. Quietly, the film recreates the period with such detail. It looks fantastic, and the characters come to life with real drama and humor and is the best darned gay samurai murder-mystery I have ever seen (actually, the only one). The story concerns the problems created when a beautiful, androgynous samurai played by Ryuhei Matsuda joins up. He and his fellow inductee, Tadanobu Asano (Ichi The Killer, Mongol), are the best fighters out of a crop of students, and they are chosen for full membership. Besides the beautiful scenery and interesting premise, Gohatto is a good example of how the Japanese like it slow. The film won't change your life, but it might give you something to mull over, and is an aesthetically Japanese experience as you're likely to find anywhere. You really can't go wrong with Beat Takeshi and Tadanobu Asano again.
El Hombre Invisible
Super Reviewer
Oshima is back with, to my knowledge, the only gay samurai film. Beautiful, methodically paced and filled with interesting moments, it's easy to see you're in the hands of a master filmmaker. A great film.
Christopher Brown
Super Reviewer
Taboo Quotes
There are no approved quotes yet for this movie.