Tales From the Hood
(1995)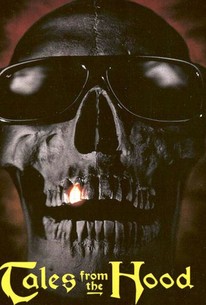 Tales From the Hood Photos
Movie Info
When a trio of young criminals break into a funeral home searching for a stash of drugs, they instead find themselves face to face with a creepy mortician, who tells them four separate stories of terror. This anthology film attempts a black-oriented, socially conscious spin on the horror genre.
People Who Like this movie also like
News & Interviews for Tales From the Hood
Critic Reviews for Tales From the Hood
Audience Reviews for Tales From the Hood
Mr. Simms: This ain't no funeral home! It ain't the Terror Dome, neither! Welcome to Hell, motherfuckers!  "Where nightmares and reality meet on the streets." Tales from the Hood is actually a fairly decent little horror anthology. There's just enough humor to make all the stories go over pretty well. There are some recognizable faces including Corbin Bernsen(In the most ridiculous of all the stories) and David Allen Grier.  After three gangsters descend upon a funeral home in order to get their "shit" a mortician begins to tell them stories. The first story is of a black activist who is bringing down the crooked cops. The second is of a young student who is being tortured by a monster. The third is a former KKK member is running for office and is living in a house where a huge massacre of slaves occurred. Now the slaves souls live on in little dolls. The fourth is of a gangster who has killed many of his brothers and is treated to the same sorta of deal that Alex was in A Clockwork Orange. Rating these stories from best to worst; I'll go with the young student as the best, crooked cops in second, A Clockwork Orange storyline third and the dolls in fourth.  The best part of the anthology is actually when stories aren't being told and we are in the funeral home with the crazy mortician and the three gangsters. The start and ending are both really cool. The ending is hilarious, as is a lot of the movie. It's definitely worth a watch if you're into horror anthologies. As far as those go, Tales from the Hood isn't all that bad.
Melvin White
Super Reviewer
Tales from the Hood's narrative is broken up into four short stories that tell haunting tales of child abuse, police brutality, racism, and black on black violence. The movie is an anthology horror movie like Creepshow or Tales from the Darkside with a central hub storyline tying together several stand alone narratives. The producer for the film is Spike Lee and it stars Clarence Williams III (Samson), Joe Torry, De'Aundre Bonds, and Samuel Monroe Jr. The main storyline follows three gang bangers who have been called to a local mortuary to retrieve a cache of drugs the mortuary's owner, Mr. Simms, has found. However, before Mr. Simms will agree to hand over the drugs to the three gangsters he forces them listen to a number of horror stories, each one with a moral. There is an African American cop who wants to turn the tables on some dirty cops that killed a prominent leader in the community, there is a story that deals with an abusive step-father who turns into a monster and beats his wife and step-child, there is a story of a corrupt politician who is a former member of the KKK and lives in a plantation home, and the last story is about a gang banger that gets busted and is sent to an extreme rehabilitation program. Each story ties into the main storyline somehow which is pretty cool. The writing and acting in this movie are really awesome. The first three stories are the best ones, with the last story being the weakest and weirdest. My favorite is the tale of the abusive step-father with David Allen Grier acting like you have never seen him act before. He gets really hardcore. The failing factor here is that the monsters in the movie are all exaggerations of real life people and situations; which kind of transforms this movie from being a horror film to a sort of public service announcement. The movie is really well done and the effects are spectacular, however the movie is not scary and I think it goes about one story too long. They could have cut out either the racist politician story or the rehabilitation story; which would have made the movie more concise and enjoyable. I am going to give this movie a 4 of 10. I still really like the movie, but I don't think that it merits anything over a 5. This ain't the Terror Dome, This is Hell! S!D
Brandon Siddall
Super Reviewer
½
I'm not going to add much, since most has been said already. I just wanted to state that I really enjoyed this movie. It not only pays a good homage to the classic EC comics (or at least the adapted early movie versions or series) but it manages to portray profound messages in a very powerful manner. The effects are pretty good as well and there's some nice gore so horror fans should be satisfied. I think that it's really one of the few movies that successfully combine horror and moral. The soundtrack is also very good - This movie was made in 95' - a time where hip hop in my opinion had reached it's highest point. So it's definitely worth a look!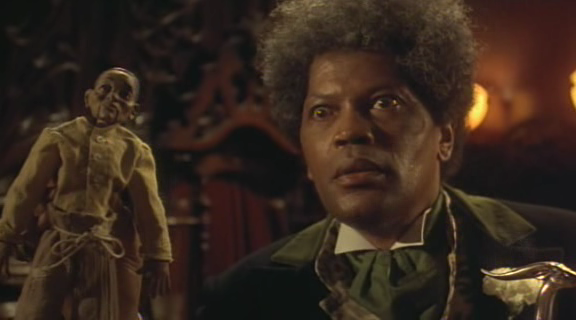 Cassandra Maples
Super Reviewer
Tales From the Hood Quotes
There are no approved quotes yet for this movie.