Tangerines
(2015)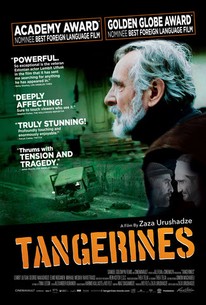 TOMATOMETER
AUDIENCE SCORE
Critic Consensus: Tangerines' impassioned message and the strong work of a solid cast more than make up for the movie's flawed narrative and uneven structure.
Movie Info
Set in 1992, during the growing conflict between Georgia and Abkhazian separatists in the wake of the Soviet Union's dissolution, this compassionate tale focuses on two Estonian immigrant farmers who decide to remain in Georgia long enough to harvest their tangerine crop. When the war comes to their doorsteps, Ivo (played by legendary Estonian actor Lembit Ulfsak) takes in two wounded soldiers from opposite sides. The fighters vow to kill each other when they recover, but their extended period of recovery has a humanizing effect that might transcend ethnic divides. Set against a beautiful landscape defiled by war, this poetic film makes an eloquent statement for peace. (C) Samuel Goldwyn
People Who Like this movie also like
News & Interviews for Tangerines
Critic Reviews for Tangerines
Audience Reviews for Tangerines
With one of the most beautiful scores of the year, this is a powerful and deeply melancholy anti-war story that uses a long-unresolved conflict to show us how two good, three-dimensional men could have been friends in different circumstances hadn't they been caught on opposite sides of a war.
Carlos Magalhães
Super Reviewer
½
Don't really know where I would even begin the review for this movie. I guess first things first would be the fact that I thought this was a really damn good movie. It can even be a great one in parts. It's not what I would call a great movie from beginning to end, but I do think it offers a really compelling and satisfying story. Part of it is the fact that the story really is very simple. I don't mean that in a derogatory manner whatsoever, I just mean the fact that the story is simply told. The film takes place during the Chechen-Georgian war and has two characters from each side injuring themselves after a small conflict with each other and being taken in Ivo into his house until they heal up accordingly. The film deals with these two having to co-exist in the same house despite the fact that both want to kill each for, literally, no reason other than the fact that their respective sides are at war. So it's an interesting, but not necessarily unique, approach. I wouldn't say that this is so much an anti-war movie as much as it is accepting of the fact that these things will keep on happening until the end of time, but it explores simple themes about peace, conflict and how war doesn't really solve anything. It only begets more and more violence. The fact of the matter is that these two, Nika and Ahmed, the soldiers, would have kept at it if not for the fact that Ivo's wise ways got through to them. The film isn't sentimental in any way whatsoever, so I do think that it reaches the natural conclusion of Nika and Ahmed gaining some small aspect of respect for each other despite their varying differences. I like how despite the seriousness of the film, they do give you these little moments of calm and even comedy. Those moments never last. In fact, on almost every occasion, something worse happens. So the movie keeps you on your toes, anything could happen at any time. That's how volatile the situation the characters find themselves in. The film definitely has a really strong message, but, the great thing about it is the fact that it doesn't force its message down on you. It has its moral and all of that, but it never forces you to think alike. You make your own conclusions. I've always been anti-war, so the film provided a message I agree with, but not because it was forceful or heavy-handed in getting it across. The film also benefits from some really strong performances. Like all around. Lembit Ulfsak, who plays Ivo, is phenomenal here. He's understated yet powerful all at the same time. Strong character development is also prevalent here. So, really, not much to complain about when talking about this movie. I felt there was something missing that would've pushed it into greatness, but this is still a really strong movie with a great performances and really good storytelling. It's on Amazon Prime, so get to watching.
Jesse Ortega
Super Reviewer
Flawless realism. Not a story of war, but a story of people. In the face of a nuanced conflict, simplicity is often a bad thing (see: the blockbuster American war film of the week...), but in this case simple is good, because war is just impetus; the rest is just interactions between men. A well-deserved Academy Award nomination.
Daniel Perry
Super Reviewer
Tangerines Quotes
There are no approved quotes yet for this movie.