Tarzan's New York Adventure
(1942)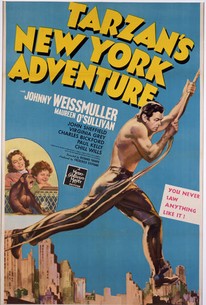 Tarzan's New York Adventure Photos
Movie Info
This final "Tarzan" entry from the MGM assembly line is arguably one the least effective of the series, though it certainly has its adherents. It all begins when Boy (Johnny Sheffield), adopted son of Tarzan (Johnny Weissmuller) and Jane (Maureen O'Sullivan), is kidnapped from the jungle by crooked circus promoters Rand (Charles Bickford) and Shields (Paul Kelly) and spirted off to America. This requires Tarzan and his mate to adopt "civilized" clothes and head to New York City, with the troublesome Cheeta the Chimpanzee along for the ride. There are some amusing moments as Tarzan tries to acclimate himself with the Big Apple, and some less amusing ones as Cheeta gets hold of a powder puff and lays waste to an expensive hotel room. The film's highlight, Tarzan's leap from the Brooklyn Bridge, comes at the film's halfway point, and accordingly things slow down considerably during the final reels. Tarzan's New Adventure works better as a stunt than as an official series entry, but it is still preferable to some of the so-so RKO Radio Tarzan films which were to follow. One racially questionable sequence involving black comedian Mantan Moreland has been understandably removed from some TV prints. ~ Hal Erickson, Rovi
Rating:
NR
Genre:
Directed By:
Written By:
In Theaters:
Runtime:
Studio:
WARNER BROTHERS PICTURES
Critic Reviews for Tarzan's New York Adventure
Audience Reviews for Tarzan's New York Adventure
½
This was the last of the MGM Tarzan movies. It's more of a comedy than an adventure film. All the previous Tarzan movies never had Tarzan leaving the fictional escarpment that he lived on in Africa. All the other Tarzan clichés are in this movie but they go to New York where Tarzan gets to jump from roof top to roof top until he gets to the Brooklyn Bridge where he dives into the river. That should have killed him but this is Tarzan and he survives without a scratch. I saw this movie many times on TV when I was a kid. One of the Oklahoma City TV stations used to show old Tarzan movies on Saturday afternoon right after all the Saturday morning cartoons. This one got repeated many times. When this movie was made New York was still a classy place and was the United States' front door to the world. There are a few stereotype black characters in the movie. They're there to get a comic reaction from Tarzan who thinks they are the natives from his African jungle. Most of the comedy is provided by Cheetah. I doubt that even in 1942 you could just walk around New York with an unrestrained chimpanzee much less board an airplane and walk into the country with an unregistered chimp. I'll bet this movie is so politically incorrect today that they wouldn't show as a kid's TV show.
Donald White
½
This sixth Tarzan outing is admirable for at least putting a major spin on things. The fish-out-of-water angle is often a good way to go once your characters are firmly established. Not as good as the first 4, but better than the 5th.
Scott Schirmer
8.5/10. This is my favorite Tarzan movie, perhaps technically it may not be the best, it is the one I found most entertaining. Taking Tarzan out of the jungle is a fascinating twist, and cheetah is at his most hilarious! Great fun.
James Higgins
Tarzan's New York Adventure Quotes
There are no approved quotes yet for this movie.