Taksi-Blyuz (Taxi Blues)
(1990)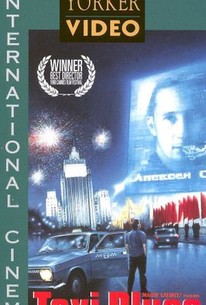 Taksi-Blyuz (Taxi Blues) Photos
Movie Info
Taxi Blues is a ground-breaking Russian film, one of the first to examine the rifts between the old Soviet Union and the post-communist Russian society. The movie concerns the friendship of an independent, alcoholic Jewish jazz musician named Liocha (Piotr Nikolajevitch Mamonov) and Schlikov (Pyotr Zaitchenko) a stern, conservative cabdriver. After Liocha doesn't pay Schlikov for a fare one evening, the cab driver tracks the musician down and takes his saxophone as payment. Despite his initial treatment of Liocha, Schlikov becomes fascinated by the musician and offers him a bed in his apartment. Eventually, the two strike up a friendship and Liocha gets a job in the taxi depot in order to pay off his debt. However, their friendship turn sour when Schlikov's girlfriend becomes smitten with the musician and Liocha joins an American musician for a U.S. tour. When Liocha returns, rich and successful, he fights with his old friend, leading to a sorrowful conclusion. Taxi Blues received great critical acclaim and many awards, including director Pavel Lungin winning the Best Director award at the Cannes Film Festival in 1990.
Critic Reviews for Taksi-Blyuz (Taxi Blues)
All Critics (5) | Top Critics (2) | Fresh (4) | Rotten (1) | DVD (1)
Taxi Blues is all hyperbolic atmosphere; it's one garish, semi-improvisatory big scene after another. But the bald, glowering Mamanov -- who's a rock star in the Soviet Union -- performs with a desperate, bebop fervor that's hard to forget.

Hits some joyful notes even while playing a somber tune.
Audience Reviews for Taksi-Blyuz (Taxi Blues)
In "Taxi Blues," Ivan(Pyotr Zaychenko), a burly cab driver in Moscow, has to deal with the usual nuisances his profession has to face the world over like drunk passengers and being stiffed for fare. This particular night is no exception as Alexei(Pyotr Mamonov), a jazz musician, leaves his cab without paying him. However, Ivan goes to the trouble of tracking him down to a bathroom in a club which Alexei surprisingly has no problem with since how much more can a beating add to the pain of the hangover he is already suffering through? Instead of inflicting physical punishment, Ivan takes his prized saxophone for payment but has second thoughts just before selling it... "Taxi Blues" is a time capsule of a society imploding where everybody desperately wants to get drunk but nobody has a ration card necessary to purchase alcohol, feeding a thriving black market. Ivan is the exception to the rule as he spends much of his time lifting weights and despite his gruff exterior, does his best to save Alexei from himself because he sees the potential in him like the way the film hints at the potential of the Russian people. However, a substance abusing jazz musician is such a cliche that Geoff Dyer once suggested Bellevue Hospital as a possible spiritual home for jazz. Now, if only the movie had a proper ending.
Taksi-Blyuz (Taxi Blues) Quotes
There are no approved quotes yet for this movie.