Tears of Gaza
(2012)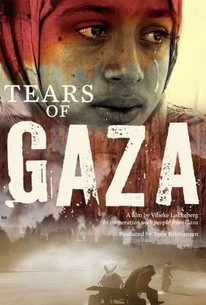 Movie Info
Disturbing, powerful and emotionally devastating, Tears of Gaza is less a conventional documentary than a record-presented with minimal gloss - of the 2008 to 2009 bombing of Gaza by the Israeli military. Photographed by several Palestinian cameramen both during and after the offensive, this powerful film by director Vibeke Løkkeberg focuses on the impact of the attacks on the civilian population. Tears of Gaza makes no overriding speeches or analyses. The situation leading up to the incursion is never mentioned. Similar events certainly occurred in Dresden, Tokyo, Baghdad and Sarajevo, but of course Gaza isn't those places. Tears of Gaza demands that we examine the costs of war on a civilian populace. -- (C) Steve Gravestock
Critic Reviews for Tears of Gaza
Audience Reviews for Tears of Gaza
Definitely not for the squeamish, "Tears of Gaza" is a visceral documentary look at the Israeli invasion of the Gaza Strip in 2008 and 2009 that left thousands dead and injured. While I admire the documentary for bringing this human rights crisis to the attention of the outside world, that does not mean I do not have my share of qualms. That starts with the documentary failing to do an adequate job of capturing daily life in the state of siege in the occupied territory, with highly suspect editing being a main culprit.(For example, I would have loved a look inside one of the famed smugglers' tunnels.) Since this documentary is as subtle as some of the explosions, it should come as no surprise that it is interested in pushing as many emotional buttons as it can find. So much so, that it might even qualify as 'tragedy porn,' to borrow an episode title from the smart, witty and wise "The Newsroom." The problem here arises from focusing mainly on the harm done to children, as it suffers from 'child worship syndrome,' to quote Bill Hicks. That's not to mention the lack of context, without which one cannot speak to motive.
Tears of Gaza Quotes
There are no approved quotes yet for this movie.