Teknolust
(2002)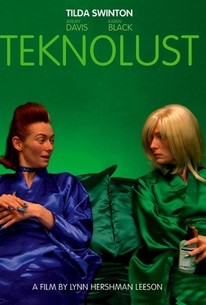 Movie Info
In this offbeat sci-fi-drama, Rosetta Stone (Tilda Swinton) is a scientist specializing in biogenetics who has made a major breakthrough in artificial biological engineering. Rosetta has created a type of Self-Replicating Automaton, which looks like a human being, but is in fact part machine and part living organism. In order to survive and reproduce, Rosetta discovers her SRAs need certain human genetic compounds that are found only in male semen. Hoping to kill two birds with one stone, Rosetta programs one of her SRAs, Ruby (also played by Swinton) to seduce men Rosetta has found through a website offering paid "fantasy dates," which will provide both needed materials and ready cash. Ruby brings back used condoms, and shares the contents with her fellow SRAs Marine and Olive (both also played by Swinton). However, after their assignations with Ruby, the men find themselves with a strange illness that leaves them with skin outbreaks and the inability to perform sexually. Two health investigators (James Urbaniak and Karen Black) begin interviewing the men infected, which sends them on a trail leading back to Rosetta and her research lab. Meanwhile, the more Ruby comes in contact with humans, the more she finds herself falling under the sway of human emotions, and she finds herself falling in love with Sandy (Jeremy Davies), a shy man working at a photocopying center. Shot on digital video equipment by acclaimed cinematographer Hiro Narita, Teknolust was screened at the 2002 Sundance Film Festival.
People Who Like this movie also like
Critic Reviews for Teknolust
Audience Reviews for Teknolust
What an odd little movie. It's pretty much totally invalid except as a performance showcase for Tilda Swinton, giving her all sorts of bizarre alien landscapes and situations to maneuver through. Its total lack of focus makes it intellectually unengaging, it looks and sounds cheap, and you don't really laugh at its absurdity like you would at most other successful comedies; you sort of revel in it. You get to see Swinton choreograph a three-person dance routine comprised entirely of herself, though, and you get to watch her say "succulent proteins" over and over to some guy at a bakery. Perhaps I'm just a fucking moron, or a die-hard Swinton fan, but little pleasures like these were perfectly worth sacrificing my 80 minutes for. Unless you really want to get your Tilda on, or you're in the mood for a super oddball sci-fi feminist curio, you could probably skip this and not miss out on much.
Drew Smith
Super Reviewer
Teknolust Quotes
There are no approved quotes yet for this movie.