Telling You
(1998)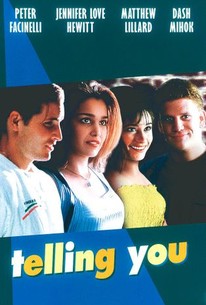 Movie Info
Robert DeFranco directed this comedy-drama about two New Jerseyites who graduated from college only to operate the oven at Lombardo's Pizza. Phil and Dennis soon realize that the guys they once laughed at have moved on -- while they have been left behind in Nowhere City.
Critic Reviews for Telling You
All Critics (5) | Fresh (1) | Rotten (4) | DVD (1)
Too often the film gets stuck in marginally amusing scenes of friends sitting around and talking.

Spirituality and Practice

Audience Reviews for Telling You
This movie aged horribly and the Jersey accents were painful to suffer through. It did have a sweet story so it wasn't a complete waste of time, but it can definitely be missed if there is something better to watch.
Heather Metzger
[b][size=5][color=orange]TELLING YOU (1998)[/color][/size] [img]http://images.rottentomatoes.com/images/movie/coverv/69/162169.jpg[/img] [color=brown]Posle završene mature svi obièno idu dalje, na bolje, veæe, važnije... ali to nije sluèaj sa junacima iz naše prièe! Oni vreme provode u piceriji, neki kao radnici, ostali kao stalni posetioci... Phil i Dennis (Peter Facinelli i Dash Mihok) žele da mogu uèiniti nešto više, ali nisu mogli naæi bolju priliku od rada u piceriji... krijuæi se kada bi ih poznanici prepoznali kraj peæi. Odrastanje je teško kada se suoèavamo sa ovakvim problemima, koji se iz dana u dan umnožavaju. Prekrasna mlada glumaèka ekipa u kojoj su i Matthew Lillard i Jennifer Love Hewitt je definitivno dala maksimum u ovom filmu režisera Robert DeFranca pa od mene ovog puta dobijaju èistu šesticu od moguæih deset![/color][/b]
Yep, becoming an adult sucks.
Leigh Ryan
Super Reviewer
Telling You Quotes
There are no approved quotes yet for this movie.
Discussion Forum
Discuss Telling You on our Movie forum!