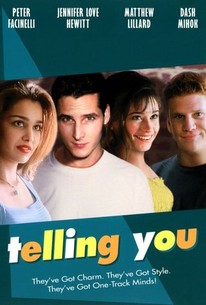 Telling You
1998, Comedy/Drama, 1h 34m
5 Reviews
1,000+ Ratings
Rate And Review
Movie Info
Two guys (Peter Facinelli, Dash Mihok) out of college find themselves working in a pizza joint and encountering people from their past.
Audience Reviews for Telling You
[b][size=5][color=orange]TELLING YOU (1998)[/color][/size] [img]http://images.rottentomatoes.com/images/movie/coverv/69/162169.jpg[/img] [color=brown]Posle završene mature svi obièno idu dalje, na bolje, veæe, važnije... ali to nije sluèaj sa junacima iz naše prièe! Oni vreme provode u piceriji, neki kao radnici, ostali kao stalni posetioci... Phil i Dennis (Peter Facinelli i Dash Mihok) žele da mogu uèiniti nešto više, ali nisu mogli naæi bolju priliku od rada u piceriji... krijuæi se kada bi ih poznanici prepoznali kraj peæi. Odrastanje je teško kada se suoèavamo sa ovakvim problemima, koji se iz dana u dan umnožavaju. Prekrasna mlada glumaèka ekipa u kojoj su i Matthew Lillard i Jennifer Love Hewitt je definitivno dala maksimum u ovom filmu režisera Robert DeFranca pa od mene ovog puta dobijaju èistu šesticu od moguæih deset![/color][/b]

At first speculations, I thought this movie was going to be very interesting, considering the combination-Dash Mihok and Peter Facinelli. I had gotten lost in the movie a number of times, and didn't really like Jennifer Love Hewitt's character. I would have to say this movie lacked a solid story plot.

Yep, becoming an adult sucks.
See Details