Telstar (Telstar: The Joe Meek Story)
(2009)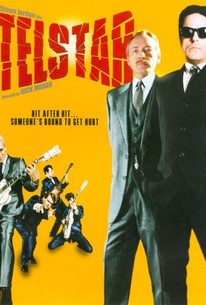 Telstar (Telstar: The Joe Meek Story) Photos
Movie Info
Adapted from Nick Moran and James Hicks' critically-lauded stage play, Telstar tells the remarkable tale of eccentric, London-based songwriter/producer Joe Meek (Con O'Neill), whose innovative recording techniques ushered in a bold new era of rock 'n' roll in the late 1950s. Tone deaf and musically illiterate, Meek nevertheless had a lifelong obsession with music and a knack for producing. Though Meek's tireless work ethic ensured a tumultuous relationship with his band, his ramshackle, apartment recording studio provided just enough space to record, and experiment with such cutting-edge techniques as sampling and distortion. Meanwhile, his landlady Mrs. Shenton does her best to put up with the racket, and his main backer Major Wilfred Banks (Kevin Spacey) provides the cash to produce such hits as "Be-Bop-A-Lula", " Johnny Remember Me", and, of course, "Telstar".
Critic Reviews for Telstar (Telstar: The Joe Meek Story)
Audience Reviews for Telstar (Telstar: The Joe Meek Story)
This film has so much energy, helped in part by a towering central performance. Unmissable.
Marcus Woolcott
Super Reviewer
½
In "Telstar," Geoff Goddard(Tom Burke) gets a rude awakening to the music business in 1961 as Major Banks(Kevin Spacey) has little idea that he is a writer when he shows up to work at a chaotic music studio in London. Joe Meek(Con O'Neill) has more important things on his mind like the ambient sound in the bathroom. And then there is Mrs. Shenton(Pam Ferris), his landlady, who wants to know what the black spots in her ceiling are. Meek tells her that it is only rubber cement; so that's alright, then. With its cool period music, injections of visual panache and intriguing subject, "Telstar" clearly should have been better, but never truly escapes its stage origins, especially in an introductory scene that goes on forever. And the movie lacks any serious point of view, as Goddard comes and goes as he pleases. As far as Meek goes, the movie cannot make up its mind about him. On the one hand, we have somebody who had one, maybe two good ideas(if that), and apparently passed on every band who hit it big in the 60's. But then hindsight is always 20/20. After which, the movie tries to go in the completely opposite direction in the postscript by mentioning how much an innovator he was. So, which was it?
A brilliant exploration of the British music scene in the early 60's and the revolutionary producer Joe Meek. O'Meill is fearless in the role and is the main reason to watch this but he is also supported by the cream of British talent...and Kevin Spacey! The film moves from comic fun to dark tragedy and it helps if you're familiar with the music or some of the great artists the actors are portraying but since this is an era I've always loved I thought the whole thing was great.
David Sayers
Super Reviewer
Telstar (Telstar: The Joe Meek Story) Quotes
There are no approved quotes yet for this movie.