Tennessee Queer
(2014)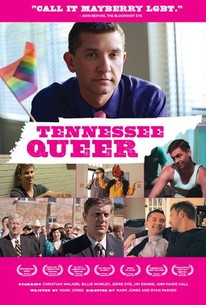 AUDIENCE SCORE
Critic Consensus: No consensus yet.
Movie Info
After a few years up north in New York, out and proud Jason Potts returns to his Tennessee hometown only to find things have not changed for the LGBT teenagers. Being gay is still the worst thing to be in Smyth, Tennessee. Wanting to help the gay teenagers in a small way, Jason hatches a plan to them some hope while he's home for the weekend. Things quickly spiral out of control and Jason is put in charge of the first ever gay pride parade in the sleepy small southern town. Unknown to Jason, a scheming conservative city councilman is working with a holier-than-thou minister to round up the gay teenagers after the parade and send them off to an ex-gay ministry camp to be cured of their sinful ways. Will Jason succeed with the parade? Will he be run out of town before the parade? Will the gay teenagers be sent away? Tune in to this hilarious comedy about a topical subject. (c) Official Site
Critic Reviews for Tennessee Queer
All Critics (3) | Top Critics (1) | Fresh (2) | Rotten (1)
In attempting to skewer persistent red state-style homophobia, writer-producer Mark Goshorn Jones and fellow co-director Ryan Earl Parker too often overplay the stereotypes - both gay and straight - to diminishing returns.
Los Angeles Times
Top Critic
The title is provocative but the comedy is accessible and the attitude generous in this made-in-Memphis feature... Call it 'Mayberry LGBT.'

Commercial Appeal (Memphis, TN)
A somewhat dated and preachy but well-intentioned dramedy. That the film, shot in 2012, strikes me as dated at times is actually a very good thing.
Audience Reviews for Tennessee Queer
½
Much as I wanted to like this movie for its "homos vs. haters" plot I found myself disengaged from the opening scene. It is as if we have seen this movie many times before; thus it seemed dated and anything but "fresh". Even the soundtrack music grated. It is not so much that it was full of stereotypical behavior and dialogue; it was that there were no creative or unexpected touches to make those characters and dialogue compelling. The acting seemed sit-commish with an overkill of ham in the southern stew. I realize the story was supposed to be set in the past; still, it is hard to watch gay men so tongue-tied and passive in their reactions to verbal and physical assaults. The final victory (which we knew was coming from the first frame) was anticlimactic. I also did not buy that a young, very cute gay high schooler, even closeted, would betray other young gays by doing a homophobic minister's bidding to identify gays in the school who need "treatment and redemption", nor that a gay bar owner would force a man removing gay newsletters and posters to do a strip tease act in lieu of going to jail. Really? There were a few amusing moments in the movie, but by the time the loving gay couple had called each other "bitch" for the third time I was ready to relegate this one to the "well intended dud" pile.
Steven Kerry
Tennessee Queer Quotes
There are no approved quotes yet for this movie.
Discussion Forum
Discuss Tennessee Queer on our Movie forum!