Term Life
(2016)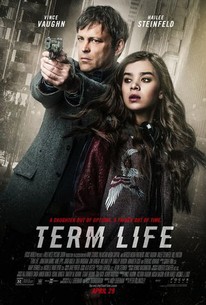 Movie Info
Everyone wants Nick (Vince Vaughn) dead. A desperate man, Nick takes out a life insurance policy on himself, payable to his estranged daughter (Hailee Steinfeld). But the policy doesn't take effect for 21 days and he might not live that long.
Rating:
R (for violence, and language including a sexual reference)
Genre:
,
Directed By:
Written By:
In Theaters:
On DVD:
Box Office:
$13,040.00
Runtime:
Studio:
Focus World
Critic Reviews for Term Life
Audience Reviews for Term Life
½
It is what you think it is... but, that doesn't take away from an impressive cast. I was astounded by the amount of talented faces that kept popping up on screen, which was honestly half the fun. Pretty run of the mill little low-budget actioner that tries it's best to have a heart at the same time. This may be Vince Vaughn's attempt at doing a popular middle-aged leading male move these days, such as Leslie Neeson's Taken, Pierce Bronson's The November Man, Sean Penn's The Gunman, Arnold Schwarzenegger's The Last Stand, Kevin Costner's 3 Days to Kill (which oddly enough starred the same actress as his daughter!!??), ETC. OK, I digress! This one was better than 3 of the ones I just mentioned. Hailee Steinfeld is a really good actor, that has the potential to become one of the greats one day. It was fun, but it just came on my TV one day... so without planning for it and going in with no expectations I think it's an enjoyable couple hours for a one-time viewing.
The Chad
Wasn't really much of anything. In terms of story: Some of the actions of the characters didn't make any sense, the stakes weren't high enough to arouse any emotion, and the daughter was given a guitar but I never got to hear her play it (which I was looking forward to, especially since Hailee is a great musician). A lot of the stuff Vince Vaughn's character says in narration either has no significance and just annoys the viewer, or is narration. If a movie is any good, it doesn't need narration to deliver plot. Nobody care's if Nick is having a shit day, his daughter has just been kidnapped, no shit Sherlock. And why was he telling us about Cate's mum's trouble. Don't force me to care about a character that has no impact on the story you're telling. I don't care, and I won't care. The script was kind of shitty too. Just one example of that is when Vince's character is shouting at Jon Favreau's character and says "I WANNA SEE HIM NOW. AND I WANNA SEE HIM TODAY!" As though those are two different demands that mean completely different things. I give it the two stars for the two things it did well: - It wasn't completely predictable like all the other hot trash they call good these days. - The casting was decent, especially with my girl Hailee Steinfeld and Vince Vaughn. There were also a lot of scenes and time wasted on shots that didn't need to be there. If they'd used the time more wisely, they could've told the story better, with better scripting and a little more creative breathing space. That's my rating and criticism. Cheers, Benjamin Bailey.
Benjamin Bailey
½
This is a weird movie. It might have been a good movie that turned to crap or it might have been crap that could have become something, but whatever happened....it sucks.
Troy Kleasner
Term Life Quotes
There are no approved quotes yet for this movie.