Terribly Happy (Frygtelig lykkelig)
(2010)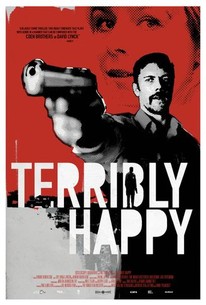 TOMATOMETER
AUDIENCE SCORE
Critic Consensus: Led by Henrik Ruben Ganz's assured direction, this knotty Danish noir thriller steers audiences into some nicely unexpected territory.
Terribly Happy (Frygtelig lykkelig) Photos
Movie Info
Robert has a number of skeletons in his cupboard, which he is determined to bury. Although, hardly his dream job, Robert sees the position of temporary village constable as a necessary stage on the road to rehabilitation. He just needs to do well and generally behave by the book. However, village life and the macabre provincial order turn out to be difficult to fit into Robert's plans. Nothing is ever straightforward, and certainly not when you are way out in the countryside.
News & Interviews for Terribly Happy (Frygtelig lykkelig)
Critic Reviews for Terribly Happy (Frygtelig lykkelig)
Audience Reviews for Terribly Happy (Frygtelig lykkelig)
not a happy film. not a terrible one either. but it does have a cop with a big moustache and a gun that he never uses. people have flashy show-offy names and speak words that don't make a lick of sense. i don't know. i wish they could just speak american. if i made this movie there would be more shooting and he would have a shiny golden gun but it would have fuzzy pink dice hanging from the bottom to symbolize his masculinity in a time of conflict and consequently his need for eliminating figures who threaten his character in turn threatens his own sanity while stimulating his ego... err umm i mean i would get him to fuck that blond chick and shoot guys with his fuzzy dice gun at the same time and they would be covered in foreign blood after fucking and it would be sweet and win some non-american awards or something.
Coxxie Mild Sauce
Super Reviewer
½
Terribly Happy is a Danish film about small town paranoia with echoes of The Coen Bros. film, Blood Simple. Although based on a true story, it also borrows a tiny bit from other films here and there. However, Terribly Happy still delivers and is clever and entertaining. Not a lot happens during the course of the film, but that lends to noirish feeling it gives off while the central character, Robert, tries to make sense of it all. The acting is pretty good and the damp country-side setting reminds you that real help is far away. It was cool to see Kim Bodnia (Pusher) in a different, yet, very tense role.
El Hombre Invisible
Super Reviewer
I mean, if you are into these slick foreign thrillers that are so desperately trying to live up to their American influences (in the case of "Terribly Happy" it's the Coen Brothers) who are not concerned with forging their own identity then you will certainly enjoy this.... but I didn't, really.
Steven Carrier
Super Reviewer
Terribly Happy (Frygtelig lykkelig) Quotes
| | |
| --- | --- |
| Politimester: | Mojn. That's what we say here. It means both hello and goodbye. |
| | |
| --- | --- |
| Helmuth: | Here, the earth rocks when you walk. The water tableâ??s high here, you see. When it rains, the fields turn into a giant swamp. That's when the cattle sink in and have to be hauled out with chains. Once a cow sank so deep into the mud, it vanished. Six months later it turned up again, inflated like a balloon. It gave birth to a two-headed calf with a calf's head and a human head. You've got to keep such a freak out of sight. Everyone knows that. Still, the farmer kept it. Soon after the cattle got mad cow disease - - and the women lost their unborn children and their minds. The men gathered at the bar, - - and one early morning they dumped the beast in the bog - - where it sank with a wretched roar. Since then, there hasn't been any fuss with neither cattle nor women. |
| Helmuth: | Here, the earth rocks when you walk. The water table's high here, you see. When it rains, the fields turn into a giant swamp. That's when the cattle sink in and have to be hauled out with chains. Once a cow sank so deep into the mud, it vanished. Six months later it turned up again, inflated like a balloon. It gave birth to a two-headed calf with a calf's head and a human head. You've got to keep such a freak out of sight. Everyone knows that. Still, the farmer kept it. Soon after the cattle got mad cow disease - - and the women lost their unborn children and their minds. The men gathered at the bar, - - and one early morning they dumped the beast in the bog - - where it sank with a wretched roar. Since then, there hasn't been any fuss with neither cattle nor women. |