Terrifier
(2018)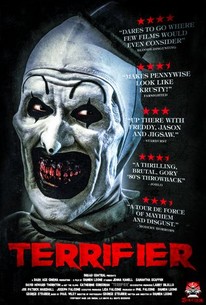 Movie Info
Based on a character from the cult anthology, All Hallows Eve, the gory 80's slasher throwback takes place on Halloween night as the demented Art the Clown sets his sights on terrorizing two girls and anyone else that gets in his way.
Critic Reviews for Terrifier
Audience Reviews for Terrifier
Not for the faint of heart, Terrifier is a film that really often wants to ask the question "how far is too far?" in a horror film. There is one scene in particular (if you've seen it, you know the one) that made me think "you know what, that's probably a bit much". While some moments of the film border on outright sadistic, the film for the most part actually really works. Its environments are effectively creepy, and it's villain Art the Clown is effective. This is really Art's show here, story doesn't seem to matter as much. He shows up on Halloween to wreak havoc on a series of people, and that's about all you're going to get. But for an 80's inspired slasher, that's about all you need. It moves at a brisk pace, the practical effects are damn impressive, and while it's set in modern day the scratchy look and ugly environments make it look like it could be set in the 80s (minus the smart phones). But this is really Art's show, and he steals the thing. At first, he's almost kind of funny in sort of a Joker-ish way, but he quickly becomes downright creepy. If you're afraid of clowns, I'd avoid this one. Terrifier is a simple movie: sadistic clown messes with a town in the most brutal way on Halloween night. As far as simple premises go though, the thing works. It's a throwback slasher that hits the right marks. For me it relishes a bit too much in its own sadism at times to being a little uncomfortable and that takes away some of its fun though. Still, I appreciate what it's doing enough to recommend for fans of slashers.
Michael Malan
Super Reviewer
½
So...yea, I watched It: Chapter One a week and a half ago and, apparently, my taste for killer clowns was not satiated by that movie, so here we go with this movie instead. It's kind of difficult not to compare the two, even though Pennywise itself is a demon and Art the Clown is more grounded in reality, he's just a psychopath that dresses up as a clown to murder people. Not even gonna try to say which one was a better character because, again, both clowns offer something completely different and it just depends what you're looking. With that said, the design of Art the Clown is, in and of itself, definitely weird and creepy. I've never been scared of clowns though I can understand how some people would be scared of them and Art the Clown should provide nightmare fuel for those people with that particular phobia. As far as the movie is concerned, however, what did I think? First of all, the character of Art the Clown originally appeared in Damien Leone's own anthology movie All Hallows' Eve. I'll be honest, that anthology movie did nothing for me and nothing from Terrifier, the short that Art first appeared on and also, fucking obviously, the name of this movie, really gave any indication that this would make a good horror movie. It just wasn't particularly good, even if the design of the character was creepy enough. Having said that, while I wouldn't call this a good movie, it's a perfectly decent throwback. Some reviews called it a throwback to 80s horror and, honestly, I wouldn't agree with that at all. I feel it's more a throwback to 70s grindhouse with a bit of an 80s aesthetic given the fact that Art the Clown would have fit in (relatively) well with the Freddys and the Jasons of the world. But the movie itself, stylistically speaking, feels nothing like an 80s slasher. What I mean by that is the fact that, yes, this movie sees Art hunting down several people, fucking with them before he murders them in horrifying fashion. But what differs in this movie as opposed to, say, Freddy and Jason, is that Freddy and Jason, for the most part, had its tongue planted firmly in cheek and its violence was not necessarily that believable. This movie, on the other hand, takes a more believable approach. That's not to say that it's completely realistic, since Art hacksaws a woman in half. I mean, come on, how the fuck is that even close to remotely possible without the hacksaw itself being destroyed 5% into Art attempting to do this. What I'm trying to say, though, is the fact that the violence itself is a little more grounded and, therefore, feels a lot more visceral. The movie might be seen by some as ugly due to this, since its violence is purposely more disturbing than in regular 80s slashers. But, of course, at the same time, there's nothing in this movie that really differentiates this from other slashers in the slightest. David Howard Thornton, who plays Art the Clown, does do a very good job with the character. He utters, literally no words. Hell, he doesn't even make any type of sounds when he's hurt, but David does the give the character a threatening presence and physicality. And, again, the appearance also has a lot to do with that, but David still does a great job regardless. I think that's one of the few things that separates David from most 'monsters' in slashers. There's obviously been silent monsters before. Jason, Michael Myers, but, at the very least, those two have always been portrayed by tall, hulking men. David is tall, at least it comes across that way, but he's a skinny guy. So, to me, I feel like that makes his performance even stronger. Nobody else really stands out, though it's not like the acting is horrifyingly terrible. As far as scripting is concerned, there's nothing really to this movie. What I mean by that is that it goes through all the beats you would have expected it to go through. It's standard and basic stuff all things considered. And, really, that's one of the things that stuck out at me upon having watched this movie. Taking David's performance as Art the Clown aside, the movie is just your basic, average slasher. So it's not only a throwback in style but just in terms of quality too. There was a time, late 70s to early 80s, where if this movie came out, it probably would have led to a major horror franchise that we would be talking about today. But we're not in the late 70s to early 80s. We're in 2018 and horror, whether some may like it or not, is completely different than it was back then. Independent filmmakers have found ways to expand what the horror genre is. Whether that is through clever and subversive scripting and/or finding new ways to tell stories, independent horror (in my opinion) is in a really strong state. So movies like this end up feeling incredibly retrograde and, quite honestly, worse than their more modern counterparts. That's not to say that there isn't a place for films like this, that isn't my point, the point I'm trying to make is that the movie was so concerned with feeling like a throwback that it neglected to give it its own identity. Because, as you may have seen, the movie is just inviting comparisons to what came before. There's probably a good movie here, deep down, but I feel like it requires a more adept hand than Damien Leone's. The guy clearly has some talent, but I feel that he's not there yet as a writer in order to make a movie like this work and for it to feel completely unique. That's why it feels like an amalgam of 70s and 80s horror with, honestly, very little that feels its own. The thing is, though, that this isn't bad. I found this to be a decent and watchable enough movie, but there's no real substance to any of it and its lack of a real identity really held it back in my book. There's no character-work whatsoever, the movie is just putting people in Art's way for him to murder, but there's no real story progression or anything of the sort. Maybe there's more mileage to the Art character that I wouldn't mind a sequel, but this movie didn't exactly make the best first impression. I wouldn't recommend it, but it's still a decent horror movie if you want something mindless. Having said that, this is still probably the worst decent horror movie I've ever seen, if that makes sense.
Jesse Ortega
Super Reviewer
Terrifier Quotes
There are no approved quotes yet for this movie.