Terror of Mechagodzilla
(1975)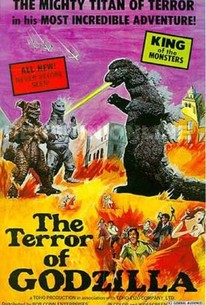 AUDIENCE SCORE
Critic Consensus: No consensus yet.
Terror of Mechagodzilla Photos
Movie Info
A race of malevolent aliens bent on world domination unleash the ultimate weapon of destruction on mankind, leaving them with no hope for survival but the power of the mighty Godzilla. Their galaxy dying, the endangered aliens discover a planet that could save them from extinction if it wasn't already populated. In order to solve that significant problem, the scheming extraterrestrials construct Mechagodzilla, a 400 foot destroyer of worlds armed with powerful lasers and guided missiles. As Godzilla prepares to face off against his powerful intergalactic doppelganger, the traitorous Professor Mafuni lends his genius to the aliens to create the mighty Titanosauraus. Titanosauraus is a massive amphibious dinosaur that Professor Controls via a biomechanical connection with his android daughter Katsura. But just as it begins to appear as if all hope has been lost for both Godzilla and the human race, Interpol agents discover that Titanosauraus has one weakness that may give the Godzilla the crucial edge that he needs in order to emerge victorious. ~ Jason Buchanan, Rovi
Critic Reviews for Terror of Mechagodzilla
All Critics (2) | Fresh (2) | Rotten (0)
There's something about a man in a rubber suit that CGI can't match.
The most grave and deliberate and consequential Godzilla film in a decade.
Audience Reviews for Terror of Mechagodzilla
Terror of Mechagodzilla is much better than its previous outing and it provides fans of the series with a more confident monster film that is entertaining from start to finish and overcomes its flaws. The film builds on the elements that were introduced in the previous film, and works to create something truly entertaining. If you loved Godzilla vs. Mechagodzilla, you'll dig this one. Although slightly lacking, this is a return to basics that uses elements from the better Godzilla films. Not perfect, but quite good. I really liked the film, and it is a fine little monster film. The film could have been done better of course, and left a bit of room for improvement. Even if the series has taken a turn in the wrong direction in the past, this follows up film is worth seeing and the fact that it returns to the old formula without trying to create something pointless. Fans will enjoy this film and if you're a fan of the genre and a fan of the series, then this is a terrific film that will keep you entertained from start to finish. The cast do a fine job and the direction is pretty good. The monster carnage is the standout aspect of the film and is fun for what it is. In the end, the film delivers some cheesy entertainment that will delight the fans that were let down by the previous efforts in the series this would be the last effort in the Godzilla franchise before it would rebooted in 1984.
½
Not a bad godzilla film, really was enjoyed by this one, but it seemed a bit long, even though it took an hour and ten minutes. I liked seeing mechagodzilla again, he's one of the best villians in the godzilla franchise, and a new monster named titanosaurus, he's a worthy foe, but has an annoying roar that just wants you to find a formula to grow yourself to godzilla size to tell him to shut up. The reason why i was a bit nippicking was that the human conversation can really be an eterninty to listen to and at times they may have something intresting to say, but they are just well written. Just throughout the film i was saying, 'Show some monsters!' Then it finally happened. May seem short, but was simply worth it and is still an awesome fight, not bad, has some flaws, but is still an awesome part of the godzilla series and is a conclusion to the origianl godzilla series. B+
Juan Charqueno
Super Reviewer
½
Just as good as its predecessor, if not better. Last time we saw Godzilla teaming up totake down one monster. This time, he has to take down two, by himself. This is a great end to the original series, as it contains all the great elements. Awesome fights, which take us back to more inhabited areas. The country side had become a cheap alternative, but you can't beat city destruction. There is also a lot of heart, as we see a ridiculed scientist and his daughter struggle with their feelings. This film actually contains some human sacrifice. Making us and Godzilla equal again. Very impressed with something that could have been all a little much.
Luke Baldock
Super Reviewer
Terror of Mechagodzilla Quotes
There are no approved quotes yet for this movie.