Testament Of Youth
(2015)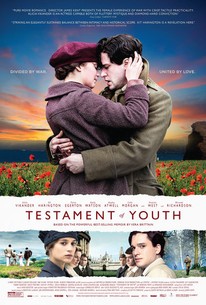 TOMATOMETER
AUDIENCE SCORE
Critic Consensus: Testament of Youth is well-acted and beautifully filmed, adding up to an enriching if not adventurous experience for fans of British period dramas.
Testament Of Youth Photos
Movie Info
Testament of Youth is a powerful story of love, war and remembrance, based on the First World War memoir by Vera Brittain, which has become the classic testimony of that war from a woman's point of view. A searing journey from youthful hopes and dreams to the edge of despair and back again, it's a film about young love, the futility of war and how to make sense of the darkest times.(C) Sony Classics
News & Interviews for Testament Of Youth
Critic Reviews for Testament Of Youth
Audience Reviews for Testament Of Youth
Based on the acclaimed novel, Testament of Youth is a provocative war drama that follows the experiences of Vera Brittain. After the breakout of World War I both her boyfriend and her brother enlist in England's army, and before long Vera herself feels the call to serve and drops out of university in order to be a voluntary nurse as part of England's war effort. Alicia Vikander gives an excellent performance that's quite impassioned, really capturing the character's struggles. The sets and costumes are also remarkably well-done, giving an authentic look and feel for the time period. However, there are some awkwardly inserted poetry scenes that don't really flow with the realistic tone of the film. And, the message is rather understated for such an influential novel. Yet Testament of Youth is a powerful film, and does an excellent job at portraying the unglamorous realities of war.
Dann Michalski
Super Reviewer
By necessity of source the film is structurally a little episodic, but otherwise I can't find fault in this powerful, stirring true story. The committed performances of Kit Harington and especially lead Alicia Vikander are perfect. A truly underrated film.
Daniel Parsons
Super Reviewer
Testament of Youth This is a perfectly made account of World War I, seen through the eyes of a beautiful, intelligent and educated young, middle class woman, Vera Brittain, who wrote a best-selling book about her experiences. It has never gone out of print. The quality of the production is first-class, with detailed interiors, street scenes and costumes. The English landscapes are breathtaking. Then, the scenes of battlefields and field hospitals are graphic and bloody. These are well judged, without resorting to gratuitous violence or gore for entertainment's sake. The acting, direction and editing are uniformly very good. Once again, the wonderful Emily Watson, in the role of the mother, provides key turning points in the story, within just seconds of footage. Vikander plays Vera with a pleasing neutrality, that throws the action and the characters of the story up into relief. We feel acutely the suffering of the wounded and dying and those who weep for them. Vera's speech against the cycle of killing and revenge is powerful. This is the kind of film that all young people should see. Do them credit; they could appreciate that the film shows what our own soldiers, nurses and their families and friends experienced in the carnage of WWI, which many young people are commemorating solemnly today, in the moving, annual ceremonies that we see them attending in large numbers, around the world.
Testament Of Youth Quotes
| | |
| --- | --- |
| Roland Leighton: | Does it get any better than cake? |
| | |
| --- | --- |
| Vera Brittain: | They'll want to forget you. They'll want me to forget. But I can't. I won't. This is my promise to you now. All of you. |
| | |
| --- | --- |
| Miss Lorimer: | You don't own the truth about how we get through this, Miss Brittain. Your opinion is just that, an opinion, and you'd do well to remember it. |
| | |
| --- | --- |
| Vera Brittain: | I'm sorry. I didn't mean to be harsh. |
| Roland Leighton: | I've let you down. |
| Vera Brittain: | No. |
| Roland Leighton: | Now it's here, I have a dust and ashes feeling about it. |
Discussion Forum
Discuss Testament Of Youth on our Movie forum!