Tetsuo: The Bullet Man
(2009)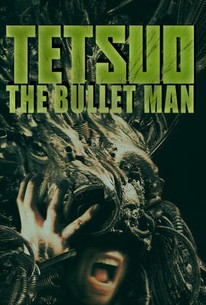 AUDIENCE SCORE
Critic Consensus: No consensus yet.
Tetsuo: The Bullet Man Photos
Movie Info
Synopsis: The third installment in the series, TETSUO III: THE BULLET MAN, and Tsukamoto's first English-language film, stars Eric Bossick as Anthony, a young man who was born and raised in Tokyo and is now raising a family there. What should be a happy time in Anthony's life is not: his wife is crippled by anxiety and unable to leave the house. She also has recurring nightmares about a horrible fate awaiting the pair's young son, Tom. Those nightmares turn out to be prophetic when Tom is cruelly run down in the street. Losing their boy pushes Yuriko over the edge and triggers violent emotions in Anthony, whose body begins to transform. Anthony flies into a terrible rage, and soon discovers that the power of his emotion transforms him into a strange, metallic monster. When the driver who killed Tom reappears and Anthony learns the truth about his father's past experiments on human guinea pigs and about his mother's death, Anthony mutates into a mass of metal - a human weapon fueled by an uncontrollable rage. This delights the mysterious man who ran down Anthony's son, a man who now continually taunts Anthony from a distance. -- (C) IFC Films
Critic Reviews for Tetsuo: The Bullet Man
Audience Reviews for Tetsuo: The Bullet Man
A man with "android DNA" turns into a metal monster when he gets angry. Pointless b-movie styled remake of an underground classic that turns surrealism into silliness.
Sadly, I was quite disappointed in this one, the first Tsukamoto film that's ever garnered that reaction. It wasn't just the poor line delivery and questionable dialogue, it just seemed that Tsukamoto had nothing new to add to the series. Still, I did like it, he simply cannot fail with keeping a film's visuals and pacing engaging, but I was hoping for so much more.
Christopher Brown
Super Reviewer
I'm always happy to have new Shinya to watch, especially Tetsuo films. Alas, this one actually explains a bit too much, giving the three films a semblance of plot and connection, which actually takes away from the fun. Those looking for Shinya's usual over the top cyber antics will not be disappointed.
Tetsuo: The Bullet Man Quotes
There are no approved quotes yet for this movie.