That Game of Chess
(2009)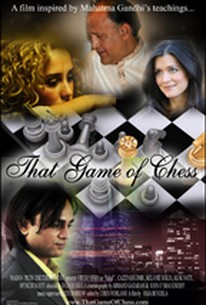 AUDIENCE SCORE
Critic Consensus: No consensus yet.
That Game of Chess Photos
Movie Info
That Game Of Chess, a film inspired by Mahatma Gandhi's preaching and his three promises which he made to his Mother when he was going to England for higher studies. In the plethora of various Bollywood Crossover films depicting the repeated parental disapproval of inter-racial relationships, comes a movie with a new and refreshing theme. This movie portrays the trials and tribulations of Rahul, a twenty something ambitious Indian guy, who travels from his motherland to the land of opportunity, America , to pursue his dreams of being a successful career man. When Mahatma Gandhi wanted to go abroad to England for higher studies, his mother did not like it. Gandhi understood his mother's fears about his maintaining sobriety and purity of conduct. Gandhi then made three promises that he would refrain from alcohol, will remain a vegetarian and will refrain from sex. He kept up all the three promises and returned with his principles of morality preserved intact. Inspired by the work of Gandhi since childhood, Rahul, when leaving India, also makes similar promises to his Father to ease his family's concerns. Rahul, a computer engineer by education, gets a computer programming job with a very reputable company in Los Angeles but his ambitions are bigger. Rahul had several business plans which he wanted to execute and become a successful entrepreneur. Other than a few cultural adjustments in his new country, his smart and intelligent demeanor and friendly, kind, easy-going nature help him adapt well with the new surroundings. The going is good for him, but life has something else in store. His life takes a new turn when he falls deeply in love with an American girl. The film follows Rahul on this roller coaster ride. As the story unfolds, Rahul is compelled to break his promises one by one. This movie bares the harshness of life for an Indian immigrant in America. It tells the truth in a hard-hitting manner, something which has never been done before in an Indian crossover film. America, which seemed a land of opportunity to Rahul, now leaves him with shattered dreams and destroyed aspirations. Will he always be seen as a Gas Station Worker here? The land where he dreamed of erecting his big business empire will expect him to work at 7-11? Should he even continue his struggle here? Like Gandhi said :"First they Ignore you, then they Laugh at you, then they Fight you, and then , You WIN! " Who is going to remind Rahul 'what Gandhi said?' With Rahul's father passes on now, he doesn't even have his source of inspiration and wisdom, anymore. What about his dreams? Who will bring the million stars back into eyes? What makes this movie even more unique is the expertise and dedication of hardworking young Indians in America, who want to make this movie, their first venture, a wonderful experience both for themselves and the audience. This movie draws from their lives as well as the lives of other Indians living here. Everyone will be able to relate to the movie on some level. This movie is not only about cultural conflicts; it's about love and about life. The whole team is driven to make this a very entertaining feature both for Hollywood and Bollywood. --© Official Site
Critic Reviews for That Game of Chess
All Critics (3) | Top Critics (2) | Fresh (0) | Rotten (3)
Visually, the film displays no zest or inventiveness whatsoever, though the actors manage, most of the time, to read their dialog audibly.
So unconvincingly played and poorly crafted that it's checkmate from the first move.
Sometimes a movie is so amateurish, you don't know whether to hate it or feel sorry for it. That Game of Chess, a Bollywood crossover co-written by and starring Viresh Sinha, falls into the latter category.
Audience Reviews for That Game of Chess
There are no featured audience reviews yet. Click the link below to see what others say about That Game of Chess!
That Game of Chess Quotes
There are no approved quotes yet for this movie.
Discussion Forum
Discuss That Game of Chess on our Movie forum!