The Big Day (Jour De Fete)
(1952)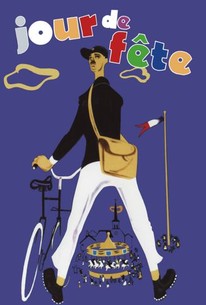 The Big Day (Jour De Fete) Photos
Movie Info
In Jacques Tati's charming -- and essentially plotless -- pre-Hulot first feature, Tati is Francois, a contented and happy postman in a small, unhurried French village. Francois is at ease with his job and leisurely performs his duties, peddling away on his rounds upon his beloved bicycle. Things perk up when a traveling carnival arrives in town. One of the attractions at the carnival is a film depicting the United States Postal Service's fast and efficient postal delivery system. The narrator in the film exhorts, "Rapidite, rapidite." Francois takes up the call, and attempts to Americanize his work style. Intriguingly, Tati originally shot this film in two simultaneous processes - a black-and-white one and an experimental color one called 'Thomson-Color' - but was forced to release the black-and-white when he ran into problems printing the color film; he subsequently tinted select sequences, then in the late 1990s his daughter (a film editor) prepared and released a color version of the entire movie. ~ Paul Brenner, Rovi
Rating:
NR
Genre:
,
Directed By:
Written By:
In Theaters:
On DVD:
Runtime:
Studio:
Cady Films
News & Interviews for The Big Day (Jour De Fete)
Critic Reviews for The Big Day (Jour De Fete)
Audience Reviews for The Big Day (Jour De Fete)
½
This was a different kind of comedy, I'm not sure how to describe it, really. Problem was, it's not very funny. It was sort of quirky in a very old fashioned kind of way. It felt a lot older than it was even.
½
Comedy legend Jacques Tati directs, co-writes and stars in this charming look at a guileless postman bicycling his rounds in a small French village. The film is near plotless, unless you count a late section where Tati's character Francois sees a newsreel about American postal efficiency and strains to accelerate his own work in reply. (This final act is wholly recycled from Tati's 1947 short "School for Postmen.") The laughs depend on sight gags, lightly presented but carefully choreographed, and Francois doesn't speak much. When he does, he adopts a self-involved, thinking-out-loud mutter that barely calls for a response. Chickens, who cackle throughout the film with perverse consistency, arguably have more lines than any human. Francois's bike -- which frequently gets away from him -- accounts for a large chunk of the humor and the rest revolves around his interaction with the playful townsfolk, who alternately cheer on his diligence or try to throw him off course. (Learn to say no to alcohol, Francois!) The lack of story is somewhat wearying, but the film's brisk 79 minutes pass before this becomes a serious problem. "Jour de Fete" was simultaneously shot in both color and black-and-white, and the latter version was the standard for years. However, a restored color edit was finally released in 1995. Given the subtlety of the film's visual humor, it's possible that some jokes are easier to pick up in color. So, don't worry about the ethics of "colorization."
Eric Broome
Super Reviewer
½
It struck me while watching Jour de Fete that Tati's films are as much a response to the war and the bomb as anyone's; it's a comedy (and a very funny one), but Jour de Fete is also an expression of nostalgia for small-town, pre-war French Eden, when we knew less and, by extension, had less to worry about. Tati brilliantly mines for comedy the alienating effects of technology, even as his films are so deeply rooted in physicality--in a Tati film, individuals and communities are made up of and defined by the things they do, whether that's delivering mail, having a drink, spending the night in a train car, watching a girl's silhouette as she undresses in the window, hitching up a horse and cart, taking off your shoes for the walk home, or raising the French flag. The flag and the limited use of color (France and America, of course, share the red, white, and blue) couches the film in postwar nationalism: Tati shows France as it has been, as it is, as it could be, and as, he thinks, it should be--the flag is raised not by a crane or any sort of elaborate pulley system, but by brains and bodies, pragmatism and problem solving (sometimes creating additional problems in the process, and he wouldn't have it any other way). Of course, Tati is unabashedly romantic about all this--for him, physical interaction with the world brings us together, while machines divide us. His criticism is most obviously expressed in the Tati character's two very different days delivering mail: on the first, he stops to talk to his neighbors, leisurely spending time together and enjoying one another's company; on the second, he tries so desperately to get things done faster and better that he winds up not doing much of anything at all (as he attempts to stamp the mail while hitching a ride on the back of a truck, papers fly up in his face--an amusing demonstration that multitasking frequently means trying to do everything and actually doing nothing). He ruins the contents of one package, delivers some letters that may never be found, and nearly causes at least one car crash--and the increasingly frenetic music, cutting, and mis-en-scene reach a climax as Tati flies headlong into the river, followed by a long, slow, static, and silent denouement as he emerges, sopping, out of it (followed by a dissolve to his rescue in the old woman's horse and cart, his bicycle hanging off the back). Cows and geese will get in the way and nature will take its course--and those of us who would attempt to streamline it will wind up the brunt of the joke. As the world grows smaller and becomes increasingly homogenized with technologies uniting (and perhaps colonizing) people from every corner of the earth, Tati's idealism feels less realistic and more necessary all the time. Globalization doesn't bring us together--it streamlines us; it strips us of our identities, and possibly our souls. To criticize "the American way," Tati made a series of delightfully non-American films--instead of plot he provides incident and instead of character (in the traditional--or American--sense) he offers mannerism; there's little dialogue and, even at such a brief running time, no efficiency. Because we've all seen what good that does.
Davey Morrison Dillard
The Big Day (Jour De Fete) Quotes
There are no approved quotes yet for this movie.
Discussion Forum
Discuss The Big Day (Jour De Fete) on our Movie forum!