The Coca Cola Kid
(1985)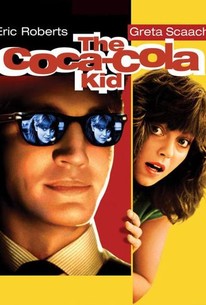 Movie Info
In this routine story about love, business, and soda pop, Becker (Eric Roberts, brother of Julia Roberts) is a marketing whiz for the Atlanta-based Coke company, mandated to go to Australia and improve their sales. After he arrives, he traces some strong competition to T. George McDowell (Bill Kerr) whose own brand of bubbly carbonate has carved out a monopoly in one particular region. Becker's mission looks promising -- McDowell is interested in a merger -- but then, Becker's secretary (Greta Scacchi) is interested in a merger of another kind, and she is McDowell's daughter. Now Becker is worried that conflicts personal and otherwise may scotch the whole deal.
Rating:
R
Genre:
, ,
Directed By:
Written By:
In Theaters:
On DVD:
Runtime:
Studio:
Cinecom Pictures
Critic Reviews for The Coca Cola Kid
Audience Reviews for The Coca Cola Kid
½
Why Is It Always Coca-Cola in These Things? I have spent most of the day fretfully turning off movies. I actually finished one, some Sean Connery thing set in a military prison, but I didn't have much to say. Of course, I don't have much to say about this, either, but it's six minutes to eleven, so I don't have time to watch anything else. I watched about twenty minutes of [i]Claire's Knee[/i]; Claire hadn't appeared on camera yet. I watched about ten minutes of [i]Gentlemen Marry Brunettes[/i], but its primary appeal seemed to be Jane Russell doing a Marilyn Monroe impersonation, and while that was fun for a couple of minutes in [i]Gentlemen Prefer Blondes[/i], I didn't think I'd be able to sustain an entire movie of it. I started [i]The Lost Moment[/i], but didn't care. In theory, I watched [i]The Fabulous Baker Boys[/i], but only enough to hope that Beau Bridges would stop singing. I even missed most of the piano scene. Becker (Eric Roberts) is a Coca-Cola executive from corporate headquarters in Atlanta who gets sent to Australia to explore a mystery. There is one small town in one small region of the country where not drop one of Coke is sold. It's not because it's a Pepsi town, either. Turns out the whole town drinks nothing but the locally-produced sodas made and sold by T. George McDowell (Bill Kerr) in a factory which hasn't been much updated since it was built. (You figure there have to be health code violations in there somewhere.) Becker is also having some kind of wacky goings-on with Terri (Greta Scacchi), an unnecessary secretary who turns out to be even more unnecessarily connected to the plot which fails to make sense in the end. She's got an Adorable Child whose name I missed and a Surly Ex-Husband whose name I also missed. Things happen, many of them just to show that Americans and Australians Don't Understand One Another, like the guy who thinks Becker's with the CIA. I have to tell you, this may have changed in the last twenty-five years, but we don't misunderstand each other all [i]that[/i] much. Oh, I think there are details we don't get, though I would generally assume that anywhere Coke wasn't doing business in Australia was just uninhabited. It's not an unsafe assumption, depending on where you are. It also perplexes me that the guy in the hotel is so convinced that an American staying there must be in the CIA. Okay, I didn't catch exactly where in Australia this is set, but where in Australia where there would be some kind of major Coca-Cola offices would also be somewhere without a reason for Americans to visit? And if there were that place, wouldn't it be awfully conspicuous to be an American there in the first place? And Eric Roberts's character is awfully American. I know he's actually from Biloxi, but is that his real accent? It feels a bit much. There are, in this world, intelligent, thought-provoking "fish out of water" comedies. This is a variety of satire which is so meaningful that I wrote my paper for the AP English exam on the dramatic equivalent thereof. It just seems really easy to do it wrong. Yes, okay, it's easy to do anything wrong, and I acknowledge that. However, it seems that satire is really hard to do. This is of course in part because there are people whose irony detectors are broken, people who wouldn't know witty commentary on life today if it hit them over the head with a brick. The general result of that seems to me that certain people think the way to go is, well, hitting people over the head with a brick. Or else not worrying about it and being so understated that the humour goes out the window entirely. Which I suppose assumes that they'd be funny in the first place. Not all people have skill in that particular department. To be honest, I spent most of the movie looking to see the resemblance between Eric and his sister. They seem to have the same mouth, but that's about the extent. And, looking over his IMDB page, it seems I've seen more of her movies than his, and he's made a ton more movies. About 125, with maybe ten of those still in production in one way or another. I really don't know all that much about him; I hear he and his sister have been on bad terms, but I seem to remember hearing that they aren't anymore. I don't know. Don't really care, either--I don't even think I care about the Brothers Estevez, and both of them have produced work near and dear to my heart. (Yes, I include [i]Young Guns 2[/i]. Shut up. It's for sentimental reasons!) I just don't really see Roberts as doing real work in this movie. I haven't seen enough of his work to see if he acts in any of it, but this just seems to be a fluff piece disguised as something meaningful, which I guess is not unknown to the Roberts family. Or the Estevez one.
Edith Nelson
A strange, quirky, yet predictable comedy, romance, adventure in Australia. I half like it and half hate it, so it's okay.
½
"She never understood...Ice." Wacky and witty, reminds me of TAPEHEADS mixed with Alex Cox's REPO MAN.
FilmGrinder Stone
The Coca Cola Kid Quotes
There are no approved quotes yet for this movie.