The Mayor of Hell
(1933)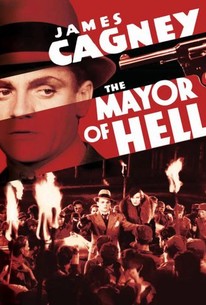 AUDIENCE SCORE
Critic Consensus: No consensus yet.
Movie Info
Gangster Cagney allows his powerful political connections to appoint him "deputy inspector" of a state reform school. There he finds the youths abused and battered by a brutal, heartless warden and his thuggish guards. It is a nurse who informs Cagney and pleads with him to clean things up. Something touches Cagney's normally hard heart and he commits himself to enacting more humane reforms. Soon, he gets the warden booted out and begins working closely with the inmates, who come to trust and respect him until Cagney's dark side emerges and he reveals himself for what he is--a ruthless mobster. This destroys the boys' trust and when the old warden is reinstated makes matters even worse until Cagney makes a difficult choice. ~ Sandra Brennan, Rovi
Rating:
NR
Genre:
, ,
Directed By:
Written By:
In Theaters:
On DVD:
Runtime:
Studio:
Warner Bros. Pictures
Audience Reviews for The Mayor of Hell
1933 (NOT 2008) morality drama about down and out kids in a reform school. Tyrannical headmaster Thompson goes one kid too far and the kids revolt. (Watch for "Farinna", now 12 years old and former Little Rascals character. He did quite a job throughout the film). [img]http://t1.gstatic.com/images?q=tbn:ANd9GcSllVRJ0h9vt8Ko9Dl5BeYf7gIiG8MFrG3f6p5Qu8197U33KIL2mA[/img] The Mayor of Hell is one of those titles that while creative, is too over the top. Better, Babes in Hell, or My Chocolate Bar for a Trip Out of This Place. Outstanding Cagney performance as an unlikely hero to a bunch of down and out kids in reform school. With help from a school nurse, the kids learn that they need not be, as Cagney puts it, Chumps. They have to survive the cards given them and Cagney gives them the cards. [img]http://t3.gstatic.com/images?q=tbn:ANd9GcRiwh__Aq0JNQ-OMExfwhfk5rQitT5g8Z1JzVyMnX_LFRKrciUv[/img] Unfortunately, the cards turn bad for Cagney and he shoots a rival, having to leave supervision of the school once again to the dreaded Thompson. The kids turn rebellious when a fellow inmate dies. Any more than that and you might as well not watch the movie. This is one hell of a movie, but as morality plays usually go, it is a most unlikely plot. A guy like Cagney gets to see first hand what a reform school can do to kids, even though he's a ruthless killer himself. [img]http://t2.gstatic.com/images?q=tbn:ANd9GcSyzOmRsRMhG5W71iM7WusF-eZX4fIlZXO-el8k56ODnnxotSI8Mw[/img] Pure Hollywood, but thats what made Hollywood great, especially in the Depression era of the U.S. And now for my take. This is a sappy movie true. Cagney is great and it all turns out for the best. But this is a most unlikely story that makes moviegoers feel great, but is hardly likely in reality. [img]http://t0.gstatic.com/images?q=tbn:ANd9GcQx7Uri_kyqV1AQ3SNDlcS0mY9dak41FYvPTnMeJhEFXJHDrD43[/img] A deduction of 20% for Mayor of Hell for credibiity, I give it an 80. Not real bad for a far fetched morality drama is it? [img]http://t1.gstatic.com/images?q=tbn:ANd9GcRU9ZgDO9tpxs1m5wkoGUh_taw60LKnPndYUdaFPGOiEjXFMaIr[/img] REVIEWS: 80% This one of those social dramas that Warner Bros. knew how to put together and were guaranteed box office hits in the thirties. 70% The Mayor of Hell deals with the controversial subject (in the 1930s) of reformatories as it follows the life of depression-era children as they try a... [img]http://t1.gstatic.com/images?q=tbn:ANd9GcSDDyeAr4d9gL7HL5PLzM0E4-R3koBtREPP9dc3pTqDVmdy7ej12Q[/img] Here, basically, Cagney tells this guy to suck his dick... (meaning: total disrespect) NOTES on the film: 1 The film was remade in 1938 as Crime School with Humphrey Bogart taking over James Cagney's role and Hell's Kitchen with Ronald Reagan. Starring James Cagney ... Richard 'Patsy' Gargan Madge Evans ... Dorothy Griffith Arthur Byron ... Judge H.J. Gilbert Allen Jenkins ... 'Uncle' Mike Dudley Digges ... Mr. Thompson Frankie Darro ... James 'Jimmy' Smith Sheila Terry ... Blonde with Mike Robert Barrat ... Fred Smith, Jimmy's Father Allen 'Farina' Hoskins... Joliet 'Smoke' Hemingway (as Farina) Harold Huber ... Joe, Gargan Henchman Dorothy Peterson ... Mrs. Smith, Jimmy's Mother G. Pat Collins ... Brandon, Head Guard (as George Pat Collins) Directed by Archie Mayo Michael Curtiz (uncredited) Written by Islin Auster (story Reform School) Edward Chodorov Release date(s) June 23, 1933 U.S. release Running time 90 minutes
monsieur rick
The Mayor of Hell sounded like it was going to be a weak version of Angels With Dirty Faces but it was surprisingly more than what I'd initially expected. James Cagney plays a racketeer who starts taking a cushy in-title-only government job at a boys reform school seriously. The last half hour starts falling apart a bit once you discover the focus isn't quite where you thought it was but the final fifteen minutes redeem the flimsy third act quite a bit. Cagney plays Cagney and quite a few of the inmates, I mean students turn out some pretty good performances. If you can consider The Mayor of Hell one of the early Warner Bros. gangster movies, I'd say its one of the better ones...
Michael Gildea
Super Reviewer
An okay movie, but I've seen others just like it, so it wasn't all that interesting, and the beginning is really boring. The end is where it gets exciting.
Discussion Forum
Discuss The Mayor of Hell on our Movie forum!