The New Gladiators (I guerrieri dell'anno 2072)
(1984)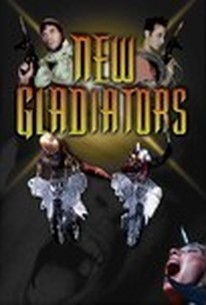 AUDIENCE SCORE
Critic Consensus: No consensus yet.
The New Gladiators (I guerrieri dell'anno 2072) Videos
The New Gladiators (I guerrieri dell'anno 2072) Photos
Movie Info
In the future, two television networks compete for ratings by producing violent game shows. One network produces a modern day version of the Roman gladiators, only on motorcycles instead of chariots, and uses convicted murderers as the participants, The network decides it needs a champion for this sport, so they frame a constant winner from another game for murder, and place him on the show.
Rating:
NR
Genre:
, ,
Directed By:
Written By:
In Theaters:
On DVD:
Runtime:
Studio:
Media Home Entertainment
Audience Reviews for The New Gladiators (I guerrieri dell'anno 2072)
½
Watched this based on the plot & the fact that Lucio Fulci directed it. The story is very similar to The Running Man.
Chris Cooper
"Lucio Fulci's The Running Man!" Now that the obvious joke is out of the way, this is one of the best bad movies I've seen in a long time. Everything about New Gladiators radiates that rare, wonderful form of bad that just makes you want to laugh out loud. The acting is overwrought, the story is absurd, the special effects are profoundly cheesy, every aspect of the "futuristic" world has dated horribly, and even the music is corny like little else. If ever a movie deserved the old "I can't believe MST3k didn't do this movie!", this is it. Honestly, I'm being a little harsh on New Gladiators. Cheesy though it may be, there are plenty of worse "we have seen the future, and it sucks" movies out there. Most of the action isn't much worse than anything in Rollerball or it's ilk. The only really BAD bad stuff comes from the meandering script, and even that isn't as ADD as most of the material Fulci and his contemporaries were working with in their more familiar horror genre. Still, anyone looking for an unintentional laugh riot can't go wrong with this baby.
Simon Ladd
It's like The Running Man and Rollerball (the original, not that God awful thing with LL. Cool J.) , but cheaper, on a budget, and Italian. Lucio Fulci famed for his gore filled, nightmarish horror and zombie films, made an attempt at sci-fi adventure, about a future Rome where Gladiators are brought back in a tv show called "ThrillKill, where prisoners fight to the death. For plot, you can imagine on your own, a grim hero, an evil exec, a computer which starts thinking for itself, and a battle for freedom...I think...there were a few novel moments, when this film isn't sure if it wants to be sci-fi or horror and the inconsistency starts showing, but that's about it. In this films, "battle of the damned!", you get what you pay for. I stayed awake throughout, but fell asleep immediately after.
Joseph Sylvers