The Wild Blue Yonder
(2005)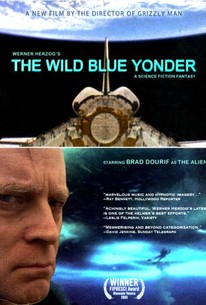 Movie Info
The film follows a hypothetical proposition: a group of astronauts are circling the earth in a spacecraft, but they cannot return, as our planet has become uninhabitable. The cause of this remains open; all-out war, outbreak of a new disease beyond control, radiation after the complete disappearance of the ozone layer, or whatever. The crew of the spacecraft has to find a more hospitable place out there in space, and releases a probe from their cargo bay, Galileo. But Galileo -- after sending back very disquieting data -- has to be sent on a suicide mission.
News & Interviews for The Wild Blue Yonder
Critic Reviews for The Wild Blue Yonder
Audience Reviews for The Wild Blue Yonder
Bold and hypnotic. Hertzog blends real footage of a NASA shuttle mission, exploration underneath the ice shelf in Antarctica, and mathematicians explaining the gravity tunnels between planets and weaves a fictional narrative around it all with Brad Dourif playing an alien from Alpha Centari. The music is incredibly alien and often nearly overpowers the imagery onscreen, which says something as some of the footage is pretty incredible. The underwater sequences is repeated in Hertzog's later documentary about the Antarctica, Encounters at the End of the World, but here is used convincingly as an alien landscape. Its just amazing to see how well he weaves footage of things as mundane as a satellite being built and astronauts exercising on the shuttle into a movie about a mission to another planet. Its really quite inventive.
Humberto Ferre
½
I really love the concept of this film. Deep, thought provoking and scientifically analytical, with a heavy dose of irony. The style of film is unique, basically taking National Geographic footage, and using it completely out of context. Dourif's scenes are quite interesting, as he seldom disappoints. Unfortunately, the term 'boring as hell' doesn't quite capture how boring it truly is. If '2001: A Space Odyssey' taught us anything, its that 1 1/2 hours of watching crap float around in space set to classical music is way, way too long. Basically, this is another film with serious potential that does some things right, but is largely squandered.
Julian Toepfer
½
What Herzog has done is gathered together some gorgeous footage shot in space and in the arctic, then concocted his own story around the images and got Dourif to narrate. It's a neat idea and it just about works (it also avoids any global-warming spiel), but at the same time the images are amazing enough to speak for themselves, and the true story is just as fascinating.
Marcus Woolcott
Super Reviewer
The Wild Blue Yonder Quotes
There are no approved quotes yet for this movie.
Discussion Forum
Discuss The Wild Blue Yonder on our Movie forum!