The 15:17 to Paris
(2018)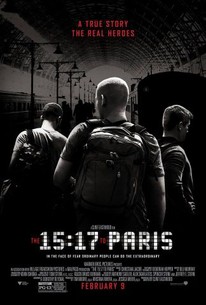 TOMATOMETER
AUDIENCE SCORE
Critic Consensus: The 15:17 to Paris pays clumsily well-intentioned tribute to an act of heroism, but by casting the real-life individuals involved, director Clint Eastwood fatally derails his own efforts.
The 15:17 to Paris Videos
The 15:17 to Paris Photos
Movie Info
In the early evening of August 21, 2015, the world watched in stunned silence as the media reported a thwarted terrorist attack on Thalys train #9364 bound for Paris, an attempt prevented by three courageous young Americans traveling through Europe. The film follows the course of the friends' lives, from the struggles of childhood through finding their footing in life, to the series of unlikely events leading up to the attack. Throughout the harrowing ordeal, their friendship never wavers, making it their greatest weapon and allowing them to save the lives of the more than 500 passengers on board.
News & Interviews for The 15:17 to Paris
Critic Reviews for The 15:17 to Paris
Audience Reviews for The 15:17 to Paris
The idea Clint Eastwood had to cast the real life heroes as themselves in The 15:17 to paris was a bold one, and likely one that few directors could make without serious pushback. It was an intriguing decision that filled me with more trepidation than it did anticipation. To me, you can't just throw non-actors into a film and expect them to carry the entire feature by themselves. As it turns out, that trepidation turned out to be fact. The real-life story of Spencer Sadler, Alek Skarlatos, Anthony Sadler, and many brave others is extraordinary. The courage of so many people in a very stressful situation should be commended, but I didn't feel as though Eastwood gave the project his undivided attention this time around. Unlike the brilliantly poignant 'Sully' from 2016, The 15:17 to paris not only suffers from stagnant acting, but the screenplay by Dorothy Blyskal is among the most bland and stiff pieces of writing I've read/heard in years. Granted, I heard that the 3 main heroes were allowed to change around dialogue to fit their personalities more, which in theory is a great idea, but that doesn't necessarily translate to a feature film. In short, you can't expect a mass audience to understand or go along with the exact tone and delivery of lines you would have around your friends. I know mine wouldn't translate. The actual train sequence itself is thrilling and is undoubtedly something cinematic and visceral. But Eastwood wasn't able to elevate an entire script around such an exhilarating few minutes. It hurts me to have to rip an important story (and one that should be told), but I have to call it like it is. There's not much to see here, but my appreciation goes out to the real life heroes involved, we need more folks like you around the world. 4.1/10
Thomas Drufke
Super Reviewer
½
ATTEMPTED MURDER ON THE DISORIENTED EXPRESS - My Review of THE 15:17 TO PARIS (2 1/2 Stars) Clint Eastwood is 87 years old. Say what you will about his politics, or the...ahem....pacing of some of his films, he has directed two Oscar winning best pictures, and still cranks out one or two movies a year. He's 87, people! 87!!! Most people his age don't live to be his age! And yet, here he is churning out another film in his "What Makes An American Hero" series (AMERICAN SNIPED, SULLY) with THE 15:17 TO PARIS, the true story of three lifelong Sacramento besties who thwarted a terrorist attack aboard the titular train. Like SULLY before it, I wondered how such a short moment in time could be made into a movie. SULLY answered that question by repeating the incident over and over and padding it out with a hearing that never took place. THE 15:17 TO PARIS, written by first timer Dorothy Blyskal, pads out an admittedly thrilling 10 minute sequence with 80 some minutes of clunky childhood backstory and the overuse of a selfie stick throughout Europe. The swinging for the fences stroke of genius idea, however, has Eastwood casting the actual heroes in the lead roles. In concept alone, I admire the attempt. It's fresh and rare. The fact that Eastwood and Warner Brothers are willing to risk telling such an iconic tale with non-actors playing themselves, which is much harder than it looks, earns my respect. A shame the film falters as much as it does. Anthony Sadler, Alek Skarlatos, and Spencer Stone are true heroes. They saved a lot of lives that day in 2015 and nobody can ever take that away from them. I would imagine they would be the first to admit that they're not actors. It would have been so easy to cast Michael B. Jordan, one of the Chris' (Pratt, Pine, Evans....whatever), and a Hemsworth or two, soup up the action a little mores and have an action blockbuster on their hands. Eastwood and Co., however, are after something more intimate by giving us a trio of average troublemaking kids who grow up to love their country and randomly find their moment while galavanting across Europe. Sadly, the script has one groaner line after another and stiff line deliveries don't help matters much. Sadler has a little charm, but gets saddled with exactly one unflattering characteristic, the endless need to document every moment with his selfie stick. Skarlatos, who winningly competed on DANCING WITH THE STARS, struggles the most here with a total absence of charisma, which leads me to think he should stick to dancing. That may be the most absurd sentence I've ever typed. Stone, however, in a role more layered than the others, actually does quite well. He's got the zip and unpredictability of a young Woody Harrelson. Now don't get me wrong, I do NOT want him showing up next in one of those FAST & FURIOUS movies, but he touched me, what can I say? In a film overstuffed with strong actors such as Judy Greer and Jenna Fischer along with not bad cameos by Thomas Lennon, Tony Hale, and Jaleel White, it's that much more noticeable when our leads struggle to bring their characters/themselves to life. The script meanders through their childhood antics, but the point is made clear. Ordinary people do extraordinary things. The young Anthony and Spencer don't do so well with their scenes, but Bryce Gheisar as young Alek has a nice melancholic presence. Between this film and his wonderful performance as the best friend in WONDER, he's a child actor to watch. He's better at playing Alek than Alek is at playing Alek! Things get uncomfortable, and quite boring, when the trio make their way through Europe, with all the obvious excitement gelato, drinking, clubbing, and more selfies bring to the equation, although I was tickled by the fact that 87-year-old Eastwood staged a scene with stripper poles, endless shots, sick beats, and people grinding all up against each other. Elderly directors don't all want to make THE BUCKET LIST, ok? But that train sequence. It's what we all want to see and it more than lived up to what I had hoped. Shooting in a lively docu-style, Eastwood achieves the immediacy, the terror, and the visceral qualities of the violence quite well. It's an act of heroism that made me cry. My emotional connection to this moment had me rethinking the entire film experience. Yes, it's pretty bad, but I still felt something. I knew I was witnessing that moment where people decide to act on instinct and make a difference. They didn't plan it. They didn't set out to be heroes. They bravely just did the right thing. A Hollywood-ized version of this story would not have had the same impact. It may have had a better sense of pace and false dramatics, but this somewhat failed experiment has the distinction of putting you right there inside the experience. It's a shame that it kinda sucks, but I still applaud the outside-the-box approach.
Glenn Gaylord
Super Reviewer
This is better not judged by ordinary measures, with the three men who really did stop the terrorist acting in the three leading roles as themselves. They do a fine job, even if it is obvious they aren't professional actors: this is the key quality of the film. You can sit through the front part of the show, and think that you have seen more exciting bios and travelogues. But the threads are there: the young boys playing soldiers, the stockpile of toy guns and a real gun kept at home, the willingness to question the status quo and the mothers who stuck up for them with the schools and who stuck together too, the responsibility and decency instilled in the boys, the teamwork, and the men's interest in bigger themes - some philosophising, and some family history. The film also points out that the Russian army drove Hitler to his final bunker. Stone's early physical workouts are impressive and the men's various military training, including life-saving, kicks in. The terrorist was armed with a Kalashnikov and hundreds of rounds, plus a knife. As one of the men says, it was one in a million that the rifle misfired when Stone ran straight at it. The three men were on the train unarmed, and in a mortal struggle they took the terrorist down without shooting. You might think you know this story from newsfeeds. But the awarding of the Legion D'Honneur to the men is greatly moving, as is their return home as heroes. Another of the men, quoted by the French President, said "you have to do something". So the questions are there: if you believe in and keep guns, but on the day you are unarmed, what would you do? And if you are against guns and never use them, what would you do? Retracing the path with the men themselves, you are a big step closer to the action than you get from regular products, either fiction or documentary, and that makes this interesting, and good cinema.
The 15:17 to Paris Quotes
There are no approved quotes yet for this movie.
Discussion Forum
Discuss The 15:17 to Paris on our Movie forum!