What to know
critics consensus
Thrilling visuals and the substantial chemistry of its well-matched leads make The Aeronauts an adventure well worth taking. Read critic reviews
You might also like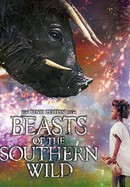 Beasts of the Southern Wild
Birds of Prey (and the Fantabulous Emancipation of One Harley Quinn)
Rate And Review
Movie Info
In 1862 headstrong scientist James Glaisher and wealthy young widow Amelia Wren mount a balloon expedition to fly higher than anyone in history. As their perilous ascent reduces their chances of survival, the unlikely duo soon discover things about themselves -- and each other -- that help both of them find their place in the world.
Critic Reviews for The Aeronauts
Audience Reviews for The Aeronauts
When it comes to bringing true stories to the big screen, it should go without saying that things are going to be intentionally overlooked or changed in order to fit the version on-screen. Filmmakers try to make the best films possible, regardless of what they have to change from the source material. The Aeronauts is yet another true story that has been drastically altered and many viewers seem to be using the big change as a way to tear down the movie as a whole. This classic story involved two men, but for our times, it was updated so that it could be evened out. Personally, I think a film is a film, regardless of what reality actually was. If you're going to complain about things like this, then you have to complain about Quentin Tarantino's films like Inglorious Basterds or Once Upon a Time in… Hollywood. With all of that aside, let's discuss the film itself.  Seeing Eddie Redmayne and Felicity Jones reteam once again was very nice, as I loved their chemistry in The Theory of Everything. Redmayne portrays James Glaisher, a scientist who wishes to discover weather patterns and break the record for the highest point anyone has travelled into the sky. Teaming up with fictional pilot Amelia Rennes (Jones), the two of them take flight in a hot air balloon, venturing into the unknown. Becoming a fight for their lives, this movie provides quite a few thrills and intense moments of realization. I thoroughly enjoyed my experience with this movie from beginning to end.  This film doesn't take any time in getting them into the air. The film begins with its launch and flashes back to how they got here in the first place throughout the movie. I found this to be very effective and the two leads made it that much more enjoyable. From very well-done visual effects, showcasing incredible vistas to very committed performances, I found myself enthralled and worried about the outcome. Not knowing anything about how this story ended in reality definitely helped, but The Aeronauts is a very well-made film nonetheless.  There are moments that are clearly fictionalized and exaggerated, but the way these moments are presented, feel natural and plausible. The way the aspect ratio changes and fills the entire screen during the sequences in the sky was breathtaking. Although there's nothing entirely perfect about this film, I'd be lying if I didn't admit that I was swept up in the emotion of it all. Tom Harper did a great job directing this film and his writing, accompanied by Jack Thorne also provided some very solid dialogue throughout.  In the end, The Aeronauts provides a very satisfying experience for those who don't find an issue in the historical changes. Personally, I didn't even learn about these changes until after viewing the movie, so it had no effect on me. As a film on its own, it's very well done, even though it may not feel all that original. The emotion, excitement, and overall look of the movie outdo any glaring cliches that arise throughout the events. Now streaming on Prime Video, I recommend checking this one out.

It's been deemed "Gravity in a hot air balloon" and that succinct blurb is both unfair and also entirely accurate. Based on true events, we follow a pair of nineteenth century scientists pushing the bounds of understanding when it comes to weather atmospherics. When it's up in the clouds, The Aeronauts can be a thrilling, visually gorgeous, and viscerally compelling movie about survival. Director Tom Harper (Wild Rose) uses modern camera techniques and lenses to make this old timey survival story feel immersive and alive. The film does an agreeable job of letting an audience understand the dangers that await and the mini-goals needed to avoid those dangers as well as the rising stakes or their limited options. The special effects team on this movie perform a minor miracle with how they're able to translate what I assume was just a balloon basket and a giant green screen stage into a soaring, visually rich landscape of awe and terror. Felicity Jones is our protagonist, a woman who yearns to be accepted as a scientist as well as recovering from a personal tragedy, and she performs some impressive feats of physical acting when the film requires her to be very limited. Her co-star Eddie Redmayne does his usual Redmayne bashful, mumbly, soft-spoken, head-tilting stuff. Where The Aeronauts suffers is that half of the movie is derived of flashbacks for both of the characters to provide motivations why they ended up in that balloon basket. Imagine if half of Gravity was watching Sanda Bullock on Earth mourning the death of her daughter and deciding whether or not to go into space. It's filler, plain and simple, and there's too much of it. The motivations are pretty standard (wishing to prove one's self, earn the respect of disapproving parental figures) and the information doesn't add to the balloon sequences, like they learned some crucial detail that ends up saving their lives. The Aeronauts is legitimately a movie I would recommend seeing on the biggest screen possible to really enjoy the arresting and nerve-wracking visuals. Also, feel free to duck out for bathroom breaks every time the movies disappointingly decides to come back to earth. Nate's Grade: B
Quotes
There are no approved quotes yet for this movie.