The Aggression Scale
(2012)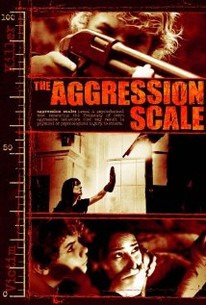 AUDIENCE SCORE
Critic Consensus: No consensus yet.
The Aggression Scale Photos
Movie Info
When out-on-bail mob boss Bellavance discovers that $500,000 of his money is missing, he sends four hardcore hit men to send a "loud and messy" message to the suspected thieves' families. But when the killers invade the Rutledge home, they'll meet the household's emotionally disturbed young son Owen. Owen has a history of violent behavior, knows how to make lethal booby-traps and is about to teach these thugs some deadly lessons in extreme vengeance. Fabianne Therese co-stars in the savage thriller that IndieWire called "like Home Alone with more death!"
Critic Reviews for The Aggression Scale
Audience Reviews for The Aggression Scale
½
I really hate when they make movies like this one, because there is absolutely no point to the whole thing. If I wanted to see a bunch of people running around, shooting at each other, while hardly saying a word, I'd watch a John Wayne movie. The Aggression Scale is a pointless film about a mob boss, who sends his team to close some unfinished business. Mr. Bellavance (Ray Wise) doesn't want any witnesses and his team goes on a killing spree. Everything is going as planned, until they find a family whose children decide to fight back. This could have been a darker version of Home Alone or even something similar to Die Hard with kids, but it wasn't. The lead character, played by Ryan Hartwig, doesn't say a word through the entire film. No cute catch phrase, nothing special at the end, not a single word, but even that was preferable to the performance of Fabianne Therese. The whole movie this girl is whining, crying, and making weird noises, it really was enough to drive a person insane. As I said earlier, there really is no point to this film and there is no reason to watch it either. The story is thin and the film is basically an hour and a half of people running around shooting at each other. The Aggression Scale represents the worst Hollywood has to offer and it's mind boggling that a company would even agree to make something as bad as this.
Todd Smith
Super Reviewer
Rainman Chuck Norris meets Home Alone
Stuart Brooks
Super Reviewer
½
Totally awesome suspenseful nail biting ride as Owen (Ryan Hartwig) and his sister Lauren (Fabianne Therese) decide to grab the reins for their very lives as they witness their parents Bill (Boyd Kestner) & Maggie (Lisa Rotund) becoming unsuspecting victims to a group of men sent to their new lives in the country to become mob hits. Using every bit of their wits as well as Owen's "MacGuyver's Survival Skills" The two of them go against the odds to push their very survival to the very limits of the hitmen's patience. Please see this!
Fascade Fiveoneeight
Super Reviewer
The Aggression Scale Quotes
There are no approved quotes yet for this movie.