The Anonymous People
(2014)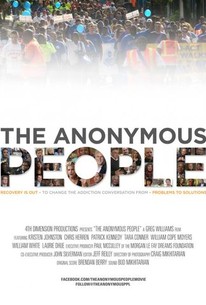 The Anonymous People Videos
The Anonymous People Photos
Movie Info
Directed by Greg Williams, The Anonymous People features prominent people who are living publicly in long-term recovery, like former NBA star Chris Herren, award-winning actress Kristen Johnston (3rd Rock From the Sun, The Exes), Miss USA 2006 Tara Conner, best-selling author William Cope Moyers, former congressmen Patrick Kennedy and Jim Ramstad - and many others. Their brave testimonies dispel long-standing clichés about addiction and recovery.(C) Kino
Rating:
NR
Genre:
,
Directed By:
Written By:
In Theaters:
On DVD:
Runtime:
Studio:
Critic Reviews for The Anonymous People
Audience Reviews for The Anonymous People
Love it! If you don't love this film you are not understanding what it is about, or misinterruting its message:)
Critics have completely missed the point of this film. A wonderful point was made that recovery is not funded, nor is it treated equitably in hospitals, the legal system, and greater society because of the stigma surrounding the nature of addiction. Because so many people who are in long term recovery are not speaking up, the government, insurance companies, and greater society is not recognizing that medical and psychological treatment works, community support is crucial, and recovery is absolutely possible when properly funded and socially understood.
Zandra Ellis
Before watching this documentary, I knew I was getting into some heavy shit. But it was so much more than that. I was surprised at what I heard as I've never really heard about this before. This was a very shocking, powerful, eye opening documentary on addiction and the ugly personification it unjustly gets. Through no fault of their own, the image of alcoholics/addicts has been seen through one skewed and distorted angle. And I've never seen it in such detail from their perspective. It really opens your eyes and will no doubt change your view on addicts, the problems they have, and their struggles to get better. It's shocking that it has taken this long for their voices to be heard in a project like this. But in a society where addicts and alcoholics are looked down upon, shunned and kicked to the curb like dirt, I'm not surprised that it has taken this long. They seemingly have anyone and everyone against them at every turn when they make even the slightest of progress in any way, shape or form. And no one is more at fault than the US government. The policy makers are supposed to look out for our own best interests but instead choosing their own best interests. I'm surprised it got such strong leeway in the late 60s, early 70s when racial equality, women's rights, and anti-government protests were everywhere in that timeframe. People got so many things backwards in those days that its shocking those issues were even being discussed at all, let alone people having to fight for those rights. It's just so heartbreaking to see an issue get so close to acceptance that crash and burn only to recover many years later. With the help of the government it was on its way to widespread acceptance, but that same government had plans of its own. In the early 1980s President Ronald Reagan enacted a zero tolerance drug policy that would undermine addicts and alcoholics on their way to recovery and acceptance. All future presidents would follow suit. These pointless policy changes and the war on drugs did so much more damage to communities, the country and people with addictions than anything else ever could have. What chance does an addict/alcoholic have when the president of the United States is shaming you and millions like you to hundreds of millions around the country and world? But they don't matter as long as they fill up jails, keep getting arrested for minor drug offenses, and getting more funding when the quota is filled. Jailing for drugs never worked and it never will. It's all made to be a circle of arrests. It doesn't matter if you're rehabilitated when you get out. It's about justice being served. The more people healthily rehabilitated, the worse it is for the jails. They need repeat offenders to keep coming back in their jails to further prove that incarceration is the only answer to help these people and rehabilitation is a waste of time. It's ironic that the money used for these offenders could be used for them to get treatment out of jail, but it's too bad we live in a let em burn at the stake cold hearted society. This is further helped by the cold, heartless, unforgiving, sensationalist media which loves to exploit the trials, tribulations, drama and tragedy of people with addiction. It is the case especially when it comes to celebrities. They have a face to pinpoint the next train wreck for drugs and/or alcohol. They'll use anything to catch a headline trying to garner that all too important exclusive. Then they paint them as bad as they want to be while acting like they want to help. By using the sexiest, tasteless tagline, they further distance the person as an addict with problems and the person as an addict who is trash. They'll do anything to demean the person forgetting they're a human being with feelings and not some animal at a zoo to be gawked at. Then act all surprised when they go into relapse, overdose or die asking what they could have done? who is to blame? The media also loves a big, major drug bust showing slums populated by minorities ravaged by drugs. They paint a one sided view of drugs from a very ignorant standpoint, showing to millions in people's homes infecting people far worse than drugs or alcohol addiction could have. The media influence reaches millions as it allows everyone watching to shame, embarrass, and anyone they come in contact with struggling with addiction to feel less than human. They see an addict/alcoholic as nothing more than a weak willed, loser who couldn't cut it and could've gotten help if he wanted too. All the while not realizing they're the same people to make them not seek help. More often than not, those same people have an addict/alcoholic close to them but still subjugate others to painful ridicule. Most people are common sheep and should be treated as such. They won't do the right thing unless a higher power tells them to do so. If only the media and the government would herd them in the right direction. Than they would see coming out with their problems is a very important cathartic event in the process to recovery. But more than likely they get looked at like "Why are you telling me this?" as it's your problem so you should deal with it. People can act so high and mighty sometimes as if they've never had a problem in their entire lives. Then they deal with endless questions like "Why don't you drink anymore?" pushing them to have "just one drink." They get made to look weird for choosing not to engage in a useless activity. It's so disgusting how they're treated like third class citizens. These addicts would have gotten more attention across the board if they had cancer or aids. Its bizarre saying this but cancer and aids patients get treated like rock stars and royalty compared to other serious life debilitating ailments. Not demeaning anyone with those serious conditions but addiction is not as big a rallying cry cause as aids/cancer. People like hearing about cancer free/aids free but anything about recovery/sober, people just are quiet. Acting like it's a white elephant in the room, dodging the issue of recovery, not wanting to ask about it and seeing them fall back to addiction. The media is mainly to blame again as they love sexy diseases that garner attention, media, celebrity and worldwide recognition to show how sympathetic and caring they are when they are anything but. Divisions and facilities are made to countless diseases and conditions with media advertisement. So it's not too surprising to see minimal attention paid to high school and college rehabilitation facilities. During an age when addiction is at its most prudent, it's important to have a place where a kid can feel normal and hope that they can recover. It makes sense to get it right at the grass roots especially at such an impressionable young age where kids look to define themselves. There should be one in every state with enough attention made to it that anyone can look it up with no issue. People have these problems than lambaste them when they can't get help. Well if there is no help for them to find where do you turn too? With an organization called Alcoholics Anonymous, there is a respected level of anonymity. But in this day and age, it seems rather pointless to be quiet. It's hard not too when out of touch lawmakers are determining your fate. Being anonymous and not sharing with everyone may have made sense back in the 30s, 40s and 50s, but there's too much against them that voicing out is their most powerful weapon. People may not want to hear it but they should. Too many issues, people turn a blind ear too. Bottling up those emotions may even cause these people to go back to drugs and alcohol. With over 25 million in recovery and millions more struggling with addiction, it should be more common place. But I'm not surprised since people are still getting off cloud 9 from gay marriage. I'm not saying that everyone should say they're an addict but only if you have too to where it's eating you up inside. Keeping that inside you can only do more damage than good. This was one of the most engaging, informative documentaries I have ever seen. It not only showed the voices of the anonymous but allows all the anonymous who don't know about their plight to speak up and voice their opinions too. I'd hate for an enriching documentary like this to fall by the way side like so many other important issues that no one cares to discuss. I can see where years or decades down the road, people finally say "Ok let's get this done. Were enlightened enough to care about these people." Like everything else was just too important to focus on other issues. I hope this doesn't get swept under the rug, deemed unimportant by the media and the like. This has the influence to make a real difference to millions with something they may have thought to be all alone in. these people deserve to be heard, respected, helped and seen. For these people are no longer anonymous. Five recoveries out of five.
Adlai Noonan
The Anonymous People Quotes
There are no approved quotes yet for this movie.