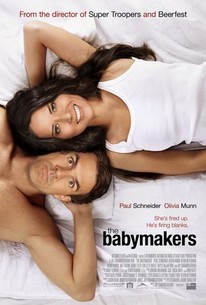 The Babymakers
2012, Comedy, 1h 38m
51 Reviews
2,500+ Ratings
What to know
critics consensus
The Babymakers mistakes raunch for humor and, despite a few sporadic laughs, wastes its otherwise capable cast on gross-out gags and misfired one-liners. Read critic reviews
Rate And Review
Movie Info
After he flunks a fertility test, a man (Paul Schneider) realizes that the only way he can get his wife (Olivia Munn) pregnant is by robbing a sperm bank to take back the last of the deposits he made there years earlier.
News & Interviews for The Babymakers
Audience Reviews for The Babymakers
I did NOT have high hopes for this, but it turned out that I enjoyed it. Not the best movie around, but it definitely produced more than a few laugh-out-loud chuckles from me...

She's fired up. He's firing blanks. Quite a funny movie! Had the characters been developed slightly more, this could have been one of the better comedies to come out in years. It's the fact that the movie is so funny that it's easy to forgive the fact that the story and characters aren't exactly 100% there. fter trying everything to get his wife Audrey (Olivia Munn) pregnant, Tommy Macklin (Paul Schneider) realizes to his horror that he may be "shooting blanks." Terrified that his marriage may fall apart, Tommy recruits his friends (and an Indian ex-mobster) to rob a sperm bank where he made a deposit years ago. As with any half-baked scheme, everything can and does go wrong, testing the limits of Tommy and Audrey's relationship.

As a big fan of Broken Lizard I was moderately excited about this film, even though it only included the involvement of two of the members, neither of whom had a hand in the script. The Babymakers sees a young couple trying for a baby but are unable to conceive. Tommy soon finds out that he has slow sperm, but he had donated sperm 5 years ago and everything was okay back then. The sperm bank refuses to give him back his sperm as it is promised to another couple, and so begins a plan to rob the sperm bank. A sperm bank heist movie is a great idea, but unfortunately Chandrasekhar doesn't quite capture the heist element too well. There's far too much time spent on little arguments which don't often add anything the to characters. I also found the film's tone to be very confusing. There were moments when it seemed as though the comedy should be played as very outrageous, but instead, bizarre moments were just sort of passed over. A lot of the film goes nowhere, and the heist doesn't take place until the last 20 minutes. It's a slow ride where nobody on screen seems that interested. There are a few laugh out loud lines, and some rather sweet chemistry between Schneider and Munn which should have taken more of the focus. The very last scene is the tone and humour the film should have aimed for throughout. It was warm, heartfelt, cute, and hilarious.

Not the best film to come from comedy entrepreneur Jay Chandrasekhar, "The Babymakers" is a mish-mash of capable comedic actors in watered down and misused comedic situations. With some laughs sprinkled in throughout the film, the conflicts faced are a little too sporadic and easily resolved, unlike actual life, which often presents the best humor. Paul Schneider fits perfectly into the partial Broken Lizard crew, but with very little to work with, the film often falls flat.
See Details