The Beguiled
(2017)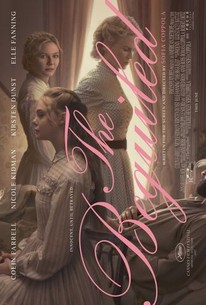 TOMATOMETER
AUDIENCE SCORE
Critic Consensus: The Beguiled adds just enough extra depth to its source material to set itself apart, and director Sofia Coppola's restrained touch is enlivened by strong performances from the cast.
Movie Info
"The Beguiled" is an atmospheric thriller from acclaimed writer/director Sofia Coppola. The story unfolds during the Civil War, at a Southern girls' boarding school. Its sheltered young women take in an injured enemy soldier. As they provide refuge and tend to his wounds, the house is taken over with sexual tension and dangerous rivalries, and taboos are broken in an unexpected turn of events.
News & Interviews for The Beguiled
Critic Reviews for The Beguiled
Audience Reviews for The Beguiled
When it comes to Sofia Coppola I tend to be indifferent; both towards viewing her films and, when I do see them, in my response to them. Granted, I need to re-visit many of her works that were released and that I saw when I was likely too young to comprehend what they were aiming for or even discussing, but even as I've grown, expanded my pool of cinematic knowledge, and have been very much excited to see her newer releases a la The Bling Ring (which, admittedly, is likely her worst effort) I was disappointed by the lack of any real vision, any signature voice in her films. That changes with The Beguiled. The Beguiled has made me more anxious to go back and experience The Virgin Suicides and Lost in Translation again while prompting me to finally make an effort to see Marie Antoinette and Somewhere. The Beguiled is a game-changer of sorts because it brings Coppola onto a plane where she is not only indulging in the type of cinema she finds comfort in creating, but because it simultaneously provides a large entertainment factor. It's deliciously enjoyable in a way that feels fresh to this work specifically. Though I haven't the authority to compare and contrast Coppola's features with one another for, as I've mentioned, some I haven't seen at all and others I haven't seen in quite some time, but by a general gut feeling The Beguiled feels like the kind of jump-start Coppola's career needed to once again find inspiration. Everything about the film creates a sense of restraint around what is a boiling pot of truths and temptations just waiting to be acted upon. Coppola creates this potboiler effect by capturing the musky air of 1864 in visuals that elicit the season's soft southern sunlight and the lack of any bulbs whatsoever. Candlelight provides the majority of our illumination here and it is the glow, the aura of these yellow-tinged flames that underscore that air of courtesy that is all too often rendered just that by the bluntness with which our characters interact with one another. A gorgeous interpretation of the way in which people can read others based on their circumstance and furthermore, a fascinating study on the ways in which you sometimes can't-the true motivations of one or several never revealing themselves leaving any action taken to be forever contemplated. A million ideas about currently relevant social issues could make their way into one's interpretation of The Beguiled, but the truth of the matter is that it is very simply a smoldering tale of intuition and war. read the whole review at www.reviewsfromabed.com
Philip Price
Super Reviewer
½
NOTHING TO DECLARE - My Review of THE BEGUILED (2 1/2 Stars) I remember Don Siegel's original 1971 adaptation of Thomas Cullinan's novel, THE BEGUILED, for one very specific reason. Elizabeth Hartman, who co-starred with Clint Eastwood and Geraldine Page, hailed from my hometown of Youngstown, Ohio and received an Academy Award nomination in 1965 for her role as a blind woman opposite Sydney Poitier in A PATCH OF BLUE. She had very few film credits and, apparently in despair over her lack of film roles, took her own life in 1987. I've been haunted by her ever since. We've all been proud of our hometown success stories, but when things go terribly wrong, it stings. She exuded a fragile type of strength in her performances, similar to those of Nicole Kidman or Julianne Moore, and it has always felt like a sad loss that the world never got to experience more of her talent. The original film, a Civil War era gothic psycho-sexual thriller, told the story of Corporal McBurney, an injured Union soldier who gets rescued by a young southern girl and taken to her Southern all-female boarding school. The teachers and students engage in a rivalry for McBurney's affections and his intentions may or may not be pure. Everything about the film felt like Southern Gothic, over-the-top, "I do declare!" claptrap, yet it worked so well on that level. Employing multiple voiceovers and quick flashbacks, it felt like a juicy page-turner with Eastwood employing a feral sexuality rarely seen since. Many actors in the 70s, freed from the more staid, arch trappings of earlier decades, would instead go overboard when asked to push their emotions. THE BEGUILED either benefited or suffered from this, depending on how Southern you liked things cooked. All of this is to say, when you have a story like this, a little hamminess doesn't hurt. Writer/director Sofia Coppola, a filmmaker whose work has left an indelible impression on me, goes in the complete opposite direction with her adaptation, creating a perfect little bauble of a film which unfortunately doesn't seem to exist for any reason but to make a subtler, quieter version of the same story. She takes the material very seriously, and while this works on a performance level, and every single shot by cinematographer Philippe Le Sourd is a true work of art, it doesn't add up to anything particularly memorable or impactful. Yes, now I know how isolated and helpless women felt during the Civil War, and I loved that collectively they found their power. It feels like a realistic depiction of what would actually occur, but it lacks a little movie magic. I can't fault the actors. Nicole Kidman in particular, as headmistress Martha, gives a husky, focused performance. She does so much with a head turn, a glance, or a shockingly direct statement, and I couldn't take my eyes off of her. Kirsten Dunst, in the role originally played by Elizabeth Hartman, brings a deep well of passion and disappointment to her buttoned-up role as a woman who shows true feelings for McBurney. Elle Fanning also fares well here, perfectly embodying the confusion a person must have felt when an enemy soldier turned out to be so seductive. Colin Farrell, as McBurney, finds a touching vulnerability to his character but doesn't play up the sexuality as well as Eastwood. All told, it feels like a deliberate attempt to downplay the melodrama in favor of...well...what exactly is Coppola trying to say? In her prior films, Coppola presented a woozy, soft focus, dreamlike view of the young female experience. It's such a signature of hers that she's reached that enviable pantheon of directors whose work you can discern from simply watching a few frames. With THE BEGUILED, Coppola plays it relatively straight. She even mirrors some of the shots and dialogue from the original (the opening crane shot descending down the Spanish Moss to a young girl searching for mushrooms feels the same in both films). Despite the gorgeous imagery and the sometimes visceral intensity of McBurney's injuries, this new version just doesn't add up to much. I never felt inside the heads of her characters, which has been Coppola's signature. Everyone is good. The story builds to a certain level of horror. There's a resolution and then it ends. I wanted to know how the characters have been changed or affected by their experiences, but we get "just the facts ma'am". I suppose it makes for a more credible film, but sometimes you just want your movie stories to flail and moan.
Glenn Gaylord
Super Reviewer
½
Sofia Coppola creates an unsettling and slow-burning film that doesn't impress so much for its plot as it does for its evocative atmosphere - an effective combination of underlying tension and bursting sensuality that benefits from excellent performances, especially Nicole Kidman.
Carlos Magalhães
Super Reviewer
The Beguiled Quotes
There are no approved quotes yet for this movie.
Discussion Forum
Discuss The Beguiled on our Movie forum!