The Big Picture
(2012)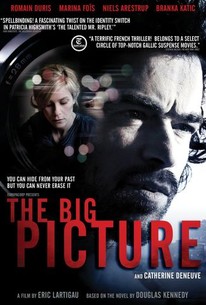 Movie Info
Paul Exben is a success story -- a great job, a beautiful wife and two wonderful sons. Except that this is not the life he has been dreaming of. A moment of madness is going to change his life, forcing him to assume a new identity that will enable him to live his life fully.
News & Interviews for The Big Picture
Critic Reviews for The Big Picture
Audience Reviews for The Big Picture
½
This a pretty damn good psychological thriller/character study of a man who, strangely enough, starts to live the life he always wanted to as a photographer, but didn't in order to provide for his family, after accidentally murdering his wife's lover and escaping the law by pretending to be him and faking his own death. The film sees the downward spiral his life takes as he's haunted by the guilt of killing this guy and the fact that he will never see his family ever again. But, at the same time, this torture he puts himself is totally self-imposed. There is no reason he couldn't have, if he had thought about it logically, admitted that this was all an accident as Greg, his wife's lover, kept pushing, prodding and provoking Paul even after as he was trying to leave after finding out the truth. It's kinda hard to feel sympathy for Greg, because there's no real reason for him to say the things he did and he only chose to do so to rub in the fact that his wife doesn't love him anymore and how Paul gave up on his real passion. It's certainly hard to feel sorry for Greg and his eventual downfall, but at the same time Paul really shouldn't have tortured himself the way he did. Particularly not for Greg being a massive asshole and even less for a woman who didn't love him and felt the need to sneak around his back to have this affair. But, at the same time, he wasn't thinking logically and not that you can blame him in the situation that he finds himself in. By doing what he did, I think he makes his life more complicated. Maybe by pretending to be his wife's lover, that he'd feel closer to her than he has in years. The reasons are left ambiguous, though Paul composes an email confessing to his wife what he did and that he didn't want his kids to know his dad as a murderer, even if he was loving and caring to them. He erases the email before sending it, but I still think that his thought process for doing what he did were left purposely ambiguous. What drives a man to do the things he did and that adds a compelling little twist to the character. The acting is great, Romain Duris does a great job at capturing this man's fragile emotional state, even though the appearance he gives off is as someone who is confident and calm. The guy's just great here honestly. The film might not have the showy or over-the-top dramatic moments, sort of like A Hijacking, but it is an intriguing, and ultimately, a very good movie about a man who destroys his own life over one little accident and how he finds redemption where, and when, he least expects it.
Jesse Ortega
Super Reviewer
½
"The Big Picture" starts with the sounds of a baby crying that Paul(Romain Duris), a lawyer, answers, leaving his wife Sarah(Marina Fois) to enjoy her restful sleep a little longer. The following morning she gives him the cold shoulder at breakfast which even their older son takes notice of. The day does not get any better for Paul when his friend and mentor Anne(Catherine Deneuve) informs him over sushi that she is dying. Sarah soon after tells him that she is giving up writing which only leads to another argument. As an amateur photographer, Paul is friends with Greg(Eric Ruf), a professional, later confronting him over fears that he is having an affair with Sarah... "The Big Picture" is a well-photographed, engaging and ironic movie about the nature of identity, even with one sizable contrivance. Along these same lines, it took me a while to realize how much a double entendre the title is. From clues scattered throughout the movie, it becomes clear that while Paul and Sarah may have started out at the same place of idealism in their young lives, somewhere along the way, their paths diverged widely, even as Paul tries to maintain his scruffy appearance. Part of that may involve an intervention for Paul, like the one he gives to a teenage client, by people who in feeling they had his best interests at heart, took away some critical part of his personality. So, years later, Sarah has an affair with somebody who reminds her of a younger Paul who Paul in return pretends to be, while also getting a glimpse of a possible future. While doing this in the most selfish way possible, he also learns quite a lot about himself in the process, thus explaining why the movie ends where it does.
½
A difficult to categorise, deeply immersive beautifully shot and acted anti-thriller. Romain Duris puts in a typically impressive performance as a hard-working father who had dreams of being a photographer which he put aside in favour of the security of a well paid job. When he discovers his wife is having an affair with a professional photographer (who has yet to get his 'big break'), he confronts the man and in an altercation accidentally kills him. Rather than confessing (he fears he would be forever be labelled a murderer), he covers up the crime and in an elaborate plan, steal the photographer's identity and fakes his own death. Setting off with a camera he pursues the dream career he always wanted, but is now a broken wreck of a man looking to atone... There are at least half a dozen shifts in this wonderfully different film, all of which subtly change the tone of the film without interrupting the flow. Whilst the story occasionally indulges in coincidences for the most part the film feels realistic, and Duris' nuanced study really helps you to believe in him and essentially hope for his 'deliverance'. Stunningly cinematography, almost poetic editing and an open ending combined with spare writing mark The Big Picture out as one of the masterpieces of French cinema. Really worth tracking down.
Daniel Parsons
Super Reviewer
The Big Picture Quotes
There are no approved quotes yet for this movie.