The Birth of a Nation
(2016)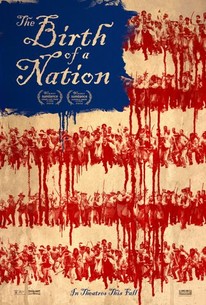 TOMATOMETER
AUDIENCE SCORE
Critic Consensus: The Birth of a Nation overpowers its narrative flaws and uneven execution through sheer conviction, rising on Nate Parker's assured direction and the strength of its vital message.
The Birth of a Nation Videos
The Birth of a Nation Photos
Movie Info
Set against the antebellum South, THE BIRTH OF A NATION follows Nat Turner, a literate slave and preacher, whose financially strained owner, Samuel Turner, accepts an offer to use Nat's preaching to subdue unruly slaves. As he witnesses countless atrocities--against himself and his fellow slaves--Nat orchestrates an uprising in the hopes of leading his people to freedom.
News & Interviews for The Birth of a Nation
Critic Reviews for The Birth of a Nation
Audience Reviews for The Birth of a Nation
½
TRAGIC HISTORY - My Review of THE BIRTH OF A NATION (3 1/2 Stars) I've resisted seeing THE BIRTH OF A NATION, actor/writer/director Nate Parker's historical behind retelling of the 1831 slave rebellion led by Nat Turner, due to the ugly history surrounding Parker, his co-story writer Jean McGianni Celestin, and the 1999 rape victim who took her own life in 2012. Details of the case appear all over the internet, so I won't document them here, but I personally made the choice to see the film because I didn't spend money to see it, much the same way I won't financially support films by Roman Polanski, Woody Allen, Victor Salva or Mel Gibson. Many may avoid MANCHESTER BY THE SEA due to allegations against its star, Casey Affleck. I'm lucky that I have access to films in the manner that I do and respect everyone's choice whether or not to see movies made by filmmakers whose morality or actions they abhor. I even wrestle with reviewing them, as I worry about legitimizing the actions of criminals. I used to work as a Health Educator in the Los Angeles County Jail system, where every day I helped to improve the lives of people accused of terrible crimes. Needless to say, it filled my mind with conflicting thoughts. I concluded that we have a justice system for passing judgment on illegal behavior, and that my job was to lead by example and help my fellow human beings. Applying this logic to film criticism, I decided that certain movies, for me, deserve to be seen despite whatever shortcomings or tragic histories they carry with them. THE BIRTH OF A NATION had an auspicious launch, winning the two top prizes at the 2016 Sundance Film Festival and scooped up by Fox Searchlight for a record $17.5 million. It appeared to be on a fast track for financial success and Oscar glory. And then....well you know what happened next...which led to a stunning box office flop. Lost among this is the fact that the film is quite good....flawed for sure...but an essential, harrowing story nonetheless. Born into slavery in Southhampton County, Virginia, Nat Turner (played by Parker) learned to read and write at a young age and eventually preached the Bible to his fellow slaves. Utilizing his skills for nefarious reasons, the slaveowners paid Turner's "master" Samuel (Armie Hammer) to give sermons to their slaves in order to keep them from rebelling. Certain Bible verses call on slaves to obey their Masters. This wouldn't be the first or last time in history that a majority race would use their religious beliefs to justify the subjugation of minority populations. By obeying orders and preaching, Turner witnessed so many atrocities, that he launched an uprising. Quentin Tarantino seems to have cornered the market on revenge fantasies with INGLORIOUS BASTERDS and DJANGO UNCHAINED. As entertaining as they were, nothing can replace the power of a true story. THE BIRTH OF A NATION represents commercial storytelling with a stirring, sometimes horrific, but ennobling tale of people who, against all odds, fought back against their oppressors. Parker's performance is highly empathetic as he expertly navigates one impossibly tough moment after another. It may make people uncomfortable to see the subject of rape portrayed in the film, and one torture scene in particular provided more dental horrors than anything I've seen since MARATHON MAN, but this unflinching look at the realities of slavery impressed me with its no-holds-barred approach. As I said, it's not a perfect film. Parker wrote himself a great part but Turner comes across as a little too perfect at times, whereas the real man reportedly had more complexity. Parker surrounds himself with a fine cast, with especially good work by Jackie Earle Haley as a vicious slave hunter, Aja Naomi King as Turner's wife, and Jayson Warner Smith and Jason Stuart as particularly despicable slaveowners. Hammer does well by insidiously taking his character from empathetic to hateful over the course of the film. Penelope Ann Miller does well in a part very similar to the plantation matriarch played by Sarah Paulson in the artistically superior 12 YEARS A SLAVE. In fact, it's difficult to avoid comparisons between the two films. While Steve McQueen has mastered his use of space and sound in his movies, Parker proves himself skillful but with much to learn. Some cutaways teetered on the edge of pretension or downright silliness such as shots of bleeding corn husks or angel wings straight out of a Victoria's Secret ad, and his directing style feels a little generic at times. Still, it's gorgeously shot by Elliot Davis (OUT OF SIGHT, THE IRON LADY among many others) and some moments, such as the final dissolve through time, pack quite a punch. The uprising sequence doesn't hold back, but it felt strangely truncated. It's a complex moment of release for the audience and could have used a little more TLC. Parker also has to be careful understanding screen space, as one dialogue scene in particular didn't cut together properly because of incorrect placement of actors opposite each other. These are minor quibbles for a film I am glad I saw. World history has often entailed the little guy being trampled on by the small number of people in power. We need to hear about the brave souls who dared stand up to those who enslaved them. There are many current stories that could use the wish fulfillment treatment. I hope in my lifetime, for example, I'm able to see the people of North Korea find freedom from tyranny...in real life, not in a movie. But while we're at it, hey Quentin! Can you get on that and make a better version of it than THE INTERVIEW? Let's see the North Korean people take out Kim Jong Un instead of a couple of Hollywood stoners! Call it THE PEOPLE VS. DEAR LEADER.
Glenn Gaylord
Super Reviewer
½
The Birth of a Nation is a powerful work, but it's a disturbing one as well. As a document that challenges racism and white supremacy, it is most assuredly a step in the right direction. Nat Turner was hanged and given no formal burial. We are told (not shown) that he was then decapitated, quartered, and skinned. Soon after his death, attorney Thomas Ruffin Gray published The Confessions of Nat Turner. If you thirst for more of his story, I would suggest that. This film functions as a cinematic memorial that celebrates his memory. It also recounts a historical event and honors the legacy of Nat Turner. He was an early champion of civil rights - in a not-so-civil manner. He deserves a biography. Yet his story is told in broad strokes with plot points invented for dramatic effect (i.e. Nat Turner's wife was never gang raped by slave patrollers. Nor was it the final inhumanity that inspired him to riot). It's an emotional experience but not necessarily a wholly factual one. fastfilmreviews.com
Mark Hobin
Super Reviewer
½
Sold for a record $17.5 million at the Sundance Film Festival, there were big expectations for the Nat Turner biopic, The Birth of a Nation. Writer/director/actor Nate Parker was the toast of the town and the studio had its sights set clearly for a fall release and a big Oscar push. Then came the revelation from Parker's past linking him to an accusation of sexual assault (it should be noted he was acquitted of the charge, though it should also be noted the woman declined to continue pressing charges during the second trial). Suddenly the Oscar hopes for Birth of a Nation were put into a tailspin and journalists were wondering if this salient news would provide older Oscar voters just the excuse they needed not to watch the movie. After having finally seen the film for myself, I can attest that this movie wasn't going to go far into the Oscar race anyway. My friend Ben Bailey said it best as we walked out of The Birth of a Nation, making an apt comparison to the 2013 Best Picture Winner: "12 Years a Slave was a better movie made from a less interesting story; and this is a more interesting story but given a much lesser movie." In 1830, Nat Turner (Parker) is earning extra money for his friendly slave owner (Armie Hammer) as a preacher, convincing slaves on other plantations to work harder and obey their cruel masters. He reaches a breaking point and organizes a revolt, violently killing the same plantation owners that kept them in bondage. Nat felt his revolt could be the catalyst for slaves all over, but it was put down by overwhelming forces two days later. Nat Turner is a historical figure extremely deserving of a big Hollywood spotlight. The problem is that Parker's movie feels like the arthouse version of the Hollywood Martyr Blockbuster, a field popularized by director Edward Zwick (Glory, Blood Diamond). This thing checks just about all the formula boxes you'd expect by showing the arc of a character called into action, forced to take a stand against an exploited people and series of injustices, and the eventual death for the cause. It's meant to be inspirational but that sense of inspiration can be capped when you see the machinations. All storytelling at some level is about pulling the strings of an audience, but the storyteller must do their best to make this as nonobservant as possible so as not to disturb the experience. Parker doesn't have that skill quite yet, either as a director or as a screenwriter. His movie kept my interest but I felt oddly removed from it, unable to fully absorb the characters, which should never happen in a revolt against slavery. Case in point, we know how the movie is going to end so Parker needs to engineer something of a win for Nat, and that's where Raymond Cobb (Jackie Earle Haley), nasty slave catcher, comes in handy as a conquerable antagonist. He ends up being the man responsible for chasing Nat's father away, so it's even more personal. During their final fight, Cobb implausibly wrestles atop a struggling Nat (this guy has to be at least 60 years old and it's Haley, not Stallone). Parker even includes the knife that's just... out... of... reach. I rolled my eyes. Parker shouldn't have to resort to these tactics to rouse his audience, and as stated above, they're just too nakedly transparent in their formula machinations. I wanted more suspense sequences like during the opening when Nat's grandmother has to think on her feet to conceal contraband, smart uses of dramatic irony and ratcheting up the tension. The movie is structured too narrowly as Nat's call to action, but Parker seems preoccupied with hitting all these other checkmarks to fully open him up as a human being. Structurally, this movie is amiss because we don't need 90 minutes to justify why slaves would violently revolt against their masters. The best part of Birth of a Nation is its final act when the revolts come and the slave owners get what they have coming. Some will equivocate that not all slave owners abused and terrorized their slaves to the same degree of abject cruelty, but the very nature of owning another human being is an assault on fundamental morality. 12 Years a Slave had an excellent 15-minute section where it disproved the notion of the "good slave owner" with Benedict Cumberbatch's character. Even he too was corrupted because the institution of slavery is a corrupting agency. What that movie was able to communicate in 15 minutes is what The Birth of a Nation takes 90 minutes to do the same. The entire movie should have been the slave revolts with some choice flashbacks interspersed to give the movie even better context for the personal animosities against specific slave owners. That way we can better explore the emotional side of Nat Turner and his company without resorting to extended degradation. Parker deserves some credit for being very tasteful in his depiction of the brutality against slaves and the heavy heart of aiding and abetting an unjust system. It doesn't whitewash, so to speak, the horror of slavery but also refrains from exploiting tragedy for easy gains. With that being said, and I may be alone in this observation, but I found it a bit peculiar that the sexual violence committed against women seems to be primarily framed as how it impacts the male characters, making them sad or angry at the mistreatment of their women. I may be over-analyzing this but it happens twice and stuck out to me. The structure of the movie does a disservice to the emotional power it demands, and Parker should have shown us the bloody campaign rather than the lead-up to the campaign. Parker also shows some noticeable shortcomings when it comes to directing his fellow actors. His performance is a highlight and his moments where he's trying to hold back the tide of mixed emotions working for the slave owners and using Scripture to justify the worst of the worst. This is a great showcase for Parker as an actor of suitable range. It's not a great showcase for any other actor. The performances are a bit big when needing restraint, and a bit broad when nuance would be required. There's no character that even comes close to the deeply wounding impressions left by the brilliant Lupita Nyong'o and Michael Fassbender from 12 Years a Slave. Hammer (The Man from U.N.C.L.E.) is given one note to play after the first act and that is aspiring drunk. I don't know if there's a scene where he isn't accompanied by some bottle. It's meant to communicate his increasing sense of shame he has to excuse, but it's also a fairly facile acting crutch. The women in the film come across as angelic (there's even a vision of an actual angel in the film) or maternally strong as steel. The lack of variance becomes frustrating, as it seems that Nat Turner is the only character, and by extension actor, allowed depth. You'll enjoy the actors on screen but be scratching your head to recall anything memorable. The Birth of a Nation is very purposely meant to evoke the title of the famous 1915 D.W. Griffith movie, the world's first film blockbuster and also virulently racist to its core. It's about the formation of the Klu Klux Klan in a Reconstruction era to save all the honorable white people from the new hordes of wanton free slaves. It's deeply offensive though an undeniable touchstone in the history of narrative filmmaking. I was looking for some kind of larger thematic connection beyond slavery but it seems that Parker's movie is meant to be a reclamation of the title. There's a moment at the very end that made me think that there was another possibility (spoilers). As Nat Turner is executed, one of the last images is a close-up on the face of a young teenage slave who witnesses his death. The camera then pulls out and that boy has aged into a man and is fighting with a battalion of other black soldiers during the Civil War (the movie literally becomes Glory!). I was wondering if we were going to continue skipping forward in time, next to the Civil Rights marches, next to protests against police brutality in the modern era, so that Parker was drawing a direct line from the experiences of old and how they have shaped the America of today, the birth of our current national racial injustices. This doesn't happen, unfortunately. The Civil War flash forward is the only jump in time. I've been critiquing Nate Parker's movie for the majority of this review and I don't want to leave you, dear reader, with the false impression that this is a bad movie; overrated and slightly disappointing, yes, but not bad. If it didn't sound like faint praise I would say that The Birth of a Nation is a perfectly fine movie. It held my attention though I kept thinking of other ways this movie could have improved, from a restructured plot that begins with the slave revolts, to more attention to the supporting characters, to less fidelity to the patented formula of the Great Martyr Biopic. This was a passion project for Parker and took him over six years to complete. Walking out of my theater, I simply didn't feel like that same passion was evident on the screen. Nate's Grade: B-
Nate Zoebl
Super Reviewer
The Birth of a Nation Quotes
There are no approved quotes yet for this movie.
Discussion Forum
Discuss The Birth of a Nation on our Movie forum!