The Blood of a Poet
(1930)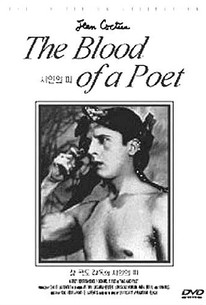 Movie Info
In the first of this film's four episodes, a tall smokestack starts to collapse. Then the scene shifts to a young poet who is sketching faces. He sees that a sketch's mouth is moving and wipes it off with his hand; the mouth attaches itself to his palm. Eventually he transfers the mouth to a statue in his room. In the second episode, the statue tells the poet to enter a mirror. He falls into the darkness of the mirror's interior and finds himself at the Hotel de Folies-Dramatiques. The poet crawls along the hallway and peers into the keyholes, where he sees various bizarre situations. He reaches the end of the hallway, someone hands him a gun, and he shoots himself. The poet returns to his room and smashes the statue; then he becomes a statue himself in a courtyard. In the third episode, a group of boys engage in a snowfight in the courtyard. The statue is destroyed and one boy is left bloody and possibly dead after being hit with a snowball. In the final episode, the courtyard is revealed to be a stage on which a young woman and the poet play cards next to the boy's body, which is still lying on the ground. The woman tells the poet that he is lost without the Ace; he takes the card from the boy's jacket. The boy's guardian angel appears and covers him. He takes the Ace from the poet and leaves; the poet shoots himself in the head and the audience applauds. The woman walks away and it is revealed that she is the statue; then the film ends with the final collapse of the tall smokestack. ~ Todd Kristel, Rovi
Critic Reviews for The Blood of a Poet
Audience Reviews for The Blood of a Poet
½
Jean Cocteau's 1930 film "The Blood of a Poet" is a surrealist film split up into four parts, but what do these parts mean? It is an incredibly well-made film and has an almost dream like structure. People come and go as do objects and images.
Joseph Boomhower
Super Reviewer
This dialog-free film, originally presented as 33 short films, is an experimental, bizarre set of meditations and flashbacks of the grotesque
½
Words can't describe this masterpiece
The Blood of a Poet Quotes
There are no approved quotes yet for this movie.