The Bronze
(2016)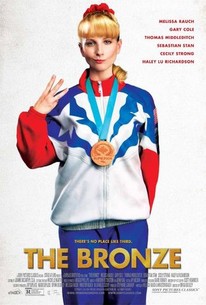 TOMATOMETER
AUDIENCE SCORE
Critic Consensus: Enthusiastically unpleasant and mostly unfunny, The Bronze fails to stick the landing -- or much else along the way.
Movie Info
A decade ago, Hope Ann Greggory (Melissa Rauch) was America's sweetheart. Her inspired performance on a ruptured Achilles at the world's most prestigious gymnastics tournament clinched an unlikely bronze medal for the U.S. team and brought glory to her hometown of Amherst, Ohio. But in the years since that epic third place victory, Hope hasn't done a whole lot with her life. Still living in her dad Stan's (Gary Cole) basement, still sporting her daily uniform of a Team USA gym suit with teeny-bopper bangs, ponytail and scrunchie, she spends her days at the mall milking her minor celebrity for free food and favors. Hope's routine is upended when she learns that she must coach Amherst's newest gymnastics prodigy Maggie (Haley Lu Richardson) in order to receive a sizeable financial inheritance. The hard-edged yet insecure Hope is faced with a serious dilemma: does she jeopardize her "hometown hero" status by devotedly training this rising star to achieve the dreams she never could? Or does she attempt to sabotage the impressionable Maggie to ensure that she remains the one and only star in Amherst?
News & Interviews for The Bronze
Critic Reviews for The Bronze
Audience Reviews for The Bronze
½
Definitely not for everyone, Raunch plays a past-it. gymnast living on fumes until opportunity knocks. This one's a keeper if only for the virulent vein of cynicism rife through the piece, particularly from such an unexpected source. The resolution's a cop-out, but forgivable.
Kevin M. Williams
Super Reviewer
All comedies try to make us laugh. That's kind of the point. Still, there is a difference between trying to make audiences laugh by saying the unexpected out loud and those unexpected things actually being funny. In The Bronze The Big Bang Theory's Melissa Rauch plays washed up gymnast Hope Annabelle Gregory who still managed to medal at the 2004 Rome Olympics after shattering her achilles during a routine. She became something of an American hero of those particular games, the athlete the media chose to heap large amounts of coverage on because of her narrative maybe more so than because of her actual talent. Hope says a lot of things that might not be considered polite or politically correct, but that doesn't make her funny. Sure, I understand that a fair amount of comedy can come from degrading someone, something, or even ourselves, but no matter how hard these demeaning jokes make us laugh ( or don't) one thing remains to be true and that is the fact they come from a place of fear; we're attempting to distract ourselves from our own vulnerability. In short, we're trying to make ourselves feel better about our own lives. Hope does this consistently throughout The Bronze and while the juxtaposition of what we expect from polite society and what Hope delivers can be genuinely funny here and there the majority of the time the character simply comes across as self-centered, crass, and just plain nasty. Maybe this is because Hope is the only character the film cares to flesh out and so, while we somewhat get to know her father (Gary Cole), her new apprentice (Haley Lu Richardson), her love interest (Thomas Middleditch) and her arch nemesis (Sebastian Stan), because each of them are more or less targets for Hope to hurl her insults at rather than fully formed people it is nearly impossible for us to understand why she seems to naturally hate everyone. The only thing she clearly has an affinity for is herself and keeping her name and image at the height of its power in her hometown of Amherst, Ohio, but as these things go all of that is about to change. read the whole review at www.reviewsfromabed.com
Philip Price
Super Reviewer
The Bronze Quotes
There are no approved quotes yet for this movie.
Discussion Forum
Discuss The Bronze on our Movie forum!