The Castle of Fu Manchu
(1972)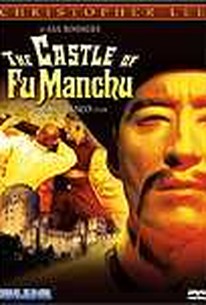 AUDIENCE SCORE
Critic Consensus: No consensus yet.
The Castle of Fu Manchu Photos
Movie Info
This extremely low-budget adventure was director Jesus Franco's second Fu Manchu film for British producer Harry Alan Towers. Christopher Lee returns as the Asian madman, who has developed a way to turn the oceans into ice as part of his plan to rule the world. Kidnapping famed Prof. Herakles (Gustavo Re), Fu forces the doctor to help him with his diabolical plan. When Herakles' health starts to fail, Fu kidnaps two more people (Guenther Stoll, Maria Perschy) for a transplant operation at his Istanbul headquarters. Fu's old rivals Dennis Nayland Smith (Richard Green) and Dr. Petrie (Howard Marion Crawford) come to Turkey to foil his evil experiments. Rosalba Neri, Jose Manuel Martin, and Werner Abrolat co-star in this poor fifth installment in the popular series. The film is so poorly conceived that -- although it was made in color -- the shipwreck caused by Fu is actually a black-and-white scene borrowed wholesale from A Night to Remember. For completists only, this disastrous entry also stars Herbert Fuchs and Tsai Chin, while Franco makes a cameo as a Turkish detective. Various versions run 92, 86, and 85 minutes.
Critic Reviews for The Castle of Fu Manchu
Audience Reviews for The Castle of Fu Manchu
The new MST3K Netflix original has been released and I decided to expose myself to some of the old episodes available for streaming on Hulu and Netflix (there is a different random selection on each platform). Whether it is Joel or Mike watching these awful movies with the bots I do not envy the torture they are put through. Their snarky comments add some entertainment value, but my ratings are based on the movie's quality itself and not the extra material broadcast from the satellite of love. Absolutely awful! In the midst of making respected Hammer films I had no idea that Christopher Lee appeared in this garbage. This "Castle" picture is the 5th time Lee played Fu Manchu. International money and an international cast in this mess of a movie. Terrible action, acting, dubbing, continuity, and plot. Again I had to skip ahead while streaming looking for some piece of it with redeeming qualities. I found none.
Byron Brubaker
Super Reviewer
It truly was awful, the direction was a disaster, the editing was bad, the acting was even worse. I know it's low budget but it was really obvious.
Sylvester Kuo
Super Reviewer
I've seen a lot of terrible films, and so I don't say this lightly... Castle of Fu Manchu is the worst movie ever created. It has no redeeming value whatsoever. It's not silly enough to laugh at. The plot is incomprehensible garble. The camera zooms in and out inexplicably while stuffy British wankers mumble stuff about things happening to people in places. Deeeeeeep Hurting.
Brett Warren
Super Reviewer
The Castle of Fu Manchu Quotes
There are no approved quotes yet for this movie.