The Christmas Chronicles
(2018)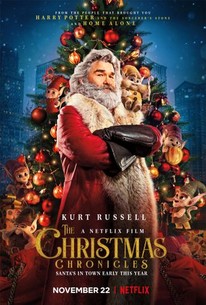 TOMATOMETER
AUDIENCE SCORE
Critic Consensus: Viewers seeking a fresh holiday viewing option -- or those simply in the mood for Santa Kurt Russell -- should find The Christmas Chronicles well worth a yuletide stream.
The Christmas Chronicles Videos
The Christmas Chronicles Photos
Movie Info
THE CHRISTMAS CHRONICLES, a holiday adventure from producer Chris Columbus ("Home Alone", "Harry Potter and the Sorcerer's Stone") and director Clay Kaytis ("The Angry Birds Movie"), tells the story of sister and brother, Kate (Darby Camp) and Teddy Pierce (Judah Lewis), whose Christmas Eve plan to catch Santa Claus (Kurt Russell) on camera turns into an unexpected journey that most kids could only dream about. After staking out Santa's arrival, they sneak into his sleigh, cause it to crash and nearly derail Christmas. As their wild night unfolds, Kate and Teddy work together with Santa - as you've never seen him before - and his loyal Elves to save Christmas before it's too late.
News & Interviews for The Christmas Chronicles
Critic Reviews for The Christmas Chronicles
Audience Reviews for The Christmas Chronicles
Having seen a couple of films over the last decades makes you roll your eyes at the "Just be yourself!" speeches and the portrayed sanctity of Christmas and family values. But Kurt Russell is a great Santa and there are charming parts too. I probably would have loved this movie as a kid. It's also a throwback to the kind-hearted and naive event movies from the 80s, they don't make them like this anymore. It's almost Adventures in Babysitting part 2, just with Santa as sitter.
½
I think I've made it clear that I do not enjoy Christmas movies. Well, really, I don't enjoy most of them unless they turn the concept on its head and do something that's a little different or darker, like the original Bad Santa, the Harold and Kumar Chrismas movie, The Night Before (with Seth Rogen) and even The Nightmare Before Christmas, even if I wasn't in love with the amount of musical numbers in the movie when compared with storytelling, it wasn't paced well, particularly for such a short movie. Regardless, the thing is that I enjoy Christmas movie that go beyond the regular boundaries of the genre, while they may have some cheese in them at least they're disguising it as a raunchy comedy (like the first three I mentioned above) or a gothic claymation movie. What I do not like are these cheesefests about a group of people (in this case two kids) saving Christmas from, I don't know, destruction or something. Finally, Fox News gets one right, there IS a war on Christmas and it's in THIS movie. Seriously, though, fuck Fox News and their propaganda. How'd I get into that??? Anyway, if you were hoping for something different from this movie that wasn't a complete and utter cheesefest, then I do not know what is wrong with you. I don't know what's wrong with me, honestly. So you may ask yourself why I watched this movie, knowing what it was gonna be. I don't know, honestly. I guess there was always a small part of me that was hoping it would turn out to still be a good little movie. Just because I think most Christmas movies are saccharine cheesefests does not mean that I think that they can't be done right. After all, on RottenTomatoes at least, I reviewed the original Miracle on 34th Street positively, even if it didn't blow me away. So that was my hope for this movie that, at the very least, it would entertain me and I like Kurt Russell, so that definitely helped. Let's be honest, if it wasn't for Kurt, I would not have even bothered with this movie. First things first, the Pierce family always comes together for Christmas, it's the favorite holiday, blah, blah, blah, father dies in a fire (he's a firefighter), blah, blah, blah, the family is no longer close, Teddy is a dick to Katie, his sister, blah, blah, blah. On Christmas Eve, when their mother is forced to work, Teddy takes care of his sister and indulges her in this silly idea to film Santa Claus. Long story short, they do film him and they follow him while he makes his deliveries. They get in his sleigh, they cause it to crash in Chicago, miles away from Milwaukee (where Katie and Teddy are from) and then they team up with Santa Clause to, you guessed it, help save Christmas. Yawn. If I'm being honest, this is not a bad movie in the slightest, like not even close. I think that Kurt Russell, Darby Camp and Judah Lewis are all good in their roles. But I just think the movie relies on every Christmas cliche out there. That the adults don't believe Santa is real, that Christmas is in danger of dying, that Teddy and Katie are, through their interactions with Santa Claus, becoming close again, it's nothing that you have not seen before and, probably, done better elsewhere. I thought that, with Kurt Russell as Santa, the film would have a BIT more of an edge, but there's not. There's even an embarrassingly bad scene where Santa Claus performs a blues song, while in jail, with Steven Van Zandt and members of his own band, all under different names of course. The song isn't bad, nor is the performance aspect of it, but what's even the point of this scene even existing. It's completely cringeworthy and, quite literally, makes no sense other than to, I don't fucking know, show that Santa Claus is hip and with it? I would be more embarrassed to be caught watching this scene than I would be if I got caught watching porn. Not to shit on Steven Van Zandt or his band, as I'm certain I would enjoy it more than current popular music, but if the whole thing is to show that Santa is cool, probably him singing with a soul/blues band MIGHT not be the best way to showcase it. It was a truly awful scene that should have been erased from memory the moment it was thought of. The film isn't hilarious, nor is it meant to be, but it does have its funny moments. I can't recall them off the top of my head right now, but it does have some. And, ultimately, I think that is this movie's worst scene, just how damn forgettable it is. I don't think there was the potential here for a timeless classic, but there was potential for a good movie if it gave Kurt Russell more shit to do and if it wasn't so focused on fitting in every Christmas cliche in existence. Because of that, it ends up completely playing it safe for the sake of playing it safe. And I know some might think that this means that I want it to be raunchier, which couldn't be farther from the truth. You can take risks in a family-friendly film. Pixar has done it with films like Inside Out which, through its characters, explores some mental health issues with class and intelligence. Not saying that this film had that same potential, but I'm just saying that risks can be taken while still keeping the movie casual enough for a family, which is what you're going for. The fact of the matter is that this movie plays it safe and it fails to stick out because of that. It's another forgettable Christmas movie in an endless sea of them. Maybe I'm a cynic or a grinch and this really is a good Christmas movie, I just didn't feel that this added to more than just being ANOTHER in the long of Christmas movies that just couldn't cut it. It goes to where you expect it, Katie and Teddy make up and becoming loving siblings again except, somehow, it didn't really feel that satisfying, even within the saccharine nature of this type of movie. It just didn't work. I just never felt that Teddy and Katie really "truly" hated each other for this reconciliation to work, they're just pretending. And, again, I've said this before, acting IS pretending, but some do it better than others and you're able to buy into the fact that they really hate each other. Like, say, Iko Uwais and Joe Taslim in The Night Comes For Us. And it's weird that I'm comparing this Christmas movie to one of the most violent movies I've ever actually seen, but it's just to illustrate the point that the hatred between brother and sister can be accomplished. A more appropriate example would be Hailee Steinfeld and Blake Jenner in The Edge of Seventeen. Regardless, the point is that their relationship doesn't work on a fundamental level and, therefore, the reconciliation feels forced and unnatural. The hug they share before their mother arrives at the end is so unnatural. Neither here nor there, I suppose. With that said, if average Christmas movies are your thing, then this is probably gonna be for you. If you're looking for something that is actually good then, well, I don't know what to tell you, buddy, you're not gonna get it here.
Jesse Ortega
Super Reviewer
In the spirit on Christmas movies of decades past like The Santa Clause or Santa Claus: The Movie, The Christmas Chronicles is not objectively speaking a good movie. Itâ(TM)s cheesy, forcibly heartfelt, and full of tropes. It is, however, exactly what I needed from a Christmas movie. The only real criticism I have of the movie is the CGI, itâ(TM)s pretty bad. The elves look like they belong in some CG tv special, and the flying sequences on the sleigh are never convincing. Having said that, the elves are still fun, and having big action sequences in a Santa movie is a lot of fun, I just wish they were done better. Everything else the movie does it does well. Itâ(TM)s never very funny, at least not for me, but itâ(TM)s charming as hell and Kurt Russell is extremely charismatic as Santa. Itâ(TM)s one of those movies where you can tell the cast was having a blast making it, and this is especially true with Russell, who is clearly enjoying himself so much itâ(TM)s infectious and Santa is absolutely a character that this works for. This is probably my favorite film take on the Santa character. Heâ(TM)s kind, but stern when he needs to be, and has this loving understanding quality of him. He plays like a lovable Uncle who remembers everything you love, but just for the whole world. Heâ(TM)s also a musician and a badass when he needs to be. Surprisingly the kids are great too. I really thought I would find them grating after a while, but damnit all they work and seeing Santa through their eyes works. Itâ(TM)s dopey, itâ(TM)s campy, itâ(TM)s everything you need from a Christmas movie.
Michael Malan
Super Reviewer
The Christmas Chronicles Quotes
There are no approved quotes yet for this movie.