The Dark Horse
(2016)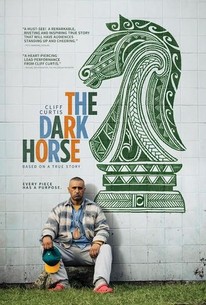 TOMATOMETER
AUDIENCE SCORE
Critic Consensus: Led by an outstanding performance from Cliff Curtis, The Dark Horse tackles complex themes with a richly layered, unpredictable, and deeply affecting story.
Movie Info
THE DARK HORSE is based on the true story of Genesis 'Gen' Potini (Cliff Curtis), a Maori speed-chess champion seeking redemption and a new purpose in life despite his struggles with bipolar disorder. A former chess prodigy, Gen is brilliant and charismatic, bringing unusual, potent energy to a game most often played with quiet reserve. Upon his release from an institution, he is remanded into the custody of his older brother Ariki (Wayne Hapi), the leader of a rough street gang planning the initiation of Gen's reluctant teenage nephew Mana (James Rolleston). When Gen volunteers to coach the ragtag young members of the Eastern Knights chess club, Mana is inspired by his uncle's determination to bring hope to the children of the club and turn his troubled life around, while seeing it as a chance to possibly save his own. THE DARK HORSE also features performances from Kirk Torrance, Miriama McDowell. The film is written and directed by James Napier Robertson, inspired by Jim Marbrook's documentary "Dark Horse", produced by Tom Hern. Cinematography by Denson Baker, ACS, Edited by Peter Roberts, Production Design by Kim Sinclair, Original Score by Dana Lund, Costume Design by Kristin Seth.
News & Interviews for The Dark Horse
Critic Reviews for The Dark Horse
Audience Reviews for The Dark Horse
You know, I wanted to talk about Cliff Curtis' brilliance as an actor first, but I have to talk about the elephant in the room first. And that elephant is how in the FUCKING FUCK did Cliff Curtis not get any awards love for his performance in this movie. I'm not saying that I really care much about awards either way, like I still found him to be phenomenal in this movie and the fact that he got no awards love, at least on this side of the world, will ever change that. His performance is not validated by awards, but it's just that amazing of a performance that you're sort of surprised that he barely got noticed on this side of the world. And I don't know why that was, but it's not on me, it's on them. I don't know, maybe it's the fact that this movie was released in 2016 on this side of the world whereas it was released in 2014 over there. I think it should be obvious that Cliff Curtis is absolutely THE main reason one should watch this movie. But he's also working with a great script rife with complex characters struggling with their own battles in life, Genesis with his bipolar disorder, Mana's father with his ailing health and Mana with the fact that he's forced into this gang that he wants no part of, just to make his father happy just before his death. That dynamic of the battle of Genesis wanting a better future for Mana versus was his father wants for him, which might not be the best thing for Mana, was executed exceptionally well in this movie. In reality, the movie isn't really even about chess and Genesis trying to find a way in which to positively give back to the community of at-risk youth all the while struggling with his own mental illness. Though, obviously, that's also one of the main things in the movie, seeing how Genesis manages to excel at bringing the group of kids he teaches chess to together, really, as a family. And that may sound corny in practice, but it's really not in execution. There's nothing sappy or melodramatic about it, which is to the film's benefit. I think the worst thing you could have done in this movie is used Genesis' illness to make him into a muppet or someone you pity. Or used his mental illness to exploit him emotionally as a character. Thankfully, though, the movie doesn't do any of that. And it looks at Genesis Potini with a sensitive eye and an incredibly nuanced performance from Cliff Curtis. The rest of the cast is strong as well, for sure, but there's no denying that Cliff really is the focus of it all, as well he should be given that he's the main character. And I've always found Cliff to be a supremely talented and underrated to a ridiculous degree, but even I was surprised by how great he was here. And perhaps that sounds like I was expecting him to be bad or something, but he surpassed even my expectations. He was better than great here, he was phenomenal. He's such a diverse performer, he can pretty much do anything you ask of him. I realize that I seem to be going on about Mr. Curtis, but he really is worthy of all the praise that's been showered on him, from me and everybody else. The movie is damn great in its own right as well, like I said, I thought the narrative and writing was excellent. I haven't seen as many films from New Zealand as I probably should have, but this might be one of the best I've ever seen from a land that I would love to visit one day. As such, this is a highly recommended movie, particularly if you have Amazon Prime.
Jesse Ortega
Super Reviewer
The remarkable true story of a mentally ill chess prodigy.
Marcus Woolcott
Super Reviewer
The Dark Horse Quotes
| | |
| --- | --- |
| Genesis: | Someone gives you a chance you better follow through. |
| | |
| --- | --- |
| Genesis: | I can help them. I have a purpose. |
| | |
| --- | --- |
| Genesis: | I want to join it. I want to be a part of this. |