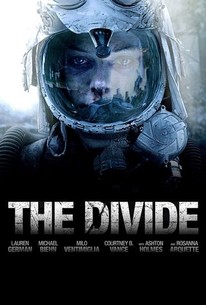 The Divide
2011, Sci-fi/Mystery & thriller, 1h 50m
58 Reviews
5,000+ Ratings
Where to watch
Rent/buy
Rent/buy
Rent/buy
Rate And Review
Movie Info
A devastating nuclear attack thrusts nine strangers together in the bunker-like basement of their New York apartment building. The survivors are trapped underground with no hope of rescue, and only horror on the other side of the door. As supplies dwindle and tempers flare, they become increasingly unhinged by the close quarters and hopelessness of their situation, and turn on one another. Still, one survivor holds on to a thin chance for escape, even though salvation is unlikely.
News & Interviews for The Divide
Audience Reviews for The Divide
An impressive performance from Heroes alumni Milo Ventimiglia aside, The Divide is a relentlessly grim and numbing experience that totally fails to live up to the director's previous film, masterpiece Martyrs, nor does it earn the genuinely spectacular final scene the film abruptly ends on. Incredibly disappointing.

When the fiery apocalypse comes, at least Mickey(Michael Biehn), a building superintendent, is prepared. What he is not ready for is several of his tenants also making it into his underground bunker. Regardless, he is still willing to share some of his food, just as long they do not open the outside door, lest they die a slow, lingering death. However, this rule probably did not apply to the men in the Haz Mat suits who break in, taking Wendi(Abbey Thickson) out of her mother's(Rosanna Arquette) arms back whence they came. To be fair, "The Divide" has certain things going for it, like its stunning opening image of a fireball superimposed on an eyeball, a sign of its quick and efficient set-up. And the story is kind of plausible too, as there are plenty of Cold War era buildings that still have bomb shelters in them. Plus, I liked how Mickey's backstory is handled, less spelled out than implied. But once the Haz Mat suits disappear in search of a better movie, there goes the WTF factor and any possible direction the story might have otherwise had. At which point, the only thing the movie can do is go down into the pits of depravity which here is much more boring than actually disturbing. Say what you will about Rod Serling but at least he knew how to make a point.

An interesting psychological view at how humans trapped in a tight space respond to stress and can become warped. This film does become very disturbing at times. Loses points for messing up the science fiction angle and not explaining it. Plus, since there probably won't be a sequel, the fact that nothing is explained is kind of a problem.

You really don't want to be trapped by assholes in a basement during the post apocalypse. A group of strangers were all trapped inside a basement of an apartment after a nuclear apocalypse, tension begin to grow as many of the assholes didn't know how to behave appropriate socially. The film actually was made in the perspective of the viewers, when someone gets annoying, they are sent away. I loved the fallout costume, unfortunately, it's the only good thing in the film. Most characters only knew how to whine, especially Sam, who cannot even speak proper english and whines the most like a little girl. The selfishness and the uselessness of the villains in the film made me sick, well played by the actors though, especially Biehn who pulled off the redneck leader personality. It's quite interesting to watch, it's a very macho film inspired by the New French Extremity. If only the experiment and the scientists could have been explained, it would be so much better.
See Details