The Driller Killer
(1979)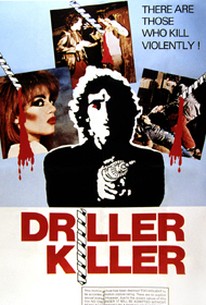 The Driller Killer Photos
Movie Info
This New York-made independent film, the auspicious debut of talented filmmaker Abel Ferrara, who also starred in the film and wrote most of its songs under the moniker "Jimmy Laine," offers many genuinely disturbing, graphic shocks as it tells the story of a Big Apple artist living on the edge of the city's fringe. Motivated by his abiding terror of ending up a homeless, drunken vagrant like his father, and suffering from terrifying hallucinations, he is driven to begin murdering homeless hoboes with a power drill. Eventually his compulsion takes a paranoid twist and he begins murdering anyone who wronged him in the past.
People Who Like this movie also like
Critic Reviews for The Driller Killer
Audience Reviews for The Driller Killer
Nothing short of "Arthouse" genus and the best Slasher flick ever made. I say this because it's old and low budget and its director Abel Ferrara first movie and of course also starring as the main character of Reno Miller an artist that is slowly going mad under the pressure of paying Debts, Bills, Drinking and the girls he lives with. Personally I hated "A Nightmare on Elm Street" such a stupid movie and of course "Friday the 13th". This movie is just creative it's more heavily metal rather then stupid put of music with creepy settings. And the killers are always mute retards with issues and always were masks and carry knifes for the gruesome killing. Although there are killings in this movie and very violent ones it's more cut always to heavy metal stuff rather then just the drill in the head. Reno Miller is an artist living with two other girls and is trying to get his final painting done to impress the art community but is slowly struggling to do so because of everyday debts and is slowly losing it under pressure. People themselves start to piss him off with the band downstairs always playing away at midnight and the people subjecting to him saying everything he has done is wrong. So one day after a party and heavy drinking he picks up a drill and goes on a spree after dark killing innocent people. After this so called "Massacre" he feels find and the pressure is off until the art committee reject his painting. Personally I liked the styling of music when he chases the homeless man into the ally it plays more rock and roll type music with cut always to show the band in his building playing and the people cheering them on. And more close ups rather then pull backs and the gothic way of the film that we see. Abel Ferrara after this would go on to make such classics as "Bad Lieutenant" and of course one of my all time favorites "King of New York" and this movie opens and paves the way to a lot of his trademarks in his films and his performances is one of the best I have seen in these kinds of movies, Same goes with "Carolyn Marz". So of course the other performances are just great no single flaw I tent to have seen. The gothic and graphic style of the film associate with "special effects" in violence is indeed gruesome. This movie landed on the video nasty list because of this but was later removed but still banned because of the critical acclaim it was gathering. I don't think it was very successful with audiences back then but critics sure loved it with the 5-5 they were giving it. So I close and say works amazingly better then your normal Slasher flick with more of a punk or metal feel to it.
Ariuza koraw
Super Reviewer
½
I picked up this infamous video nasty at a local used DVD store. Watching the film, it reminded me of The Last House On The Left, only because the picture looked grainy and cheap. With that said, The Driller Killer is a Grind house version of popular slasher flicks of the 70's. The story is similar to Taxi Driver, and it's about an artist going Mad killing vagrants with a power drill. The film really reminded me of The Toolbox Murders minus all the other tools. The film is sick, depraved and gory, the gore is very realistic, but the film suffers overall from a credible plot which made the other flicks in this Horror sub genre so legendary and fun. The problem with The Driller Killer is that the main antagonist played Abel Ferrara is not likeable, he's got a motive to kill, he's slowly going insane, but you never sympathize with him because, he presents himself like an asshole half the time. The acting leaves much to be desired and theres really no one here that can deliver even a decent enough performance. The Driller Killer is an average horror exploitation film with nothing really original going for it. The film tends to borrow from similar elements of better films, and the filmmaker tries to create something that doesn't quite work. The film is decent, but honestly, I don't see why the film has gotten such legendary press in the horror and exploitation world. The film has plenty of kills, but little substance or plot development, in some cases films can work well when theres those elements missing, but only only as long the filmmaker knows what he's doing. But in the case of The Driller Killer, the film looks and feels like a student film, and ends up being a semi decent film. An overrated film.
First off it amazes me that this movie is even on Flixster, what amazes me more is the number of people who have reviewed it, and even more amazing is that anyone would give it over 1 star. Now comes the big surprise go to Amazon and check out the price of this movie, you will flip. This is a Seventies type movie, right of 42nd street, I doubt that it would have been found anywhere else. It was banned in the UK during the Eighties time frame. There is no horror in this movie, some artist ( Abel Ferrarra who was a writer and Director later in life). is living with two girls goes crazy, living with two different women can make anyone go crazy. Also a very lousy punk rock band moves in and starts playing real bad music night and day, so the artist starts running around killing people with a drill. Again this film is very expensive on Amazon. I got my copy in Mill Creek Chilling Classics Collection, 50 movies for $19.95 at the time but you can find it much cheaper now. Even on my worst night I couldn't give this anything other then a 1/2 star.
Bruce Bruce
Super Reviewer
The Driller Killer Quotes
There are no approved quotes yet for this movie.