The Education of Shelby Knox
(2005)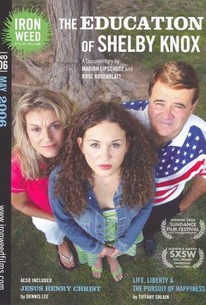 AUDIENCE SCORE
Critic Consensus: No consensus yet.
Movie Info
A simple look at the debates regarding sex education in public schools becomes a dramatic journey of self-discovery for a teenage girl in this documentary from directors Marion Lipschutz and Rose Rosenblatt. Shelby Knox is a young woman who at first sees eye-to-eye with the strict, traditional Christians in her community regarding sexuality's place in her high school. But as she explores the issue as the subject of this film, Shelby begins to question the longheld beliefs that she was brought up with, leading to a drastic difference of opinion with her parents that threatens the fabric of their family.
Critic Reviews for The Education of Shelby Knox
Audience Reviews for The Education of Shelby Knox
This was a well-done documentary that followed the crusade of a high school girl who bucked the society of her west Texas town of Lubbock in order to see an effective sex-education program instituted. I was getting far too worked up watching it though, as she met resistance at every turn, from her pastor, to some religious talk-show radio hosts, to the head of a religious family ministry, and including her parents who tried to be supportive even thought they disapproved of what she was doing. (Try to walk that tightrope!). It was when the head of that last ministry began to threaten her with repercussions and arrogantly suggested that he would see that her adult club sponsor was fired, because she was just a kid and he was an adult who had influence with voters, which in turn meant he could influence politicians, that I had to turn it off or else risk popping a blood vessel. The simple fact of the matter is that sex education is important and leads to reduced rates of teen pregnancy much more effectively than abstinence-only programs, but the religious leaders feel allowing it admits that teens will have sex. What they fail to realize is that will be true no matter what they are taught. At least with sex education, they learn what responsible, safe sex entails. It is effective if you can get through it though. I found myself yelling at the screen many times, Good kid. I hope she was successful, although I doubt it.
Mark Abell
Super Reviewer
½
It's sad to know that most of our country is comprised of people with this level of awareness and I feel bad that Shelby has to live in such an environment, but glad to see she's doing her damndest to rise above it. It's people like her who have the potential to shift the world around them, though this film would have been 4 stars had she had an utter breakdown, lost her wits, and decided to give in to the rank and file she knows to be a lie. But I suppose such a cynical outcome, though revealing in drama and more common in America than perseverance like that of Shelby's, would appeal to my sense of what makes a documentary truly compelling (I want the main character to shift as in fiction, but good for the real world, Shelby ain't no fictional primary protagonist).
_kelly .King
Super Reviewer
½
The documentary "The Education of Shelby Knox" gets off to a rocky start in showing the high school life of Shelby Knox, who at first seems trapped in a telvision special as a musical theater diva. In her sophomore year in 2002, that changes when she signs up for the Lubbock Youth Commission. Once her fight against abstinence only education begins, her life and the documentary come together, after noticing the epidemic of teen pregnancy in this small conservative and Christian city. While to some, only advocating to teenagers that they just not have sex without mentioning birth control may make sense, in reality it does not work at all well with peer pressure, boredom, drinking, and, most importantly, hormones being a large part of teenagers' lives. So, the religious leaders are just left with a certain amount of smugness in thinking they are right, praying that everything will work out. This leads Shelby to question her religious beliefs while her conservative parents surprisingly stand behind her. But I am left wondering how much abuse she might have taken from her classmates since kids have always had a tendency to be cruel towards anybody who might be different. And it might seem simplistic but her parents have a point when they say she has a thing for underdogs.(I do, too, which not only informs my political beliefs but also which sports teams I root for.) As time goes on, Shelby forms a dichotomy with Corey Daniels, her rival in the commission. He ends up taking the stance of the politician in seeking power while she is the activist seeking to help other people, proving that you can never be too young to start down this path.
The Education of Shelby Knox Quotes
There are no approved quotes yet for this movie.