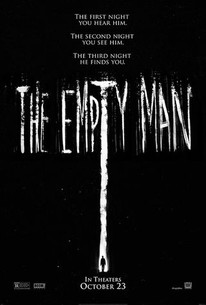 The Empty Man
2020, Horror/Mystery & thriller, 2h 17m
27 Reviews
100+ Verified Ratings
Where to watch
Buy
Rent/buy
Rate And Review
Movie Info
A series of mysterious disappearances in a small Midwestern town may be linked to a supernatural entity.
Rating: R (Language|Disturbing Images|Some Sexuality and Nudity|Violence)

Genre: Horror, Mystery & thriller

Original Language: English

Director: David Prior

Producer: Stephen Christy, Ross Richie

Writer: David Prior

Release Date (Theaters): wide

Release Date (Streaming):

Box Office (Gross USA): $3.0M

Runtime:

Distributor: 20th Century Studios

Aspect Ratio: Scope (2.35:1)
News & Interviews for The Empty Man
Audience Reviews for The Empty Man
More unsettling than traditionally "scary" but given the kind of movie the title suggests I was quite relieved. I have to say that the plot, which centers on a nihilistic cult that seeks unity and devotion through the emptying of all individuality, is eerily timely.

A sensational synchronicity between director, actors and crew leads to a hypnotic film about a oft-told story of mind-control. Special shout outs to the Christopher Young and sound design artist Lustmord.

Do you know that the brain can itch? After this movie it sure did. I am very conflicted about The Empty Man. There are scenes and elements of this movie that are fantastic. I think it could become a cult classic. But it feels like the "kitchen sink" of horror movies. First, the fantastic first 20 minutes could have been expanded into a full-length movie in itself. It doesn't fit well with the rest of the film. Second, the viewer is subjected to a whiplashing of plot jumps for 137-freaking-minutes. Not to say there isn't a lot to like in here somewhere. This would've worked much better as a mini-series which would've justified the runtime and more. James Badge Dale is good and you can see why he's in a lot of military roles. He's like a pod creature (just saw Invasion of the Body Snatchers) with no emotions as he glances at a pot of blood or a bunch of dead teenagers, expressionlessly moving onto the next thing. Until the end when he emotes like hell. There's a phrase I'm looking for -- something like "crushed by one's ambitions"? Not sure that's right but it sure feels what this movie is like. P.S. Reminds me of so many things: The Mothman Prophecies, Deliver us from Evil, Candy Man, Ring, Kill List and that weird game -- Inside. All things I liked. P.P.S. This review is too long. Like the movie.

The Empty Man (2020) B+ (Vague hints at spoilers) Walking in late, the opening was so different from the 15 seconds of trailer I saw, that I wasn't sure I was in the right movie at first. That is a really good way to start a horror. The confusion this movie levies at you is extreme. With each explanation, they hand you another mystery. By the end, you can not tell what is real and what is illusion. Usually this is my pet peeve for horror, but they explained it well and used it as a warning that the final event was approaching. By the end, you could see it was a logical and well thought out story, unlike the hot steaming mess that is Tennet. I have two complaints. I went in to see a Freddy Krueger/Candy Man style horror and got something much more twisted instead. And I feel the main character lacked agency - that is my chief complaint. He never reached a point where it felt like he was even trying to avoid the ending that occurred. The reason this occurred is really quite clever but a clever mistake is still a mistake. Overall, well worth the watching for horror fans.
See Details