The Flat
(2012)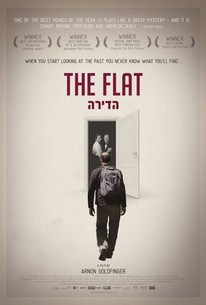 Movie Info
At age 98, director Goldfinger's grandmother passed away, leaving him the task of clearing out the Tel Aviv flat that she and her husband shared for decades since immigrating from Nazi Germany in the 1930s. Sifting through a dense mountain of photos, letters, files, and objects, Goldfinger begins to uncover clues that seem to point to a greater mystery and soon a complicated family history unfolds before his camera. What starts to take shape reflects nothing less than the troubled and taboo story of three generations of Germans - both Jewish and non-Jewish - trying to piece together the puzzle of their lives in the aftermath of the terrible events of World War II. -- (C) IFC
News & Interviews for The Flat
Critic Reviews for The Flat
Audience Reviews for The Flat
½
What makes this documentary so revealing and intriguing is not so much the mystery that Goldfinger tries to uncover or its shocking implications but all the collective propensity of second-generation Jews and Germans to close their eyes and leave the past and secrets behind.
Carlos Magalhães
Super Reviewer
A lot of families have skeletons in their closets. For Arnon Goldfinger(?!?), after his grandmother dies, he finds quite a few creepy looking mink stoles in her closet in her apartment in Israel. On a more metaphorical level, he discovers a friendship his grandparents had with a senior SS officer not only before World War II, but after. To be honest, that's not as weird as it sounds. That's for the simple reason that emigrants tend to identify more with the country they came from, then the one they move to, as his grandparents continued to speak German after they arrived in Israel, never learning to speak Hebrew.(As he recalled in his autobiography, Kirk Douglas remembers hearing German songs when he was filming on location in Israel which made him very, very angry.) At least, Arnon is in the right neighborhood when he talks about generational differences, even as he cannot truly overcome the home movie aesthetics of his documentary "The Flat."
This one is going to be getting mixed reviews. I just saw it in the theater with my wife. I disliked it, and she loved it. She saw it as a fascinating puzzle akin to her research into her own family history. I was bored. The documentary starts with a familty cleaning out Grandma's single-floor apartment soon after her death. Grandma was a German Jew who lived most of her life in Israel. The descendants discover that Grandma and Grandpa were close friends to a Nazi couple back in Germany. And they continued the friendship even after World War II and Nazi atrocities had become widely known. While I agree that this is pretty strange, I found that I didn't care all that much. My wife, on the other hand, sat on the edge of her seat as the daughter and grandson slowly fill in details about the friends and the friends' relationship to the grandparents. By the end of the movie, I didn't feel particularly enlightened about how these peope came to be friends nor how they continued to be friends. As I say, however, my wife was fascinated. I am guessing you'll like this movie if you are interested in how historians do research, if you' re interested in the holocaust, and if you like documentaries. 2 stars 6-21-13
Bruce Bruce
Super Reviewer
The Flat Quotes
There are no approved quotes yet for this movie.