The Flower of My Secret
(1995)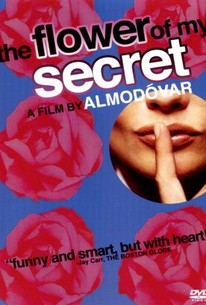 The Flower of My Secret Photos
Movie Info
For years, Leo has been writing bestselling romantic novels (under the pseudonym Amanda Gris), but with her personal life in shambles, she finds it impossible to produce such sunny material. Unable to accept that her troubled marriage to Paco is over, Leo finds herself creatively and emotionally blocked. She finds little consolation from her mother and sister Rosa, who are so busy bickering with each other that they don't notice Leo's distress, and her best friend Betty, a psychologist who is secretly having an affair with Paco. One bright point is a new friendship with Angel, cultural editor of the daily paper El Pais, who unknowingly hires her to write an attack on her nom de plume, Amanda Gris.
Critic Reviews for The Flower of My Secret
Audience Reviews for The Flower of My Secret
Minor but not less entertaining Almodóvar, filled with his usual visual flair and bizarre and soapoperarish trademarks.
Matheus Carvalho
Super Reviewer
A romance novel writer attempts to save her failing marriage while pursued by her new editor. This Almodovar film is simple and simplistic melodrama. There are all the elements: an overly emotional protagonist who obsesses over the wrong man and tries to kill herself, a family drama with a dying mother, and some coincidences too coincidental to be believed. All of the film's flaws notwithstanding, I found Almodovar's dialogue less stilted and her characters a little more realistic than I normally do, so there were some diamonds in the rough. But overall, it's mostly rough.
Jim Hunter
Super Reviewer
½
A little more 'mainstream' than the Almodóvar I've come to know and love, but still very enjoyable.
Randy Tippy
Super Reviewer
The Flower of My Secret Quotes
There are no approved quotes yet for this movie.