The Founder
(2017)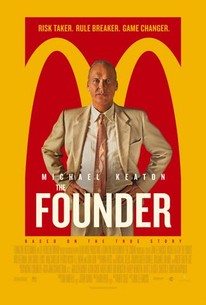 TOMATOMETER
AUDIENCE SCORE
Critic Consensus: The Founder puts Michael Keaton's magnetic performance at the center of a smart, satisfying biopic that traces the rise of one of America's most influential businessmen -- and the birth of one of its most far-reaching industries.
Movie Info
Directed by John Lee Hancock (SAVING MR. BANKS), THE FOUNDER features the true story of how Ray Kroc (Michael Keaton), a struggling salesman from Illinois, met Mac and Dick McDonald, who were running a burger operation in 1950s Southern California. Kroc was impressed by the brothers' speedy system of making the food and saw franchise potential. Writer Robert Siegel (THE WRESTLER) details how Kroc maneuvered himself into a position to be able to pull the company from the brothers and create a billion-dollar empire. The film also stars Laura Dern as Ray Kroc's first wife Ethel; John Carroll Lynch as Mac McDonald and Nick Offerman as Dick McDonald.
News & Interviews for The Founder
Critic Reviews for The Founder
Audience Reviews for The Founder
½
In The Founder, Michael Keaton as Ray Kroc favors the saying, "fortune favors the bold," but the question that comes to mind as the The Founder reaches its denouement and shows us not just what Kroc became in the professional world, but who he became as a person is just how bold was this guy? As it turns out, quite. There were risks involved in his journey that were never guaranteed to pay off and he arguably had a vision no one else did-or at least the balls no one else had to risk it all. In the end, fortune obviously favors Ray Kroc, but at what expense to his humanity and decency? Some may say such things don't matter when you're worth $500 million, but in those final moments of The Founder where Kroc rehearses lines for a speech he stole from old motivational records when his wife, who he also stole, walks into the room and he catches her eye that there is a hint of self-awareness; of knowing that there was a price for all that he now looked down upon. Keaton, in all his charming and endearing glory, snaps his face out of the thought that dazed him only for a moment as if to say such was a price he'd gladly pay again and again. Nothing in the world can take the place of persistence he tells himself-not talent, not education-persistence. It is in this train of thought, this idea that Kroc is never complacent or content with his life that confounds though as the movie that now tells his life story tends to air on the side of being exactly that-content. Directed by John Lee Hancock (The Blind Side, Saving Mr. Banks) The Founder is a perfectly acceptable slice of cinema as it is obviously well-crafted, hits all the right notes, and features a handful of appealing performances with Keaton being a whirlwind of as much sly charm as he can possibly muster-carrying this thing across the finish line with ease. It's not that there is anything particularly bad about the film, but there isn't anything that is rather exceptional either. Instead, The Founder more or less delivers what is expected of a biopic these days with only slight indications that there was a deeper, more cutting ambition to the project that maybe took a backseat to safety. There have been many a comparisons between The Social Network and this film with its protagonists being ruthless men who take ideas from smaller thinking men and turn them into multi-billion dollar businesses, but where David Fincher's film had a specific tone and a certain state of mind that was in place from the get-go, The Founder never feels as personal or alluring. It, ironically, never feels bold enough to transcend its genre lines. read the whole review at www.reviewsfromabed.com
Philip Price
Super Reviewer
½
There's two types of people about McDonald's. One is the lover and the other one's the hater. McDonald's lovers will find a big meal to find in its forsaken history, but haters will have to find their way to yuck things out while actually enjoying how great this film is thanks to the crew and of course Michael Keaton.
EpicLadySponge the Adventurer
Super Reviewer
The Founder Quotes
There are no approved quotes yet for this movie.
Discussion Forum
Discuss The Founder on our Movie forum!