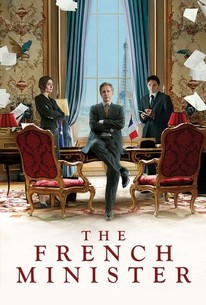 The French Minister
2013, Drama, 1h 53m
21 Reviews
250+ Ratings
Where to watch
Rent/buy
Rent/buy
Rate And Review
The French Minister Photos
Movie Info
A new speechwriter must navigate the rough waters of internal politics while trying to compose an important address for his boss, the minister of foreign affairs.
News & Interviews for The French Minister
Audience Reviews for The French Minister
Somehow, this film reminds me of a French version of In The Loop. I don't think this film comes close to that, but I'm somewhat reminded of it. I quite liked this film however with its lunacy and chaotic approach to these group of people trying to do whatever they can in order to avoid setting off a third world war, it's clear this film is set prior to the start of the Iraq war in 2003, but the names of some of the countries are fictionalized. The film also satirizes the fact that Taillard isn't really the brains of the operation but Claude is and Taillard is really more of a figurehead, a charismatic leader in troubled times. The scene that highlights this the most is the scene where Claude is making phone calls in order to avoid setting off a conflict between countries while, at the same time, Taillard is complaining about the highlighters he is given not being good enough. I don't think I'm doing justice to this scene because Taillard goes on an rant of epic proportions. He will just not shut up about his highlighters. There's also another scene that highlights this, but this time Taillard isn't ranting about anything incredibly stupid, so it's not as memorable. But Taillard, with all his grandstanding, his lunacy, the chaos he causes around him, sending papers flying EVERY time he comes in the room, isn't exactly a useless man with no leadership capabilities. He calms down a potentially volatile situation with his charisma and presence, and also chooses to help Vlaminck to help save a family that is about to be expelled/deported (I don't know which) from his girlfriend's school. So he's not entirely useless. The film is certainly satirical, it shows off the completely chaotic world that Vlaminck finds himself in, the chaos that goes along with that sort of job. And I can somewhat imagine it being like that, which is why I wonder why ANYONE would take a job that's clearly very stressful. Going all over the place, having to redo a speech 15 times because Taillard isn't satisfied with it, the stress that must come along with being in power as a war is about to start and how you do everything to keep that from happening. Quite a stressful job. The acting is excellent, Thierry Lhermitte, as Taillard, absolutely steals the show in literally every scene he appears in. He was incredibly convincing in the role and he just has that presence that makes him a believable politician in the film. The rest of the cast is quite good actually, but this is all about Thierry Lhermitte and he certainly delivers the goods. I can't really complain about the film, it offers some really good laughs, but I think it drags a little bit in some parts. Outside of that, this is a very good political satire. Perhaps not quite In The Loop, but pretty damn good regardless.

Saw the world premiere at TIFF this year and nearly died laughing. A must for In the Loop and Yes Minister fans. Full review coming soon.
See Details