The Freshman (College Days)
(1925)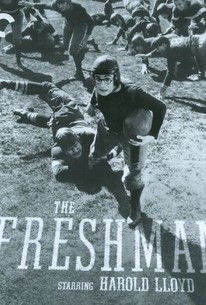 The Freshman (College Days) Photos
Movie Info
One of Harold Lloyd's best feature-length comedies, The Freshman, features the bespectacled regular guy as Harold Lamb, a naïve young man who heads off to college believing campus life will be just as it is in the movies; he even learns a little dance he saw one of his favorite actors do in a film. However, Harold soon discovers that real life isn't all that much like the pictures, and he quickly becomes the laughing stock of the university. Determined to prove himself, Harold tries out for the football team, but he serves as water boy and rides the pine until he finally gets a chance to redeem himself at the big game. Along the way, Harold also tries to woo a lovely co-ed, Peggy (Jobyna Ralston). 22 years later, writer/director Preston Sturges used the climactic football game as the opening for his collaboration with Harold Lloyd, The Sin of Harold Diddlebock.
Critic Reviews for The Freshman (College Days)
Audience Reviews for The Freshman (College Days)
A typical college comedy for the 20s, and the plot is predictable, but Lloyd makes this movie enjoyable and entertaining. He really is hilarious in all his mishaps in this movie. I really enjoyed it, and I recommend it.
Chaplin may be filled with warmth and pathos, Keaton may be a great athlete, but Harold Lloyd is just plain funny, and thus my favorite silent comedian. And The Freshman is one of his best. A nerdy young man attends a university to play football in order to impress a girl -- why else, right? He is obviously not up to the task and pays for it dearly. Lots of slapstick silliness, sight gags, and lots of heart to boot. Got to see it on the big screen at a repertory screening. The 21st century audience I saw it with laughed hysterically, as if this 80 year old film (at the time I saw it) was a new release. How many of today's Hollywood comedies will still be funny 80 years from now?
The Freshman (College Days) Quotes
There are no approved quotes yet for this movie.