The Front Line
(2012)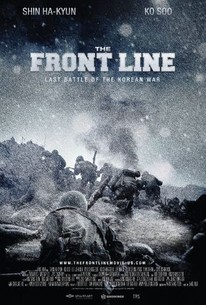 Movie Info
Toward the end of the Korean War, an uneasy ceasefire is ordered, but out on the Eastern front line of the Aerok Hills, in an expanse of land called the Aero.K, fierce fighting continues. A race to capture this strategic point to determine a new border between the two Koreas is the ultimate prize. At the Eastern border stands the "Alligator Company," known to be the best soliders on the front line. They are the only unit to have survived the worst battle of the war at Pohang. When a South Korean bullet is found in the dead body of a company commander, Lieutenant of Defense Security Command Kang Eun-Pyo (Shin Ha-Kyun) is ordered to investigate Alligator Company for the murder. Upon arrival, Kang Eun-Pyo is immediately shocked at the state of the soldiers, the conditions on the front, and the presence of Kim Soo-Hyuk, a former friend he believed to be dead. With a truce promised for years but no end in sight, one man struggles to make sense of a crime in the face of countless lives sacrificed for war. -- (C) Well Go USA
Rating:
NR
Genre:
Directed By:
Written By:
In Theaters:
On DVD:
Runtime:
Studio:
Critic Reviews for The Front Line
Audience Reviews for The Front Line
9/8/16 Amazon Streaming Video A really well done war flick with some terrific battle scenes. The story pretty formulaic with war is hell, leaders suck, why are we doing this, etc. but still an intense movie that seems shorter than its 2:13 run time. It does a good job of showing why war is such a waste and how it is so dehumanizing.
Nick Ueber
In "The Front Line," the good news for Eun-pyo(Ha-kyun Shin) is that he will no longer have to suffer through the endless peace talks. The bad news is he is being shipped to Aerok Hill, which is a key battleground for where the boundaries will be set, to investigate a possible spy. Currently, the hill is being defended by a bunch of teenagers, with Yang(Chang-Seok Ko) being the only veteran from a previous war. At least, Eun-pyo gets reunited with Soo-hyeok(Soo Go), who he feared dead. Some times it may seem like there have already been too many war is futile movies but then with the latest warmongering, it becomes perfectly clear again we can never have too many. One of the more recent, "The Front Line," which as uneven and episodic as it is, still has quite a few neat touches like the box and a massive dose of irony in its final act. Set in the final days of the Korean War, the movie is also about the last chances for any kind of reconciliation for the country, as the final barriers are about to go up.(Since this is told from a Korean point of view, I wanted to see what they called this war there but according to Wikipedia, it depends on who you ask. Oh well.) Even though the South are the protagonists, the movie does not denigrate the North as villains, either.
½
When it comes to war films I surprisingly covered more war films that take place in other continents than my own. My reason behind this is after years of learning American history in classes and free time I find it more interesting learning the history of other continents. Thus which is why I was drawn to the Korean war drama Go-ji-jeon (The Front Line in English) while not outstanding, a good war drama. The Front Line (or Go-ji-jeon in Korean) is a drama centered on the Korean War's final battle that will determine the border between north and south. The film plot main issue is finding its footing in what story to tell. It takes a while (around 1/3 of the running time to be more specific) for it get to the standstill battle over Aerok Hill and finally explore the soldiers mentality on the war and personal feeling knowing they could kill the enemy they're communicating with. It is exactly here at Aerok Hill when the film becomes formulaic almost crossing the line of being repetitive. At Aerok Hill we get an attack to obtain the hill, chat between the soldiers, looking in a secret box and sending supplies to whoever opens it. What makes the repetition worth enduring is what I said earlier is the human exploration of war. Like if soldiers should keep fighting even in a non advancing standstill? Will the enemy be more sympathetic taking your life if they know you better? The other welcome addition is a subplot involving a sniper. The sniper subplot won't provide as much action as one might expect instead providing more the dramatic content than anything else. Director Hun Jang and writer Park Sand-Yeon do a decent job telling a story. They won't be applauded by their storytelling abilities, but will be respected for presenting both sides of the conflict without demonising or undermining the other. The acting is solid as a whole with no standout of any kind. The battle scenes were badly staged. Mostly the troops run up or down a hill, shooting as they go. To get some idea of the unreality of it all: at one point the SK troops lose the hill and retreat in disorder...but when we meet them next (only minutes later)they are all sitting around without their weapons chatting in a camp. The Front Line is held back from its own formula from being great, but is a film that put the soldiers first over spectacles. It won't be the film one might expect as first glance though they might just find something they liked just as much.
Caesar Mendez
Super Reviewer
The Front Line Quotes
There are no approved quotes yet for this movie.
Discussion Forum
Discuss The Front Line on our Movie forum!