The Gamers: Dorkness Rising
(2008)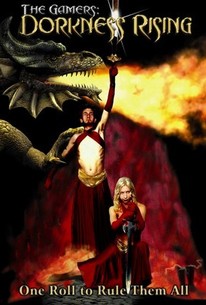 AUDIENCE SCORE
Critic Consensus: No consensus yet.
Movie Info
All Lodge wants is for his gaming group to finish their adventure. Unfortunately, they're more interested in seducing barmaids, mooning their enemies, and setting random villagers on fire. Desperate to rein in his players, Lodge injects two newbies into the distrust: a non-player character controlled by Lodge, who the power gamers immediately distrust, and the rarest gamer of all -- a girl. Can the group overcome their bickering to save the kingdom, or will the evil necromancer Mort Kemnon triumph unopposed? A parody of fantasy films and the adventure gaming community, The Gamers: Dorkness Rising is a hilarious romp through the world of sword and sorcery -- in this case, a world of exploding peasants, giant house cats, and undead roast turkeys. Game on!
Critic Reviews for The Gamers: Dorkness Rising
There are no critic reviews yet for The Gamers: Dorkness Rising. Keep checking Rotten Tomatoes for updates!
Audience Reviews for The Gamers: Dorkness Rising
½
The makers of The Gamers present this extended sequel. Now running at feature length, the premise is still entertaining but stretched a bit thin. The quality is raised ever so slightly in terms of acting and technical aspects. There are also much funnier lines which is always nice. The film-makers have tried to add some further arcs in terms of the characters and their characters within the film, but these don't always succeed. Some say you have to be a gamer to get this film, but I would disagree. It's just a bunch of guys using their imagination for escapism, and they've managed to craft a film that can help you escape just as well.
Luke Baldock
Super Reviewer
Oh my god I can't say just how much I loved this movie. It reminds me of the days when my group and I would get together and play D&D. If you were a gamer and had played this type of pen and paper games you surely had to have had some moments akin to what you see in the film. It is utterly brilliant. You got a crew of friends that get together and play. The dungeon master has a way of always setting them up so that they make the wrong choices and fail. The gamers then bitch and moan but still come back for more. One of the guys has an ex and she is asked to play to fill a spot. She is new to the game but is apparently the one with the brains. The movie continues to play out in and out of the fantasy world. You see the group sit around the table and their reactions but other times it takes you into the story where the gamers are their characters. I laughed hard and often at the events that transpired. In a way I guess it makes fun of itself with the way things are setup. However it isn't mean with how it goes about it, it shows that they can take themselves too seriously and it has fun with that. You have to be a fan of the lifestyle to enjoy the movie but that doesn't take away from the laugh out loud moments. If you are a fan of the lifestyle then you'll end up laughing more often than those that just don't "get it".
Aurelius Duchtius
Super Reviewer
A low budget film that makes fun of gamers but in a fun way that had me laughing at times, cringing at others.
John Manard
Super Reviewer
The Gamers: Dorkness Rising Quotes
There are no approved quotes yet for this movie.