The Gateway (Curtain)
(2015)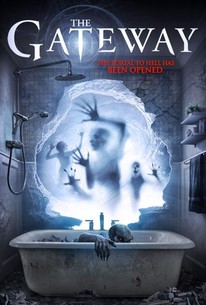 AUDIENCE SCORE
Critic Consensus: No consensus yet.
The Gateway (Curtain) Photos
Movie Info
When Danni, a burnt-out former hospice nurse, moves into a new apartment, she thinks she's finally found the key to a simple, less traumatic life. But when things start to disappear through a strange portal in her bathroom wall, Danni realizes she's discovered a gateway to the unknown that brings unimaginable horrors to this quiet apartment. Along with her co-worker Tim, Danni begins an investigation that leads to an unforgettable conclusion.
Critic Reviews for The Gateway (Curtain)
All Critics (3) | Fresh (3) | Rotten (0)
Certainly an original idea, Curtain, while in many respects imperfect, is a nice reprieve for light-hearted horror fans.
Charming and weird enough to get away with its rough edges, it can along the way seem a bit meandering, especially in its focus on Tim's Save the Whales fixation, but in the end every (narrative) hook on this Curtain fits neatly into place.
Well, it is a film about disappearing shower curtains, after all. With a title and concept like that, Curtain was always going to be one of the year's most original horror films. Thankfully, it also turns out to be one of the best.
Audience Reviews for The Gateway (Curtain)
½
I know it seems like I always say this when I watch a horror movie with a unique concept, I always say that we need more movies like this. I don't mean more movies with this concept specifically, I just mean more movies that are ready, willing and able to explore new ideas in a medium that needs them. But it's also a bit of a conundrum, much like Beyond the Gates (which I reviewed like a week ago), because this movie and the aforementioned one, both films don't exactly have the biggest of budgets. So, I believe, while both films' original concepts will make sure that horror geeks give it a shot, I think its lack of a huge budget sort of limits how far you can take the concept from a visual standpoint. This is more of an issue with Beyond the Gates, that has a concept that needed a little more visual pizzazz to push it over the edge. Not so much this one, because shower curtains being sucked into the wall of the bathroom doesn't really require that much in the way of visual flair. But I'm still right in saying that the fact the film isn't very interesting visually will hold it back for some people. And that's not fair to the flick, which has some very interesting concepts. But I digress. What did I think of this movie? Honestly, I don't really even know. I felt that parts of it were certainly solid and enjoyable. Like I love the whole concept of the bathroom wall acting as the gateway and every shower curtain that the wall sucks up actually ends up 'birthing' a monster that manifests itself in another location, where the curtain lands. It's a strange and weird idea, but the film plays with it in a way that's enjoyable. This isn't Evil Dead 2, but this is a film that does not take itself too seriously. That certainly helps. Can you imagine if the film actually took itself seriously with this ridiculous of a concept? How bad would it be? Well, I mean it might not have ended up being a bad movie, but just one that refuses to embrace the absurdity of its idea. And, thankfully, the movie embraces the weirdness and the silliness. The big problem I have with the movie is that it isn't always the most coherent of films. Like you can connect the dots of the narrative and figure out the mysteries, but it's not cause the film did a great job at giving you that information. And this doesn't seem like the type of movie that wants you to figure it out on your own. This isn't The Wailing or anything like that, where they give you all the tools to come to your own conclusion. This isn't ever meant to be that type of movie. Again, you can figure it out on your own. You can figure out that the monsters that are birthed from the curtains have the essence of the person that bought the curtains. Then again they do tell you this explicitly. The problem I have is that there's this plot point with some coordinates and numbers in the wall that from the previous person who rented the apartment, honestly, they did a really shitty job of explaining. How did the coordinates come into play? I have no clue because they didn't bother explaining it. They never tell you how the coordinates and the shower curtains fit together. The coordinates are there just because, you figure out what to make of them. There were other issues, but those are the most glaring to me. With that said, I did give this 2.5 stars, I still found this movie to be somewhat enjoyable. It's just that the script isn't always the best at helping you understand what's going. The acting is more than solid, no complaints on that front. There's a review here that mentions that this film is rough around the edges and I can't help but agree with that wholeheartedly. I certainly liked it more than the rating might imply, but that's not meant to suggest that this is a perfect movie. It's a got a good concept and a fairly solid execution of that concept, but its poor scripting in some really crucial scenes that keeps it from being good. I'd certainly recommend it to horror geeks, who would appreciate its ideas more than someone who wants something casual. Decent movie at best.
Jesse Ortega
Super Reviewer
The Gateway (Curtain) Quotes
There are no approved quotes yet for this movie.