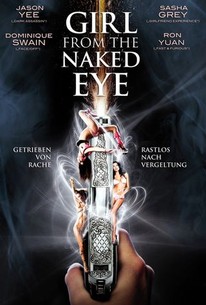 The Girl From the Naked Eye
2012, Action/Mystery & thriller, 1h 24m
15 Reviews
250+ Ratings
Rate And Review
The Girl From the Naked Eye Photos
Movie Info
A man (Jason Yee) descends into his city's sordid underworld to find out who murdered a high-priced call girl.
Rating: R (Pervasive Language|Violence|Sexual Content)

Genre: Action, Mystery & thriller

Original Language: English

Director: David Ren

Writer: Larry Madill, David Ren, Jason Yee

Release Date (Theaters): original

Release Date (Streaming):

Runtime:

Production Co: Lifted Productions
Audience Reviews for The Girl From the Naked Eye
An interesting noir thriller, The Girl from the Naked Eye has an impressive visual style but lacks a bit in storytelling. When a call girl is found murdered her driver sets out for revenge and turns on his bosses in order to find those responsible. It's a rather formulaic plot and the characters are the usual stereotypes. But this is made up for by the fight sequences, which bring a lot of energy to the film (though the fights start to become a little too choreographed). The Girl from the Naked Eye doesn't have much originality, but it's entertaining and has a creative aesthetic.

So imagine you're me and you get a call to an early screening of an upcoming movie you never heard about. Now imagine you say yes and realizing you, along with your girlfriend you brought, and seven other people are the only one at the screening. Now you think an early screening of a movie would be good, except the movie I watched was poorly made. The Girl from the Naked Eye is about Jake, a driver for a seedy escort service, who is a street thug type who falls for a witty 16 year old named Sandy. One night Sandy is found murdered, and Jake will do whatever it take to avenge Sandy. The story is incredibly sexist to women, only one woman in the whole movie doesn't care about sex. It sends the idea that women are basically just sex objects and prostitutes, which is why my girlfriend got mad at me for taking her to this screening. What I found most offensive is this line from the actual which goes something like, "The only thing more useless than a whore is a dead whore" which make us guys look very bad in this movie. Everything you could ever find wrong about a guy will be found with every single male character in this movie. Now I know the movie hasn't officially come out yet, when I reviewed this movie that is, but there so many problem with his movie that'll lead it to failure. It has some of the most boring and lamest action scenes ever filmed in a movie. You'll be pretty unambitious to sit through this mess of movie with uninteresting characters and a weak story if that not all, we also have weak action sequences. One thing you should be aware of is that the music they play during these action scenes are hilarious makes it look more like a violent comedy and looses all seriousness it had, or attempted to have to be more accurate. You have no idea what the movie is trying to be as tries to blend drama, humor, and romance and does none of them right. The actors, are well pretty terrible. You know you have a pretty bad cast if you also come to the hate the good guys in this movie. So clearly I hated this movie, but only one thing helped me get through this mess is Jake. Our hero Jake actually respect Sandy, but that's the only reason why it doesn't get a zero. Other than that Jake is a very unlikable hero and dumb one at that too. In a scene where he goes to a motel and beats up like six in the lamest way possible, he takes out a gun he had the whole time and finally decide to use the gun. It's a dumb, abysmal, poorly made movie. Note: I still haven't gotten an answer from the studio on why I got an early screening. I'm not sure why out of all people I got chosen, I wonder if this means I'm legit as a critic.
See Details